Site Manager - Naples, FL (Full Time, Day Shift)
NAPLES-NICU
Florida-Naples-North Naples Hospital
East Naples, Florida
Requisition ID 23380
Job Summary
Manages and support the medical practice operations in Naples. Responsible for supporting and improving the day to day operations in alignment with the Nicklaus Children's Pediatric Specialists and Nicklaus Children's Health System Management System and other market-based standardized operating models. Oversees clinical and non-clinical operations. Lead, implement, and sustain efficient and effective operations in the areas of revenue cycle, community relations, manage budgets, and develop and meet quality standards. Work collaboratively with Physicians and Medical Directors to ensure the success of the individual practices and the physician enterprise overall.
Job Specific Duties
Works in conjunction with various departments and committees to ensure revenue maximization, revenue enhancement, compliance, practice performance, variance analysis, charge capture, and billing/collections. Responsible for ensuring timely task resolution and for compliance with daily charge reconciliations.

Collaborates with Leaders to prepare annual budget, scheduling expenditures, analyzing variances, and initiating corrective actions. Handles accounts receivable and accounts payable functions and ensures the process runs smoothly.

Develop performance goals related to process improvement, patient satisfaction, revenue cycle, financial performance, etc.

Assists Leader with contract approval, purchasing, and A/P processes. Maintains fiscal documents and spreadsheet for Leader with budget requirements.

Ensures patient revenues are captured accurately and posted within the timeframe established by NCHS/NCPS guidelines.

Works with support services departments to ensure a safe and comfortable environment for patients, families, and employees.

Provides training, coaching, counseling, and mediation to ensure staff works effectively and efficiently. Provides training on general office procedures, registration, scheduling, and customer service.

Resolves patient complaints and related issues. Serves as liaison between patients and physicians.
Minimum Job Requirements
2-4 years

of s

upervisory experience in medical practice setting and knowledge of hospital based departments

2-4 years

of e

xperience working with medical insurance industry practices including Medicaid, managed care, and other third party payors

Proficiency in Microsoft Word, Excel, PowerPoint, and Outlook
Knowledge, Skills, and Abilities
Bachelor's degree in Business Administration, Health Care, or related field preferred.

Knowledge of financial systems, automated processes, and ambulatory health care services.

Able to react effectively to unplanned circumstances and demands in a medical practice environment.

Able to relate cooperatively and constructively with customers, physicians, patients, families, staff, and other Health System personnel.

Understanding of medical practice operations and regulations involved in the oversight of day-to-day center operations.

Excellent written and verbal communication.

Excellent organizational, decision making, and time management skills.

Human relations and team building skills.

Able to handle multiple assignments, set priorities, and meet deadlines.

Ability to represent department and function in a professional, courteous, and efficient manner.

Ability to follow complex written or verbal instructions to solve complex problems.
Management
Florida-Naples-North Naples Hospital
NAPLES-NICU-3100-455620
:Full Time
Apply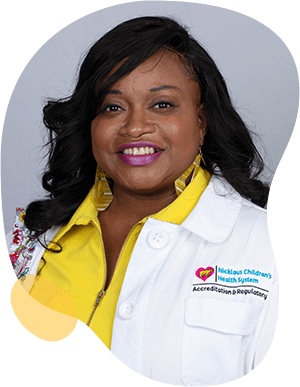 Joining a new organization can be daunting or overwhelming. But at Nicklaus, your colleagues make you feel welcomed. They taught me to celebrate our accomplishments and band together during challenging times. This is not easy to find in healthcare these days, so I'm grateful to have found an amazing place to work with people and leadership who have my well-being in mind.

Lova Renee Brunson

Manager Accreditation & Regulatory
Collaboration leads to success.
Alone we can do so little; together we can do so much. Working together, we find solutions and methods we would never find alone, and at Nicklaus Children's, we have fun doing it.
Responsibility drives us.
We all take responsibility here – for the children, their families, our work and each other. We meet our responsibilities head on and motivate each other to succeed.
Empower yourself, help others.
Nicklaus Children's encourages team members to believe in their ability to affect positive change in the world through everything they do with us.
Advocate for the right way.
Advocate for children. Advocate for families. Advocate for yourself. But most of all, advocate for getting the job done right and you will find nothing but success and support in your career here.
Transformation is growth.
At Nicklaus Children's, change is not to be feared. When you work here, you are always working with the most advanced tools and procedures available.
Empathy is everything.
We expect our team members to have empathy for the patients and families they treat, and in turn, we have empathy for them. We take care of everyone in the Nicklaus Children's family with competitive benefits and our supportive culture.
Join Our Talent Community