Radiology Technologist (Per Diem/Pool) Homestead
HOMESTEAD ACC - RADIOLOY
Florida-Homestead-Homestead Outpatient Center
Homestead, Florida
Requisition ID 23189
Job Summary
Utilizes medical imaging equipment to produce diagnostic quality radiographs through the use of ionizing radiation. Responsible for following all departmental Radiation Safety and ALARA policies as well as state and federal regulations to ensure low-dose imaging is an integral part of practice. Operates portable and stationary x-ray equipment and prepares examination rooms, equipment, supplies, and medications. Provides for patient comfort and safety during examinations.
Job Specific Duties
Demonstrates knowledge of radiation safety by utilizing dose reduction techniques such as: minimize time, maximize distance, and use shielding to optimize patient dose.

Documents time for Fluoro cases, KVp, and mAS for X-rays in Cerner upon closing the exam.

Adjusts equipment, determines proper technique, and arranges immobilization and support devices to obtain correct patient position.

Communicates effectively with hospital employees, physicians, patients, and families.

Follows hospital patient-identification policy prior to performing examination. Utilizes two patient identifiers to ensure accuracy as per policy.

Enters and transmits patient information into PACS for interpretation/reading immediately following completion of examination.

Observes radiation safety practices at all times and adheres to all clean sweep guidelines and infection control standards per policy.

Prepares patient for examination, explains procedures, transfers patient to table, positions patients, and assists patient at end of procedure.

Performs portable examinations in the operating room, emergency department, and in-patient rooms. Demonstrates knowledge of C-arm operations.

Responsible for maintaining cleanliness of the equipment, monitoring inventory, and stocking scan room.

Performs QA, completes exam, enters and transmits patient information into PACS in a timely manner.

Problem solves issues with equipment and reports equipment problems/malfunctions to clinical engineering or supervisor on an as needed basis.
Minimum Job Requirements
American Heart Association CPR BLS - must maintain active and in good standing throughout employment.

General x-ray license from the State of Florida – must maintain active and in good standing throughout employment.
Knowledge, Skills, and Abilities
Registered by the American Registry of Radiology Technologists (ARRT) – in good standing throughout employment highly preferred.

Graduate of AMA Accredited School of Radiology Technology preferred.

Able to relate cooperatively and constructively with patients, families, and co-workers.

Ability to communicate effectively in English, both verbally and in writing.

Able to maintain confidentiality of sensitive information.

Ability to problem solve and adapt standard clinical procedures to the individual client's need.

Ability to interpret, adapt, and react calmly under stressful conditions.

Ability to work as a team member.
Imaging & Radiology
Florida-Homestead-Homestead Outpatient Center
HOMESTEAD ACC - RADIOLOY-2100-512721
:Pool
Apply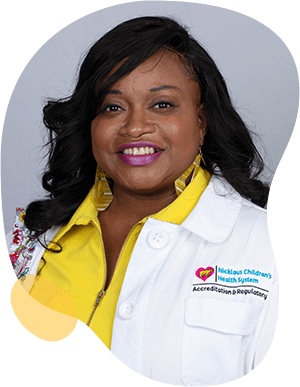 Joining a new organization can be daunting or overwhelming. But at Nicklaus, your colleagues make you feel welcomed. They taught me to celebrate our accomplishments and band together during challenging times. This is not easy to find in healthcare these days, so I'm grateful to have found an amazing place to work with people and leadership who have my well-being in mind.

Lova Renee Brunson

Manager Accreditation & Regulatory
Collaboration leads to success.
Alone we can do so little; together we can do so much. Working together, we find solutions and methods we would never find alone, and at Nicklaus Children's, we have fun doing it.
Responsibility drives us.
We all take responsibility here – for the children, their families, our work and each other. We meet our responsibilities head on and motivate each other to succeed.
Empower yourself, help others.
Nicklaus Children's encourages team members to believe in their ability to affect positive change in the world through everything they do with us.
Advocate for the right way.
Advocate for children. Advocate for families. Advocate for yourself. But most of all, advocate for getting the job done right and you will find nothing but success and support in your career here.
Transformation is growth.
At Nicklaus Children's, change is not to be feared. When you work here, you are always working with the most advanced tools and procedures available.
Empathy is everything.
We expect our team members to have empathy for the patients and families they treat, and in turn, we have empathy for them. We take care of everyone in the Nicklaus Children's family with competitive benefits and our supportive culture.
Join Our Talent Community