Access Improvement Analyst-NCPS
NCPS-PROFESSIONAL SERVICES
Florida-Miami-Nicklaus Children's Hospital - Main Hospital Campus
Miami, Florida
Requisition ID 25577
Job Summary
The NCPS Access Improvement Analyst is responsible for analyzing scheduling processes, resource allocation, referral coordination and patient flow to optimize access to care at NCPS. The analyst will support through creating reports/updating dashboards, creating policies, and implement process improvement initiatives. The analyst will collaborate amongst project teams, NCPS team, Scheduling, Contracts, Finance, IT, Revenue Cycle, Procurement, and operations process owners.
Job Specific Duties
Supports in planning and implementation of projects to include program design, creating, and executing project plans. Supports stakeholders in multiple and simultaneous projects through all phases of implementation including tracking timelines and deliverables.




Identifies access process improvement opportunities and proposes/implements data-driven solutions to optimize service locations, fill rates, volumes, and available appointment times by specialty.




Runs reports and analyzes data to ensure projects are within scope, on budget, and assigned to the appropriate team(s).




Creates ad hoc reports via Excel and/or PowerBI dashboards.




Interprets data and reports to develop conclusions and recommendations.




Assesses clinician schedules for opportunities to improve slot fill rates, availability, and no-show rates.




Responsible for managing access and scheduling initiatives through the life cycle including planning, tracking, analysis, and reporting.




Works closely with leaders and staff to define opportunities, plan improvements, and track towards future performance.




Assists in the preparation of performance reports, risk assessments, executive briefings, and required progress status reports and deliverables.




Provides financial and performance status information to the project team.




Assesses appointment scheduling process and workflow for continual improvement at both the practice and medical group level.




Ensures project reporting reliability and sustainability, through data analytics and internal reporting sources.




Coordinates the development of best management practices and disseminates lessons learned to appropriate staff.




Monitors and evaluates the efficiency and effectiveness of service delivery methods and procedures.




Supports the team with Practice Plan informatics and overall reporting needs.
Minimum Job Requirements
Bachelor's Degree in Healthcare, Business, Accounting, Engineering, Information Technology, or related field




1-3 years of experience in the healthcare environment, preferably in patient financial services, project management, and/or medical group practice
Knowledge, Skills, and Abilities
Master's degree preferred.




Ability to plan time effectively, balance multiple tasks, work within stringent timeframes, and drive projects to completion.




Conflict resolution skills and team approach to resolve challenges to advance project.




Able to handle multiple assignments, set priorities, and meet deadlines.




Ability to effectively plan/organize large and complex projects.




Understanding of cost, schedule development, and controls.




Ability to analyze project control requirements and develop tools and processes to enhance overall effectiveness.




Solid analytical ability with excellent written and verbal communication skills.




Ability to prepare written and verbal reports to project team and management regarding program performance.




Hands-on experience with earned value methodology and monitoring including calculation and analysis.




Able to communicate at all levels to convey project information.




Able to deliver engaging, informative, and well-organized presentations.




Able to work in a team environment.




Ability to maintain confidentiality of sensitive information.




Broad knowledge regarding practice operations, revenue cycle/insurance requirements, and best practice implementation.




Able to analyze clinician schedules and identify process improvement opportunities.




Demonstrates experience in process improvement, patient flow, and throughput.




Computer Savvy with advanced proficiency in Microsoft office tools, including Excel (pivot tables and advanced formulas), Teams, Visio, and PowerPoint. Ability to learn appropriate software application(s).
Professional
Florida-Miami-Nicklaus Children's Hospital - Main Hospital Campus
NCPS-PROFESSIONAL SERVICES-3100-490000
:Full Time
Apply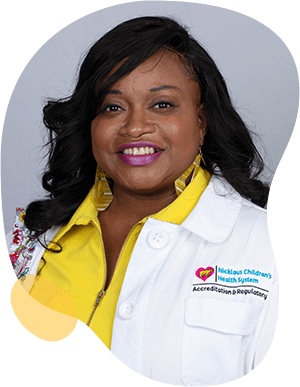 Joining a new organization can be daunting or overwhelming. But at Nicklaus, your colleagues make you feel welcomed. They taught me to celebrate our accomplishments and band together during challenging times. This is not easy to find in healthcare these days, so I'm grateful to have found an amazing place to work with people and leadership who have my well-being in mind.

Lova Renee Brunson

Manager Accreditation & Regulatory
Collaboration leads to success.
Alone we can do so little; together we can do so much. Working together, we find solutions and methods we would never find alone, and at Nicklaus Children's, we have fun doing it.
Responsibility drives us.
We all take responsibility here – for the children, their families, our work and each other. We meet our responsibilities head on and motivate each other to succeed.
Empower yourself, help others.
Nicklaus Children's encourages team members to believe in their ability to affect positive change in the world through everything they do with us.
Advocate for the right way.
Advocate for children. Advocate for families. Advocate for yourself. But most of all, advocate for getting the job done right and you will find nothing but success and support in your career here.
Transformation is growth.
At Nicklaus Children's, change is not to be feared. When you work here, you are always working with the most advanced tools and procedures available.
Empathy is everything.
We expect our team members to have empathy for the patients and families they treat, and in turn, we have empathy for them. We take care of everyone in the Nicklaus Children's family with competitive benefits and our supportive culture.
Join Our Talent Community