Accreditation/Regulatory Compliance Specialist (Full Time, Day shift)
ACCREDITATION &REGULATORY
Florida-Miami-Nicklaus Children's Hospital - Main Hospital Campus
Miami, Florida
Requisition ID 25421
Job Summary
Under the direction of Accreditation Leadership, the Accreditation and Regulatory Compliance Specialist executes all aspects of accreditation, regulatory and hospital licensure compliance across the healthcare organization. Provides consultation to organizational leadership, managers, and staff on accreditation readiness through participation in operational committees, communication, facilitation, and project management. Uses proactive data analytics to advise of potential regulatory risks. Assists in the preparation and coordination of efforts related to major accreditations, certifications, and regulatory agency surveys. Communicates with essential personnel about accreditation/regulatory requirements, implications to the healthcare environment and strategies to steadfastly achieve compliance. Identifies opportunities for improvements based on evidence-based practices in regulatory and accreditation compliance, analysis of internal and external compliance/risk assessments and findings from regulatory authorities. Maintains knowledge of standards, updates to standards, compliance of regulatory requirements through comprehensive analysis, documentation, reporting of data and summarizing.
Job Specific Duties
Analyzes data collected in organization related to survey activities and serves as a resource. Reviews, monitors, and analyzes data.




Serves as a resource for interpretation of state, regulatory, accreditation, and disease-specific care certification standards (as applicable) in relation to system wide policies and practices.




Promotes a standard and effective approach to ensure the organization is continually ready for all regulatory and/or accreditation surveys.




Assists the Accreditation & Regulatory team during all surveys, inspections, and audits.




Analyzes Environment of Care data/concerns and other quality/process improvement concerns related to state, federal, and national accreditation surveys. Evaluates corrective action plans as needed to ensure sustainability.




Performs routine audits and tracers to assist in determining compliance with accreditation and regulatory requirements.




Assists in tracking, trending, reporting issues, and monitoring Accreditation & Regulatory tracker data by accreditation standards.




Completes audits and projects as assigned by Accreditation & Regulatory department.




Actively participates in system wide or department specific preparation for accreditation and regulatory audits and surveys by creating and maintaining compliance roadmaps as assigned.




Supports the creation, analysis, maintenance, and reporting of all Corrective Action and Preventive Action (CAPA) and ISO Assurance Audit items for NCHS.




Maintains compliance and stays up-to-date on regulatory policies.
Minimum Job Requirements
Bachelor's Degree Healthcare or related field   (Required)

3-5 years Experience in healthcare/hospital, outpatient and urgent care centers, multi-location physician office practice, and/or ambulatory surgery center settings




1-3 years Experience in facilitation, project management, and data analysis




2-4 years Experience with at least two Accreditation Surveys (DNV, TJC, AAAHC, or other regulatory agencies) with active participation in the enterprise's success.
Knowledge, Skills, and Abilities
Certification within two years preferred.




3-5 years hospital experience preferred.




Accreditation & Regulatory experience preferred.




Previous experience in quality review, analysis, and reporting, as well as quality background.




Working knowledge of state, federal, and national accreditation standards in a hospital or healthcare related field.




Excellent oral and written communication skills.




Strong problem solving, organizational, and data management skills.




Analytical and statistical abilities.




Advanced knowledge of Microsoft Excel and Word; prefer experience with database management and Microsoft Access.




Ability to meet constant, competing, and changing deadlines.




Attention to detail and time management skills.
Professional
Florida-Miami-Nicklaus Children's Hospital - Main Hospital Campus
ACCREDITATION &REGULATORY-1000-910921
:Full Time
Apply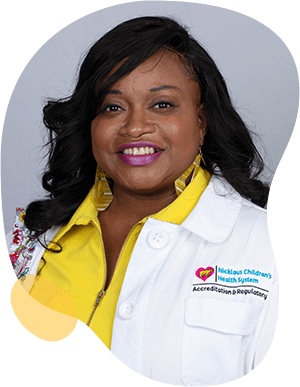 Joining a new organization can be daunting or overwhelming. But at Nicklaus, your colleagues make you feel welcomed. They taught me to celebrate our accomplishments and band together during challenging times. This is not easy to find in healthcare these days, so I'm grateful to have found an amazing place to work with people and leadership who have my well-being in mind.

Lova Renee Brunson

Manager Accreditation & Regulatory
Collaboration leads to success.
Alone we can do so little; together we can do so much. Working together, we find solutions and methods we would never find alone, and at Nicklaus Children's, we have fun doing it.
Responsibility drives us.
We all take responsibility here – for the children, their families, our work and each other. We meet our responsibilities head on and motivate each other to succeed.
Empower yourself, help others.
Nicklaus Children's encourages team members to believe in their ability to affect positive change in the world through everything they do with us.
Advocate for the right way.
Advocate for children. Advocate for families. Advocate for yourself. But most of all, advocate for getting the job done right and you will find nothing but success and support in your career here.
Transformation is growth.
At Nicklaus Children's, change is not to be feared. When you work here, you are always working with the most advanced tools and procedures available.
Empathy is everything.
We expect our team members to have empathy for the patients and families they treat, and in turn, we have empathy for them. We take care of everyone in the Nicklaus Children's family with competitive benefits and our supportive culture.
Join Our Talent Community