APRN - Anesthesiology (Pain Service) - (Full Time, Day shift)
Advanced Practice Provider
Florida-Miami-Nicklaus Children's Hospital - Main Hospital Campus
Miami, Florida
Requisition ID 25706
Job Summary
Responsible for demonstrating expert clinical practice based upon evidence-based information that focuses on preventing and minimizing pediatric acute/chronic/procedural-related pain in both inpatient and outpatient areas. Serves as a consultant/leader/change agent for pediatric pain-related issues throughout NCHS. Provides formal/informal education of pain-related issues, including State regulations, to all levels of NCH providers, students, and community groups. Partners with patients and families to establish pain-related treatment goals and patient-specific multi-modal treatment plans. Collaborates as a member of the team through effective verbal and written communication methods.
Job Specific Duties
Serves as a patient advocate and provides family support/community resources.

Reviews inpatient patient list (including new consults) to determine priority of care during rounding based upon patient response to treatment plan and new consults.

Conducts pain rounds as often as necessary based on patient and plan of care.

Formulates a differential pain diagnosis based upon the assessment, history, physical exam and findings of diagnostic testing.

Models expert pain management practice to interdisciplinary team and patients.

Communicates with pain Attending throughout the day and provides hand off regarding admitted patients prior to daily departure.

Completes clinical documentation (H&P, notes, results) accurately and in a timely manner of 24 hours.

Performs procedures per competency checklist: epidural catheter removal, on-q-soaker catheter removal.

Documents within the scope of practice, all electronic medical record (EMR) meaningful use required fields in an effort to optimize utilization.

Identifies barriers to the effective provision of pain management (i.e. patient/family related, provider related, system related).

Promotes pain management nursing through participation with American Society of Pain Management Nurses/APS listserv, Pediatric Pain listserve and ASPMN committees.

Provides mentoring in precepting Advanced Practice Provider (APP)/Medical Students/Residents; actively provides feedback and detailed description of areas.

Attends & ensures active pain participation/representation at assigned hospital-wide meetings and unit-based interdisciplinary patient specific meetings.

Accountable for influencing quality, competent patient care. Evaluates role performance according to professional practice standards, relevant statutes & regulations, and institutional guidelines.

Provides education to patient/families on the continuing plan of care to include medications and side effects. Updates patient/families daily on Plan of Care (POC).

Generates, collects, & integrates data from a wide variety of evidence-based sources in order to make clinical judgments & decisions about appropriate orders, procedures, referrals, & treatments.

Develops and implements an individualized pain plan of care (including diagnostic testing) to meet the needs of patients with acute, procedural, chronic and complex pain syndromes.
Minimum Job Requirements
APRN State of Florida license - must maintain active and in good standing throughout employment.

Certification by the American Nurse Credentialing Center (ANCC), American Academy of Nurse Practitioner Certification Program (AANP), or Pediatric Nursing Certification Board (PNCB)

American Heart Association (AHA) BLS - must maintain active and in good standing throughout employment.

American Heart Association (AHA) PALS - must maintain active in good standing throughout employment.

Level II Background Check - Successful completion of credentialing by NCHS Medical Administration required.
Knowledge, Skills, and Abilities
Available for weekend call and weekend coverage required.

Career Development: Actively involved in the American Society of Pain Management Nurses (ASPMN) within 3 years of hire preferred.

Strong interpersonal, communication, collaboration, and conflict resolution skills.

Able to relate cooperatively and constructively with patients, families, and co-workers.

Able to communicate effectively verbally and in writing.

Able to maintain confidentiality of sensitive information.

Ability to problem solve to formulate a plan of care and evaluate the patient's response to care.

Able to interpret, adapt, and react calmly under stressful conditions.

Able to react quickly to new challenges (unanticipated events) and resolve issues and address requests in a timely fashion.
#APP
Professional
Florida-Miami-Nicklaus Children's Hospital - Main Hospital Campus
NCPS-ANESTHESIOLOGY-3100-455723
:Full Time
Apply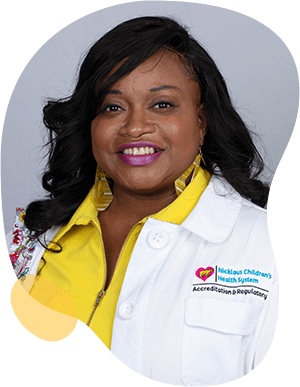 Joining a new organization can be daunting or overwhelming. But at Nicklaus, your colleagues make you feel welcomed. They taught me to celebrate our accomplishments and band together during challenging times. This is not easy to find in healthcare these days, so I'm grateful to have found an amazing place to work with people and leadership who have my well-being in mind.

Lova Renee Brunson

Manager Accreditation & Regulatory
Collaboration leads to success.
Alone we can do so little; together we can do so much. Working together, we find solutions and methods we would never find alone, and at Nicklaus Children's, we have fun doing it.
Responsibility drives us.
We all take responsibility here – for the children, their families, our work and each other. We meet our responsibilities head on and motivate each other to succeed.
Empower yourself, help others.
Nicklaus Children's encourages team members to believe in their ability to affect positive change in the world through everything they do with us.
Advocate for the right way.
Advocate for children. Advocate for families. Advocate for yourself. But most of all, advocate for getting the job done right and you will find nothing but success and support in your career here.
Transformation is growth.
At Nicklaus Children's, change is not to be feared. When you work here, you are always working with the most advanced tools and procedures available.
Empathy is everything.
We expect our team members to have empathy for the patients and families they treat, and in turn, we have empathy for them. We take care of everyone in the Nicklaus Children's family with competitive benefits and our supportive culture.
Join Our Talent Community