Barista/Food Service Associate (Full Time, Rotating Shifts)
COFFEE SHOPS
Florida-Miami-Nicklaus Children's Hospital - Main Hospital Campus
Miami, Florida
Requisition ID 24325
Job Summary
Responsible for fulfilling orders and completing sales transactions within a coffee shop establishment and performing other support functions which may include cleaning the food preparation, customer seating or stock areas, and maintaining inventory. Provides customers with prompt service, quality beverages and products, and maintains a clean and comfortable store environment. Performs all cashier functions. Performs reconciliation of cash on hand at the beginning and completion of shifts.
Job Specific Duties
Greets customers and takes food order; provides information about products, ingredients and looks for opportunity to "up-sell" products.

Delivers legendary customer service to all customers by acting with a customer comes first attitude and connecting with the customer. Discovers and responds to customer needs as well as provides service recovery when needed.

Prepares all drink and food orders to company standards. Provides quality beverages and food products consistently for all customers by adhering to all recipe and presentation standards.

Follows health, safety, and sanitation guidelines for all products.

Operates register and receives payment in cash or credit card. Accurately counts and provides change to customers and follows all customer service and cash handling policies & procedures.

Cleans and stocks customer areas.

Follows departmental and organizational policies and procedures, including those for safety and security, to ensure the safety of all partners during each shift.

Maintains a calm demeanor during periods of high volume or unusual events to keep store operating to standard and to set a positive example for the shift team.

Ensures that customer items are prepared and delivered together.

Ensures that all food items are maintained at correct temperatures and keeps records of food and equipment temperatures accordingly.

Properly utilizes Panini Press, Turbo Chef when warming and preparing food items.

Performs all cashier functions; change making, accurately ring up sales, balances drawer, prepares bank deposits, etc.

Follows established standards for stocking, restocking, rotating, displaying and storing food and food related supplies (e.g. lids, cups, napkins, chips, sugar, beverages, baked goods and food items).

Ensures infection control and sanitation by washing hands, use of hand sanitizer and using gloves as required.

Ensures proper rotation of products (FIFO), ensuring freshness, checking dates "use by" and "best by" on a daily basis.

Ensures all temperature logs are completed on a daily basis notifying Lead, Supervisor, or Manager if items/equipment are out of temperature.
Minimum Job Requirements
Active ServSafe Certification

-

 Safe Staff  required within 30 days of hire

1-3 years

'

previous experience in coffee shop or similar environment

1-3 years

'

p

revious cash handling and customer service

experience
Knowledge, Skills, and Abilities
High School Diploma or equivalent

Able to interact with the public and coworkers in a friendly, enthusiastic, and outgoing manner

Able to learn quickly and maintain knowledge of the establishment's products and procedures

Able to communicate sufficiently well in English both verbally and in writing to request supplies and properly label food items

Able to speak, read and comprehend instructions, short correspondence and policy documents, as well as converse comfortably with customers

Available to work flexible hours that may include early mornings, evenings, weekends, nights and/or holidays

Able to work in a fast paced environment and multi-task (verifying and preparing multiple coffee/drink/food orders)

Ability to perform calculations and use simple mathematical principles

Knowledge of menu items and pricing

Able to operate commercial coffee-maker equipment in high-traffic area

Able to follow simple instructions to accomplish repetitive task

Able to use and maintain the food service equipment (e.g. blender, thermometer, refrigerator, coffee grinder, espresso machine)

Able to learn and follow all beverage recipes to ensure quality, consistency, and cost
Food & Nutrition Services
Florida-Miami-Nicklaus Children's Hospital - Main Hospital Campus
COFFEE SHOPS-2100-800001
:Full Time
Apply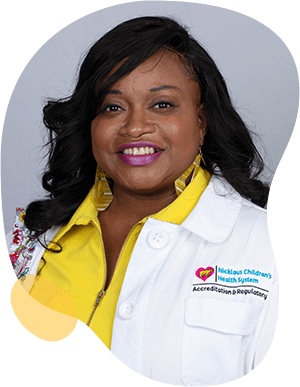 Joining a new organization can be daunting or overwhelming. But at Nicklaus, your colleagues make you feel welcomed. They taught me to celebrate our accomplishments and band together during challenging times. This is not easy to find in healthcare these days, so I'm grateful to have found an amazing place to work with people and leadership who have my well-being in mind.

Lova Renee Brunson

Manager Accreditation & Regulatory
Collaboration leads to success.
Alone we can do so little; together we can do so much. Working together, we find solutions and methods we would never find alone, and at Nicklaus Children's, we have fun doing it.
Responsibility drives us.
We all take responsibility here – for the children, their families, our work and each other. We meet our responsibilities head on and motivate each other to succeed.
Empower yourself, help others.
Nicklaus Children's encourages team members to believe in their ability to affect positive change in the world through everything they do with us.
Advocate for the right way.
Advocate for children. Advocate for families. Advocate for yourself. But most of all, advocate for getting the job done right and you will find nothing but success and support in your career here.
Transformation is growth.
At Nicklaus Children's, change is not to be feared. When you work here, you are always working with the most advanced tools and procedures available.
Empathy is everything.
We expect our team members to have empathy for the patients and families they treat, and in turn, we have empathy for them. We take care of everyone in the Nicklaus Children's family with competitive benefits and our supportive culture.
Join Our Talent Community