Biomed Integration Analyst II (Clinical Engineering Team)
CLINICAL ENGINEERING
Florida-Miami-Nicklaus Children's Hospital - Main Hospital Campus
Miami, Florida
Requisition ID 21578
Job Summary
Technical subject matter expert on medical device connectivity and provides expert knowledge in developing and maintaining interfaces in a healthcare environment. Designs, develops, and maintains interfaces for the clinical and research user community. Works as a Leaders to design, build, test, and support software and hardware applications. Works between application, systems, networking and vendor technical resources to define "best practices" surrounding the ongoing implementation interfaces that support of the Cerner Millennium System.
Minimum Job Requirements
BS in Computer Sciences/Information Systems/Computer Engineering related major or 6+ years of experience in Information Technology in a technical role.

6 years hand-on experience in medical systems configuration and administration.

6 years of experience designing, implementing, and supporting clinical application systems.

Work experience with Oracle and SQL Server relational database systems.

Work experience with XML Schema, XSL, SAX and DOM processing mechanisms.

Work experience with C++, XML, and JAVA.

Work experience in Cloverleaf or other interface engine and development tool kits.
Essential Duties and Responsibilities
Responsible for developing and maintaining interfaces in a healthcare environment.

Designs, develops and maintains interfaces for the clinic and research user community.

Analyzes needs & requirements of existing and proposed systems. Develops technical, structural & organizational specifications in addition to systems integration in client/server environments.

Develops & maintains interfaces (HL7 and non HL7) in a 24/7/365 environment against leading application suites such as EMR & with databases such as Oracle or MS SQL Server.

Develops code in C++, XML and/or JAVA as needed.

Establishes basic and advance interface implementation strategies.

Implements & directs the development and testing of medical interfaces such as patient monitors, infusion pumps, VSMs, etc.

Interacts with IT staff, user clients, and vendors to identify specific system, database and application requirements, problems, and solutions.

Meets project timelines as specified by Leader or Project Manager.

Uses Software Development Life Cycle methodology or other approaches supported by MCH to ensure integrity of code.

Provides functional and technical guidance to assigned personnel on a daily basis including scheduling, monitoring, review of systems studies and project and program.

Assists assigned personnel by becoming their first line of support when addressing complex and structured situations that requires Manager/Director intervention.
Knowledge/Skills/Abilities
Ability to communicate effectively in both verbally and writing.

ACCE or BMET certification strongly preferred.

Bachelors of Science degree in Computer Science, Computer Engineering, Biomedical Engineering or related major preferred.

Practical experience with project delivery and systems development.

Experience in leading hospital applications suites preferred.

Working knowledge of HL7 standards and custom interface products.

Strong working knowledge of UNIX (AIX) and Windows Server.

Strong working knowledge of UNIX (AIX) and Windows Server.

Strong understanding of HL7, HL&-HML, ANSI and AAMI standards.

Working knowledge of one or more programming languages & reporting systems including COBOL, .Net, JAVA, XML, SQL & Crystal Reports.
(EOE DFW)
Information Technology
Florida-Miami-Nicklaus Children's Hospital - Main Hospital Campus
CLINICAL ENGINEERING-2100-810000
:Full Time
Apply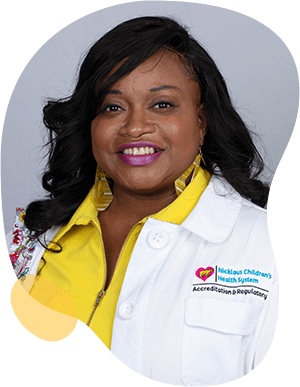 Joining a new organization can be daunting or overwhelming. But at Nicklaus, your colleagues make you feel welcomed. They taught me to celebrate our accomplishments and band together during challenging times. This is not easy to find in healthcare these days, so I'm grateful to have found an amazing place to work with people and leadership who have my well-being in mind.

Lova Renee Brunson

Manager Accreditation & Regulatory
Collaboration leads to success.
Alone we can do so little; together we can do so much. Working together, we find solutions and methods we would never find alone, and at Nicklaus Children's, we have fun doing it.
Responsibility drives us.
We all take responsibility here – for the children, their families, our work and each other. We meet our responsibilities head on and motivate each other to succeed.
Empower yourself, help others.
Nicklaus Children's encourages team members to believe in their ability to affect positive change in the world through everything they do with us.
Advocate for the right way.
Advocate for children. Advocate for families. Advocate for yourself. But most of all, advocate for getting the job done right and you will find nothing but success and support in your career here.
Transformation is growth.
At Nicklaus Children's, change is not to be feared. When you work here, you are always working with the most advanced tools and procedures available.
Empathy is everything.
We expect our team members to have empathy for the patients and families they treat, and in turn, we have empathy for them. We take care of everyone in the Nicklaus Children's family with competitive benefits and our supportive culture.
Join Our Talent Community