Biomedical Engineer
CLINICAL ENGINEERING
Florida-Miami-Nicklaus Children's Hospital - Main Hospital Campus
Miami, Florida
Requisition ID 24955
Job Summary
Ensures reliable and safe use of medical equipment used for patient monitoring, diagnosis, and therapy including imaging. Analyzes and corrects problems associated with instrument operation and malfunction, trains user personnel on appropriate and safe use, performs scheduled calibration, maintenance, safety testing, plans and coordinates medical equipment installations.
Job Specific Duties
Applies appropriate documenting evidence with the use of stickers or other means to indicate dates of medical equipment testing and performance characteristics.

Enters data into and issues reports from the medical equipment/medical communication systems management database on all medical equipment-related activity per accreditation requirements.

Identifies and reports abnormal conditions of medical equipment use that may interfere with patient safety or equipment longevity.

Instructs users in operating techniques, safety, and application of medical equipment as needed.

Ensures all repaired medical equipment operates safely and according to manufacturer specifications and/or appropriate accreditation agencies.

Minimizes medical equipment downtime by determining when it is best to use vendor repair services.

Performs scheduled testing, calibration, and maintenance.

Plans and ensures the orderly, safe, and satisfactory installation of medical equipment through coordination with vendors, manufacturers, and users.

Responds immediately to user requests to analyze and correct reported medical equipment failures.

Designs systems to enhance the use of medical devices in hospital environments.

Works alongside physicians in establishing methods in research biomedical engineering equipment.

Monitors biomedical equipment to ensure compliance with regulatory requirements.

Responsible for execution and timely completion of projects by analyzing scope and determining project specifications.
Minimum Job Requirements
Bachelor's Degree (or) graduate of advanced military training in Biomedical Engineering

Florida driver's license may be required depending on job assignment

6-7 years of experience in a hospital-based biomedical engineering setting or multi-hospital shared service program.
Knowledge, Skills, and Abilities
Bachelor's degree in Biomedical or Electronic Engineering plus 10 years of experience in a hospital-based biomedical engineering or multi-hospital shared service program preferred.

Ability to communicate effectively both verbally and in writing.

Ability to follow verbal, written, and diagrammatic instructions, solve complex problems & file reports.

Available to be on-call as needed.

Knowledge of medical device integration and ability to learn software application(s).

Knowledge of clinical physiological monitoring networking systems theory and design.

Knowledge of Spanish helpful.

Able to relate cooperatively and constructively with customers and co-workers.
Information Technology
Florida-Miami-Nicklaus Children's Hospital - Main Hospital Campus
CLINICAL ENGINEERING-2100-810000
:Full Time
Apply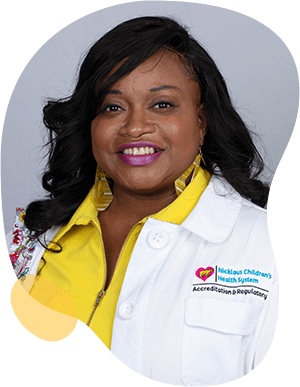 Joining a new organization can be daunting or overwhelming. But at Nicklaus, your colleagues make you feel welcomed. They taught me to celebrate our accomplishments and band together during challenging times. This is not easy to find in healthcare these days, so I'm grateful to have found an amazing place to work with people and leadership who have my well-being in mind.

Lova Renee Brunson

Manager Accreditation & Regulatory
Collaboration leads to success.
Alone we can do so little; together we can do so much. Working together, we find solutions and methods we would never find alone, and at Nicklaus Children's, we have fun doing it.
Responsibility drives us.
We all take responsibility here – for the children, their families, our work and each other. We meet our responsibilities head on and motivate each other to succeed.
Empower yourself, help others.
Nicklaus Children's encourages team members to believe in their ability to affect positive change in the world through everything they do with us.
Advocate for the right way.
Advocate for children. Advocate for families. Advocate for yourself. But most of all, advocate for getting the job done right and you will find nothing but success and support in your career here.
Transformation is growth.
At Nicklaus Children's, change is not to be feared. When you work here, you are always working with the most advanced tools and procedures available.
Empathy is everything.
We expect our team members to have empathy for the patients and families they treat, and in turn, we have empathy for them. We take care of everyone in the Nicklaus Children's family with competitive benefits and our supportive culture.
Join Our Talent Community