Brain Tumor Program Navigator (Full Time, Day shift)
NURSING PROFESSIONAL PRACTICE
Florida-Miami-Nicklaus Children's Hospital - Main Hospital Campus
Miami, Florida
Requisition ID 23648
Job Summary
Performs patient and physician(s) flow coordination and clerical support for the Brain Tumor and other clinics and administrative areas. Acts as resource for all clinic related questions, testing, scheduling, authorizations, issues, etc. Responsible for all patient, family, and physician(s) questions and concerns. Leads all communications and documentation between medical practices and ancillary services.
Job Specific Duties
Coordinates clinic's schedule, confirms appointments and necessary testing (MRI, EEG, VEEG, etc.). Notifies stakeholders of practice schedule prior to clinic visit for insurances verification.

Registers patients on clinic day; activates accounts, controls physician/patient flow to assert patient was seen by an MD, and confirms all other MD appointments/visits. Follows up on all MD visits.

Works and collaborates with clinical care team to maintain and implement up-to-date coordinated patient care; communicates with all members of the healthcare team on behalf of the patient.

Enters patient demographics and insurance information in the scheduling/appointment book of EHS with the preset criteria and appointment slots for each clinic.

Obtains tests/visit authorizations and collects necessary information for appointment/admission. Distributes relevant medical data and follows up with clinical indications following medical review.

Assists patients/families in obtaining referrals/appointments with needed specialists. Assures smooth transition of inpatient/outpatient experiences.

Ensures communication between staff & physicians; responsible for arranging appointments & follow-up; serve as a front-line resource to obtain records, test results, & other clinical information.

Identifies and eliminates health care system barriers to ensure timely access to quality medical and clinical care.

Collects tests/visit information as necessary for appointment/admission. Distributes relevant medical data and follows up with clinical indications following medical review.

Arranges support groups for various clinics and partners with team to ensure parental involvement.

Ensures patient flow is maximized to meet service standards. Performs service recovery when applicable to maximize patient and family satisfaction.

Coordinates in advanced with each specialty to assure (on clinic-day) patient is seen by all providers. Keeps teams informed of changes to the schedule.

Coordinates patient discharge after clinic. Inputs & updates information in EHS. Transmits clinic consensus to MDs & other consultants treating the patient. Provides follow up appointments & testing.

Accountable to produce correspondence including: accommodation letters, school letters and documentation for physical and occupational therapy.

Arranges end-of-clinic consensus meetings and/or support groups with different disciplines (food/speakers if needed). Archives data for future retrieval long-term care.

Participates in Lean initiative to improve processes for opportunities to deliver higher quality, cost effective care, with greater customer service, & which impact can be measured by way of metrics.

Utilizes Lean methodology to improve the family experience in the Brain Institute. Actively involved in continuously improving the patient experience and service recovery process.

Floats, covers, and provides assistance to department, other clinics, and staff members when needed or requested by leaders.
Minimum Job Requirements
4-7 years

of

administrative support and coordination of a Medical Office experience

Proficiency in Microsoft Office including Power Point and Excel

Bilingual in English/Spanish required
Knowledge, Skills, and Abilities
High school education or equivalent preferred

LPN highly preferred

Knowledge of HIPAA requirements and patient information is preferred

Electronic Health Systems (EHS) experience preferred

Medical insurance and billing experience preferred

Ability to learn new software application

Excellent communication, customer service skills, and phone etiquette

Excellent time management and ability to meet deadlines

Able to adapt and react calmly under stressful conditions

Able to prioritize and successfully handle multiple concurrent tasks

Strong attention to detail

Strong problem solving skills

Able to work effectively in a team environment
Clerical/Administrative
Florida-Miami-Nicklaus Children's Hospital - Main Hospital Campus
NURSING PROFESSIONAL PRACTICE-2100-860010
:Full Time
Apply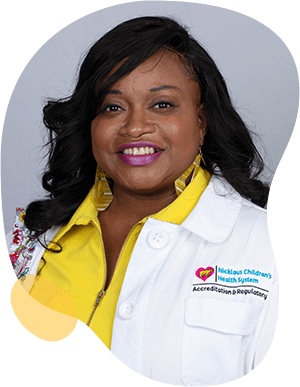 Joining a new organization can be daunting or overwhelming. But at Nicklaus, your colleagues make you feel welcomed. They taught me to celebrate our accomplishments and band together during challenging times. This is not easy to find in healthcare these days, so I'm grateful to have found an amazing place to work with people and leadership who have my well-being in mind.

Lova Renee Brunson

Manager Accreditation & Regulatory
Collaboration leads to success.
Alone we can do so little; together we can do so much. Working together, we find solutions and methods we would never find alone, and at Nicklaus Children's, we have fun doing it.
Responsibility drives us.
We all take responsibility here – for the children, their families, our work and each other. We meet our responsibilities head on and motivate each other to succeed.
Empower yourself, help others.
Nicklaus Children's encourages team members to believe in their ability to affect positive change in the world through everything they do with us.
Advocate for the right way.
Advocate for children. Advocate for families. Advocate for yourself. But most of all, advocate for getting the job done right and you will find nothing but success and support in your career here.
Transformation is growth.
At Nicklaus Children's, change is not to be feared. When you work here, you are always working with the most advanced tools and procedures available.
Empathy is everything.
We expect our team members to have empathy for the patients and families they treat, and in turn, we have empathy for them. We take care of everyone in the Nicklaus Children's family with competitive benefits and our supportive culture.
Join Our Talent Community