Business System Tech
TECHNOLOGY SERVICES
Florida-Miami-Waterford Offices
Miami, Florida
Requisition ID 19268
Job Summary
Implements, designs, and provides support for information systems applications using a variety of technologies. Assesses, plans, develops, implements, and maintains assigned systems.
Minimum Job Requirements
1 year of experience designing, implementing, and supporting business application systems.

1 year of experience in Information Systems development, implementation, and support.

Practical experience with project delivery and systems development life cycles.

1 year of hands-on experience with business system configuration, design, implementation, and administration including one or more of the following systems: Kronos, Cerner Capacity Management, CBORD, Point of Sales, Decision Support, or Facilities Management.
Essential Duties and Responsibilities
Implements, designs, and provides support for information systems applications using a variety of technologies. Assesses, plans, develops, implements, and maintains assigned systems.

Adheres to IT standards and implements appropriate security safeguards in report development in order to maintain confidentiality and privacy of information.

Assists project leader and department leadership in establishing project team goals, objectives, budget, and coordinates and acquires resources to reach them

Assists users and IT personnel with training and development of user documentation.

Conducts data analyses in supported databases.

Develops system-wide reports to support information management needs.

Establishes design and builds or programs test, documentation and implementation standards and ensures assigned systems software adheres to them.

Evaluates, designs, builds, tests, and implements custom or vendor supplied software.

Maintains production systems to ensure reliable performance, appropriate change management, and security.

Prepares complete test plans and test methodologies.

Serves as expert resource and educates others on appropriate utilization of information systems to support the delivery of quality care and operational/research excellence.

Responsible for working effectively on project teams.
Knowledge/Skills/Abilities
BS in Computer Sciences, Information Systems, or related major preferred.

Advanced level in multiple platforms, business systems, and tool sets preferred.

Healthcare experience preferred.

Ability to communicate effectively, both verbally and in writing.

Windows Server skills and knowledge.
(EOE DFW)
Information Technology
Florida-Miami-Waterford Offices
TECHNOLOGY SERVICES-1000-921901
:Full Time
Apply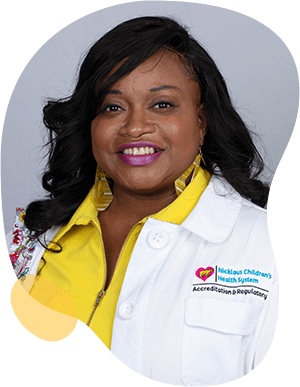 Joining a new organization can be daunting or overwhelming. But at Nicklaus, your colleagues make you feel welcomed. They taught me to celebrate our accomplishments and band together during challenging times. This is not easy to find in healthcare these days, so I'm grateful to have found an amazing place to work with people and leadership who have my well-being in mind.

Lova Renee Brunson

Manager Accreditation & Regulatory
Collaboration leads to success.
Alone we can do so little; together we can do so much. Working together, we find solutions and methods we would never find alone, and at Nicklaus Children's, we have fun doing it.
Responsibility drives us.
We all take responsibility here – for the children, their families, our work and each other. We meet our responsibilities head on and motivate each other to succeed.
Empower yourself, help others.
Nicklaus Children's encourages team members to believe in their ability to affect positive change in the world through everything they do with us.
Advocate for the right way.
Advocate for children. Advocate for families. Advocate for yourself. But most of all, advocate for getting the job done right and you will find nothing but success and support in your career here.
Transformation is growth.
At Nicklaus Children's, change is not to be feared. When you work here, you are always working with the most advanced tools and procedures available.
Empathy is everything.
We expect our team members to have empathy for the patients and families they treat, and in turn, we have empathy for them. We take care of everyone in the Nicklaus Children's family with competitive benefits and our supportive culture.
Join Our Talent Community