Care Assistant (Full Time, Day Shift)
SITTERS
Florida-Miami-Nicklaus Children's Hospital - Main Hospital Campus
Miami, Florida
Requisition ID 21964
Job Summary
Responsible for maintaining a clean, organized, safe patient environment and assists with patient care activities such as taking vital signs, feeding, bathing and daily living activities. Collaborates with the healthcare team and provides compassionate and empathic family-centered care for the patients and families. Works under the supervision of a RN and in accordance with the hospital policies and procedures.
Minimum Job Requirements
Certified Nursing Assistant or EMT license within the states of Florida - must maintain active and in good standing throughout employment.

Crisis Prevention Institute (CPI) required within 1 week of hire date - must maintain active and in good standing throughout employment.

American Heart Association BLS - must maintain active and in good standing throughout employment.

Level II Background Check and Background DDCF which will include Affidavit of Good Moral Character.

Psychiatric requirements per policy.
Essential Duties and Responsibilities
Assists patients with activities of daily living to include bathing, personal hygiene, nutrition and comfort measures, changing bed linens, and diapers.

Performs vital signs, heights, weights, head circumference & other measurements and records the results in the Electronic Health Record according to nursing and hospital policies & procedures.

Informs RN of pertinent information and/or communications all significant changes in patient condition or behavior.

Recognizes accepted priorities for care needs and takes direction for re-prioritizing from the RN.

Restock supplies such as gloves, gowns, linen, medical equipment, assists with room preparation and turnover.

Identifies the needs of the patient and provide necessary supplies accordingly.

Proactively identifies opportunities for improvement and promotes/practices cost containment.

Ensures clean and maintains patient rooms and nursing station at all times.

Provides encouragement, support and comfort to patients and family members.

Assists with transporting patients for special procedures.

Performs other assigned tasks to promote efficient practice operation and contribute to the provision of quality patient care.

Greets and welcomes patients, families and visitors. Communicates information regarding MCH services and delivers excellent and timely service and support.

Provides continuous supervision, observation of behavioral health patients, and adheres to non-violent crisis intervention strategies.

Floats to the Psychiatry department and perfoms 1:1 with Behavioral patients and utilizes the nursing units survial guide when assigned and supports the unit's assignment. 
Knowledge/Skills/Abilities
High school education or equivalent preferred

Strong problem solving, critical thinking and conflict resolution skills.

Ability to manage multiple priorities and collaborates in a team environment.

Strong time management skills.

Computer literate.

Effective verbal and written communication skills.

Experience in a healthcare environment is preferred.

Ability to effectively work in a collaborative environment and follow the direction of the Registered Nurse and/or Nursing Leader.

Ability to apply principles of evidenced-based practice, analytical thinking and service excellence in practice.
Nursing- Support (Clinical)
Florida-Miami-Nicklaus Children's Hospital - Main Hospital Campus
SITTERS-2100-610000
:Full Time
Apply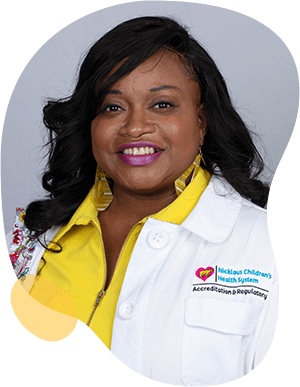 Joining a new organization can be daunting or overwhelming. But at Nicklaus, your colleagues make you feel welcomed. They taught me to celebrate our accomplishments and band together during challenging times. This is not easy to find in healthcare these days, so I'm grateful to have found an amazing place to work with people and leadership who have my well-being in mind.

Lova Renee Brunson

Manager Accreditation & Regulatory
Collaboration leads to success.
Alone we can do so little; together we can do so much. Working together, we find solutions and methods we would never find alone, and at Nicklaus Children's, we have fun doing it.
Responsibility drives us.
We all take responsibility here – for the children, their families, our work and each other. We meet our responsibilities head on and motivate each other to succeed.
Empower yourself, help others.
Nicklaus Children's encourages team members to believe in their ability to affect positive change in the world through everything they do with us.
Advocate for the right way.
Advocate for children. Advocate for families. Advocate for yourself. But most of all, advocate for getting the job done right and you will find nothing but success and support in your career here.
Transformation is growth.
At Nicklaus Children's, change is not to be feared. When you work here, you are always working with the most advanced tools and procedures available.
Empathy is everything.
We expect our team members to have empathy for the patients and families they treat, and in turn, we have empathy for them. We take care of everyone in the Nicklaus Children's family with competitive benefits and our supportive culture.
Join Our Talent Community