Certified Music Therapist I (Full Time, Day Shift)
CHILD LIFE & MUSIC THERAPY SRV
Florida-Miami-Nicklaus Children's Hospital - Main Hospital Campus
Miami, Florida
Requisition ID 21671
Job Summary:
Provides clinical and evidence-based music interventions to accomplish individualized goals in the cognitive, social/emotional, speech and language, and sensorimotor domains. Collaborates as a member of the interdisciplinary team to provide family centered therapy services and to develop and administer an individualized plan of care, adhering to the professional standards of practice of the American Music Therapy Association (AMTA). Participates in the MCHS Music Therapy Clinical Advancement Program.
Minimum Job Requirements:
Bachelor's degree in Music Therapy from AMTA approved program.
Board Certified Music Therapist required.
0-4 years of work experience as a Music Therapist in a hospital or clinical setting.
Completion of Music Therapy internship following current AMTA standards.
CPR Heart Saver Certification
Competent on guitar and keyboard.
ESSENTIAL JOB DUTIES:
Assesses patient functioning levels, strengths, and areas of need in terms of sensorimotor, social/emotional, communicative, cognitive, and musical domains.
Establishes appropriate individualized goals and objectives based on the clinical needs of each patient.
Conducts music therapy sessions providing guided self-expression experiences to help patients recover from or cope with cognitive, communicative, emotional, or physical impairments.
Provides support to patients and families before, during, and after non-sedative medical procedures and/or surgeries using music therapy and music psychotherapy counseling techniques.
Attend unit rounds to communicate patient assessment findings & recommendations with multi-disciplinary team to improve patient outcomes and develop, coordinate, or integrate treatment plans.
Observe and document patient reactions, progress, or other outcomes related to music therapy.
Responsible for addressing a variety of developmental and psychosocial needs of children and adolescents in the hospital environment.
Integrate behavioral, developmental, improvisational, medical, or neurological approaches into music therapy treatments.
Clearly articulates and promotes the role of the therapist and appropriately introduces services to patients, families, and healthcare professionals respectively.
Effectively engages with patients and families in both individual one-to-one bedside sessions and group music therapy sessions to build rapport and acknowledge their progress.
Maintains and ensures cleanliness and organization of work area, musical instruments, and other equipment.
Knowledge/Skills/Abilities:
Membership and active participation within AMTA are recommended.
Pediatric experience preferred.
Bilingual preferred.
Basic knowledge in physiology and childhood development.
Knowledge of procedures, illnesses, injuries, and other related events on an inpatient unit.
Ability to play ukulele, hand drums, and autoharp.
Knowledge and skill necessary to provide appropriate care to the age of the patients served on their assigned unit.
Effective interpersonal skills to negotiate for cooperation and encourage collaboration with superiors, peers, physicians, and staff.
Flexibility to respond to departments' needs and varying schedules.
Ability to communicate effectively both verbally and in writing.
Maintains confidentiality of sensitive information.
Displays a professional image and models service excellence.
Considerable experience in dealing effectively with people in stressful situations.
(EOE DFW)
Updated 1/20/17
Professional
Florida-Miami-Nicklaus Children's Hospital - Main Hospital Campus
CHILD LIFE & MUSIC THERAPY SRV-2100-863000
:Full Time
Apply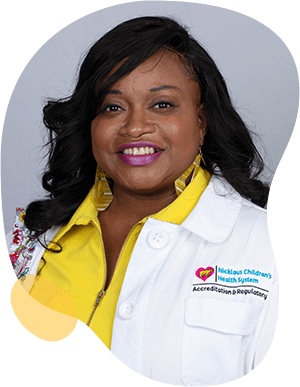 Joining a new organization can be daunting or overwhelming. But at Nicklaus, your colleagues make you feel welcomed. They taught me to celebrate our accomplishments and band together during challenging times. This is not easy to find in healthcare these days, so I'm grateful to have found an amazing place to work with people and leadership who have my well-being in mind.

Lova Renee Brunson

Manager Accreditation & Regulatory
Collaboration leads to success.
Alone we can do so little; together we can do so much. Working together, we find solutions and methods we would never find alone, and at Nicklaus Children's, we have fun doing it.
Responsibility drives us.
We all take responsibility here – for the children, their families, our work and each other. We meet our responsibilities head on and motivate each other to succeed.
Empower yourself, help others.
Nicklaus Children's encourages team members to believe in their ability to affect positive change in the world through everything they do with us.
Advocate for the right way.
Advocate for children. Advocate for families. Advocate for yourself. But most of all, advocate for getting the job done right and you will find nothing but success and support in your career here.
Transformation is growth.
At Nicklaus Children's, change is not to be feared. When you work here, you are always working with the most advanced tools and procedures available.
Empathy is everything.
We expect our team members to have empathy for the patients and families they treat, and in turn, we have empathy for them. We take care of everyone in the Nicklaus Children's family with competitive benefits and our supportive culture.
Join Our Talent Community