Chief, Adolescent Medicine
NCPS-ADOLESCENT MEDICINE
Florida-Miami-Nicklaus Children's Hospital - Main Hospital Campus
Miami, Florida
Requisition ID 21979
Job Summary
Responsible for setting the strategy for the Division/Program. Oversee all clinical care, quality metrics, teaching, and research responsibilities. Provides medical leadership, oversight of clinical and operational activities, and participates in planning, operational, and fiscal planning of the Program at Nicklaus Children's Hospital/Medical Group. Leads the quality work of the clinical program, promotes professionalism, and a culture of accountability.
Job Specific Duties
Leads or otherwise significantly contributes to care improvement initiatives and protocol/guideline development.

Assists with the financial plan and related services. Supporting the strategic goals for the Department and providing sufficient margin to enable reinvestment and continued advancement of clinical care, research, and training programs.

Representation in hospital wide and departmental initiatives related to planning, securing extramural funding/donations, and committee participation such as safety and quality.

Contemporaneously records and maintains all information pertaining to Administrative Services. Documentation to be provided electronically to employer on a monthly basis by the 5th business day following the end of each month.

Provides leadership for the development and quality of new and existing programs that will enhance the depth and breadth of clinical services. Align the department goals with NCHS/Nicklaus Children's Hospital/Medical Group.

Attends relevant NCHS/Nicklaus Children's Hospital/Medical Group leadership meetings as requested.

Promotes teamwork and an environment of professionalism conducive to optimal outcomes and progress of the service.

Participates in program and business planning to develop quality and service metrics.

Utilizing the framework of the Institute of Medicine's six dimensions of quality, leads their respective clinical program in the identification of quality metrics, measurement of those metrics, and improvement of the quality of the clinical program.

Works in collaboration with other programs and services essential to the enhancement of the care delivery to our patients and their families, leveraging interdisciplinary relationships to improve clinical services.

Works with the hospital's multidisciplinary quality improvement program including utilization of evidence-based practice, data-driven outcomes management, error, and practice variation reduction and physician performance surveillance.

Provides input for the development of administrative policies and procedures as necessary. Leads the development and revision of clinical policies and procedures for the program, as required by the program's accreditation standard, if appropriate.

Advises and provides guidance on staff issues related to functional operational logistics, discipline, and for the clinical performance and obligations of the medical providers and members of the clinical team within the service/program.

Monitors and reports on established quality dashboard specific to the program, service, or specialty.

Monitors and provides leadership in ensuring optimal patient service, sustained volume, and enhancement of overall program performance. Maintains high patient experience scores.

Addresses patient complaints related to physician performance/behavior affecting patient care and/or the patient satisfaction in a timely fashion.

Accountable for ensuring the highest levels of compliance for the accreditation of NCHS/Nicklaus Children's Hospital/Medical Group and the Program leading to successful Hospital and Program accreditation/certification.

Maintains a functional partner relationship with the NCHS/Nicklaus Children's Hospital/Medical Group managers/directors/VP's to develop and implement programmatic goals and tactics necessary to meet or surpass the established program specific metrics.

Leads the preparation and execution of operational and capital budgets including recommendations for program or service enhancement, personnel, space, medical equipment.

Partners with Nursing Director/Nursing Manager to routinely evaluate the appropriateness of nursing and ancillary staffing and patient placement conducive to the delivery of quality and safe patient care, particularly at times of high census.

Accountable for the provision of an annual review report for the Program/Service inclusive of clinical, financial, and quality performance working in conjunction with the Quality and with Finance Departments.

Maintains expertise in all electronic health record tools and ensures adoption, competency, and compliance for medical providers in program/team.

Reviews department/program finances against budget and helps ensure fiscal integrity through optimal utilization of resources and cost containment initiatives.

Provides input in the selection, orientation, and performance evaluation of the professional staff. Actively participates with the Program/Service Vice President in the selection of and in the performance evaluation of Department Director or Management Staff.

Provides input for marketing promotions, web content, and other consumer or referring provider educational materials.

Develops workforce optimization schedules that pertain to call, outpatient service coverage, inpatient coverage, etc. with administrative support to meet patient care program service needs. Ensures 24-hour physician coverage and seven days per week.

Provides general supervision of clinical care within a program requiring specific direction as required by law or an accrediting body.

Develops action plans for clinical excellence and program domination. Evaluates new technology and makes recommendations.
Minimum Job Requirements
Doctor of Medicine or Osteopathy

Doctor of Medicine

c

urrent Florida State medical license and in good standing with medical board

Active member in good standing of the Medical Staff of Nicklaus Children's Hospital

Possess credentials in the field of specialty (Board Certification)

Experience working as part of an interdisciplinary team

Minimum of 5 years of clinical experience in Adolescent Medicine
Knowledge, Skills, and Abilities
Ability to provide expert patient care.

Ability to relates, work cooperatively, and constructively with clients and co-workers.

Effectively leads a team and build high performing work groups.

Ability to communicate verbally and in writing.

Maintains confidentiality of sensitive information.

Ability to interpret, adapt, and react calmly under stressful conditions.

Uses complex mathematical techniques to budget and provide productivity assessments.

Applies logical and scientific thinking to interpret technical data and solve a broad range of problems.

Models behaviors aligned with NCHS/Nicklaus Children's Hospital/Medical Group's leadership core competencies and values.

Provides a consistent demonstration of professional competence, dependability, medical, and personal ethics.

Experienced in the delivery of continuing education and other educational activities to maintain the clinical knowledge and skills of the clinical team and the academic performance of the Hospital.

Demonstrates a professional level of interpersonal, negotiation, and communication skills necessary to work collaboratively with personnel and management staff, as well as, other providers, parents/family members, and the community and its leaders.

Ability to represent the organization and serve patients and referring providers in a professional manner and promote a positive image of the organization and its services.

Possess a demonstrated ongoing commitment to NCHS/Nicklaus Children's Hospital/Medical Group and development of its programs.

Cooperation with all hospital requirements for credentialing, insurer enrollments, maintaining required levels of continuing education, obtaining immunizations, etc.
Management
Florida-Miami-Nicklaus Children's Hospital - Main Hospital Campus
NCPS-ADOLESCENT MEDICINE-3100-453300
:Full Time
Apply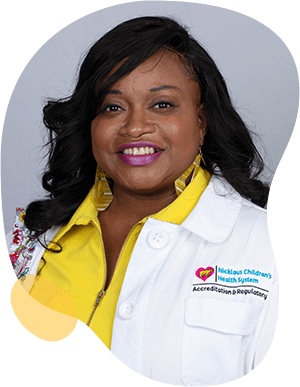 Joining a new organization can be daunting or overwhelming. But at Nicklaus, your colleagues make you feel welcomed. They taught me to celebrate our accomplishments and band together during challenging times. This is not easy to find in healthcare these days, so I'm grateful to have found an amazing place to work with people and leadership who have my well-being in mind.

Lova Renee Brunson

Manager Accreditation & Regulatory
Collaboration leads to success.
Alone we can do so little; together we can do so much. Working together, we find solutions and methods we would never find alone, and at Nicklaus Children's, we have fun doing it.
Responsibility drives us.
We all take responsibility here – for the children, their families, our work and each other. We meet our responsibilities head on and motivate each other to succeed.
Empower yourself, help others.
Nicklaus Children's encourages team members to believe in their ability to affect positive change in the world through everything they do with us.
Advocate for the right way.
Advocate for children. Advocate for families. Advocate for yourself. But most of all, advocate for getting the job done right and you will find nothing but success and support in your career here.
Transformation is growth.
At Nicklaus Children's, change is not to be feared. When you work here, you are always working with the most advanced tools and procedures available.
Empathy is everything.
We expect our team members to have empathy for the patients and families they treat, and in turn, we have empathy for them. We take care of everyone in the Nicklaus Children's family with competitive benefits and our supportive culture.
Join Our Talent Community