Chief LTM (Long Term Monitoring) Technologist (Full Time, Day Shift)
NEURO-SCIENCE CENTER
Florida-Miami-Nicklaus Children's Hospital - Main Hospital Campus
Miami, Florida
Requisition ID 21166
Job Summary:
Supervises the LTM Technologists and assists the Director with administrative functions. Supervises training of all LTM Technologists and works closely with physicians and the Clinical Coordinator of the Comprehensive Epilepsy Center to assure all patients' needs are met. Performs standard and complex EEG recordings. Reviews and summarizes Long Term Telemetry data. Obtains standard and special EEG recordings, and manages Seizure Unit operations.
Minimum Job Requirements:
Certified by the American Board of Registration of Electroencephalographic Technologists.
Five or more years of experience as a Certified LTM Technologist.

CPR: Healthcare Provider - maintain active and in good standing throughout employment.
Job Specific Essential Duties:
Assists the Director in monthly review of statistics and man-hour productivity, projects and budgets.  Prepares formal reports explaining variances.
Prepares monthly reports for EEG/LTME statistics including patients seen, scoring and interpretation time of 2 days, final report preparation timeframe, and reports compiled meeting standards. 
Performs all Quality Assurance Protocol in the Seizure Unit for quarterly/annual reports and statistics.
Manages the selection of LTM equipment and decides on all equipment and supplies in the Seizure Unit.
Performs EEG and Long Term Video-EEG Monitoring.
Performs studies such as functional brain stimulation and mapping (for motor and speech areas or cortical function), ECS recording and SPECT studies.
Supervises and maintains all operating room equipment in a clean condition and assures all electrodes and monitoring cables are sterile.
Supervises on call rotation and back up on call Tech when needed.
Supervises the procedure in evaluating candidates for surgical resection protocol, and responsible for maintaining the integrity of the recording system after electrode implantation in the OR.
Supervises the recording from intracranial (subdural) electrodes in the operating room along with the Neurologist to assure proper placement and functioning of electrodes.
Supervises the Seizure Unit data retrieval and reduction operations of video EEG records and ensures they are prepared in a form suitable for interpretation by the physician.
 Ensures the appropriate billing of procedures and prepares statistics. Works collaboratively with accounting to perform reconciliation of all charges.
Diagnoses and corrects minor equipment malfunctions; refers major technical malfunctions to appropriate personnel.
Explains procedures to the patient and family; maintains a comfortable and controlled environment in the Laboratory.
Institutes new procedures; keeps abreast of new procedures and theories.
Summons qualified personnel immediately if an emergency situation develops or if a patient is in apparent distress.
Orients, trains and evaluates EEG/LTM Technologists regarding the policies and procedures of the department.
Assists the Director in preparing the annual departmental capital and operational budget requests for machines needed in the Lab; selects appropriate equipment.
Accountable for the recruiting, selection, and evaluation of technical staff; periodic review of all policies and procedures, etc.
Communicates timely information collaboratively with interdisciplinary team to aid top outcomes for patients and families.
Ensures positive customer interactions and treatment. Responsible for the Service Excellence Index (SEI) for patients and families and implements strategies to increase SEI.
Organizes and participates in conferences, technical meeting, and other education activities.
Selects, trains, coaches, schedules and evaluates assigned staff to maximize utilization of individual and group capabilities.
Documents within the scope of practice all electronic medical record (EMR) meaningful use required fields in an effort to optimize utilization.
Documents within the scope of practice all electronic medical record (EMR) meaningful use required fields in an effort to optimize utilization.
Participates in Lean initiative to improve processes for opportunities to deliver higher quality, cost effective care, with greater customer service, & which impact can be measured by way of metrics.
Utilizes Lean methodology to improve the family experience in the Brain Institute.  Actively involved in continuously improving the patient experience and in the service recovery process.
Common Duties:
Maintains accountability by ensuring compliance thru timely completion of licensures, certifications, all competencies, health requirements (PPD, N95, Flu, etc.), and education requirements.
Maintains accountability and timekeeping expectations as outlined by MCHS Timekeeping and Attendance policy & procedures.  Ensures behavior is compliant with communication standards.
Ensures behavior meets and/or exceeds targeted service scores as measured by the Service Index and/or the internal departmental service survey.
Knowledge/Skills/Abilities:
5 years of experience with clinical EEG's, V-Telemetry Unit with emphasis in pediatrics, neonates, Intensive Care and Operating Room monitoring preferred
Intensive specialized training in all facets of epilepsy diagnostics preferred
Experience in electronics and/or computer science
Able to relate cooperatively and constructively with patients, families and co-workers
Ability to communicate verbally and in writing
Able to maintain confidentiality of sensitive information
Ability to problem solve to adapt standard clinical procedures to the individual client's need
Ability to interpret, adapt and react calmly under stressful conditions
Ability to work well with others, and willing to learn new procedures
(EOE DFW)
3/24/17
Professional
Florida-Miami-Nicklaus Children's Hospital - Main Hospital Campus
NEURO-SCIENCE CENTER-2100-714750
:Full Time
Apply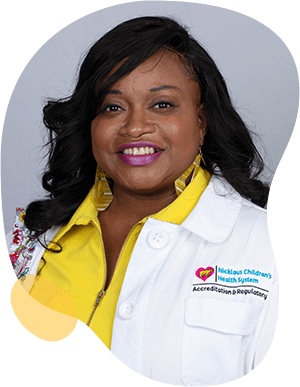 Joining a new organization can be daunting or overwhelming. But at Nicklaus, your colleagues make you feel welcomed. They taught me to celebrate our accomplishments and band together during challenging times. This is not easy to find in healthcare these days, so I'm grateful to have found an amazing place to work with people and leadership who have my well-being in mind.

Lova Renee Brunson

Manager Accreditation & Regulatory
Collaboration leads to success.
Alone we can do so little; together we can do so much. Working together, we find solutions and methods we would never find alone, and at Nicklaus Children's, we have fun doing it.
Responsibility drives us.
We all take responsibility here – for the children, their families, our work and each other. We meet our responsibilities head on and motivate each other to succeed.
Empower yourself, help others.
Nicklaus Children's encourages team members to believe in their ability to affect positive change in the world through everything they do with us.
Advocate for the right way.
Advocate for children. Advocate for families. Advocate for yourself. But most of all, advocate for getting the job done right and you will find nothing but success and support in your career here.
Transformation is growth.
At Nicklaus Children's, change is not to be feared. When you work here, you are always working with the most advanced tools and procedures available.
Empathy is everything.
We expect our team members to have empathy for the patients and families they treat, and in turn, we have empathy for them. We take care of everyone in the Nicklaus Children's family with competitive benefits and our supportive culture.
Join Our Talent Community