Child Life - Administrative Activity Assistant (Full Time)
CHILD LIFE
Florida-Miami-Nicklaus Children's Hospital - Main Hospital Campus
Miami, Florida
Requisition ID 23561
Job Summary
Provides clerical and administrative support to the department leader and assists in implementing Child Life services by planning, organizing, and implementing a playroom program consisting of developmentally appropriate recreational activities. Assists with maintaining a safe and organized environment for the Child Life department.
Job Specific Duties
Assists the leader with overseeing child life activities and monthly duties.

Assists leader with special projects and organizes meetings, conferences, and other special events as required.

Performs research and analysis for related projects and specific issues. Performs monthly updates on child life website/SharePoint.

Assists with training on appropriate use of PEDS electronic medical record in the playroom.

Collaborates with nurses/others to accommodate patient's needs (toy, crafts, and Foundation).

Develops a productive work environment for volunteers; trains, orients, motivates, and supports volunteers.

Incorporates volunteers into daily programming through delegating, valuing input, empowering, and providing feedback.

Facilitates the planning, organization, and activities of the leader to ensure efficient and effective work flow coordination.

Handles the maintenance of staff employee records. Edits KRONOS transactions in a timely manner and within established guidelines with minimal edits by Payroll department.

Invites and encourages patients to attend the playroom; plans and implements appropriate recreational activities for the playroom and communicates observations to team.

Engages children in playroom activities; maintains playroom environment including cleaning equipment and stocking shelves/cabinets.

Orders and maintains office supplies. Submits PO's and contracts for approval and follows up on completion or renewal. Verifies and submits invoices to be approved by the leader.

Submits work orders to maintain appropriate phone, computer, and equipment repair/services. Assists leader with monthly expenses and invoices.

Performs all other delegated duties such as copying, scanning, filing, faxing, thank you letters for departmental donations, and other special projects.

Provides support to the leader in greeting and assisting visitors, scheduling and maintaining calendars, coordinating travel arrangements, and handling clerical operations.
Minimum Job Requirements
Associate's Degree in Child Development, Elementary Education, or related field

Experience working with children in a group setting

1-3 years of Administrative Assistant or Secretarial experience

Proficiency in Microsoft Word, Excel, PowerPoint, and Outlook required
Knowledge, Skills, and Abilities
Previous Administrative Assistant or Secretarial experience preferred.

Experience working with children in a group setting preferred.

Able to adapt and react calmly under stressful conditions.

Able to handle multiple assignments, set priorities, and meet deadlines.

Abilities in prioritizing, successfully handling multiple concurrent tasks, strong problem solving skills, attention to detail, and working in a team environment.

Ability to work independently and flexibly with minimal supervision.

Possess the ability to represent department/function in a professional, courteous, and efficient manner.

Ability to communicate verbally in writing.

Able to maintain confidentiality of sensitive information.
Nursing- Support (Clinical)
Florida-Miami-Nicklaus Children's Hospital - Main Hospital Campus
CHILD LIFE-2100-863000
:Full Time
Apply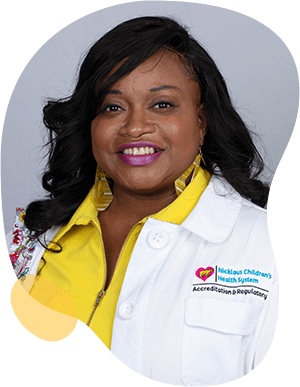 Joining a new organization can be daunting or overwhelming. But at Nicklaus, your colleagues make you feel welcomed. They taught me to celebrate our accomplishments and band together during challenging times. This is not easy to find in healthcare these days, so I'm grateful to have found an amazing place to work with people and leadership who have my well-being in mind.

Lova Renee Brunson

Manager Accreditation & Regulatory
Collaboration leads to success.
Alone we can do so little; together we can do so much. Working together, we find solutions and methods we would never find alone, and at Nicklaus Children's, we have fun doing it.
Responsibility drives us.
We all take responsibility here – for the children, their families, our work and each other. We meet our responsibilities head on and motivate each other to succeed.
Empower yourself, help others.
Nicklaus Children's encourages team members to believe in their ability to affect positive change in the world through everything they do with us.
Advocate for the right way.
Advocate for children. Advocate for families. Advocate for yourself. But most of all, advocate for getting the job done right and you will find nothing but success and support in your career here.
Transformation is growth.
At Nicklaus Children's, change is not to be feared. When you work here, you are always working with the most advanced tools and procedures available.
Empathy is everything.
We expect our team members to have empathy for the patients and families they treat, and in turn, we have empathy for them. We take care of everyone in the Nicklaus Children's family with competitive benefits and our supportive culture.
Join Our Talent Community