Child Life Specialist I (Full Time, Day shift)
CHILD LIFE
Florida-Miami-Nicklaus Children's Hospital - Main Hospital Campus
Miami, Florida
Requisition ID 25399
Job Summary
Works under the supervision of leadership and Child Life team to assist the child and/or family in their adjustment to hospital, diagnosis, and/or treatment plan by providing pre/post procedural/surgical teachings, emotional support, developmentally appropriate play activities, distraction and support during painful procedures, and medical play to enhance understanding. Collaborates as a member of the interdisciplinary team to develop and administer an individualized plan of care, adhering to the professional standards of practice of the Association of Child Life Professionals.
Job Specific Duties
Assists the patient/family in their adjustment to the hospital, diagnosis, and/or treatment plan.

Provides educational interventions using developmentally appropriate explanations.

Offers emotional support, developmentally appropriate play activities, distraction and support during painful procedures, and engages in medical play to enhance patient understanding.

Provides Child Life assessments and normalizes the hospital environment for patients and families.

Covers caseload thoroughly and prioritizes patients based on the Association of Child Life Professional's guidelines for the standard of care; plans & organizes daily routine; meets deadlines for assigned projects.

Develops a productive work environment that incorporates volunteers into daily programming through delegating, valuing input, empowering, and providing feedback.

Establishes and maintains a healthy, balanced, and therapeutic relationship with the patient and family within the integrated healthcare system based on their needs.

Identifies & addresses the learning needs for patients/families; identifies inhibitors to learning process & readiness to learn; adjusts teaching strategies based on age, ethnic & gender issues.

Interacts in a cooperative manner within the healthcare team to support and contribute to the shared patient/family focused care goals through professional communications techniques.

Utilizes a clinical decision-making process and critical thinking to effectively deliver patient care with all healthcare providers across the continuum of care.

Utilizes clinical decision making processes to achieve desired patient/family outcomes.

Conducts formal and informal developmental assessments of psychosocial needs of patients and families within 24 hours of consult.

Serves as backup preceptor for practicum students and intern students once hours set by the Association of Child Life Professionals and competencies are met.

Serves as unit preceptor for new hires within the Child Life department if competencies are met.

Provides support and collaborates professionally with Child Life Activity Assistants.
Minimum Job Requirements
Bachelor's Degree in Child Life, Child Development, Early Childhood Education, or related field 

CCLS - Certified ChildLife Specialist required within 1 year of hire

American Heart Association AED - maintain active and in good standing throughout employment

Completion of Child Life internship following the Association of Child Life Professionals current standards
Knowledge, Skills, and Abilities
General skills to resolve problems requiring the use of child developmental theory, professional child life principles and experience- based knowledge.

Basic knowledge of procedures, illnesses, injuries, and other related events on a nursing unit.

Able to demonstrate the knowledge and skill necessary to provide appropriate care to the age of the patients served on their assigned unit.

Ability to assess, plan, implement and evaluate when delivering Child Life services.

Well-developed writing skills, and excellent communication skills including conflict resolution to effectively work as a team member.
Professional
Florida-Miami-Nicklaus Children's Hospital - Main Hospital Campus
CHILD LIFE-2100-863000
:Full Time
Apply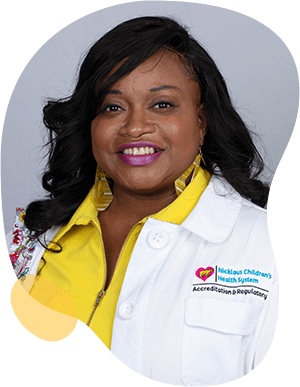 Joining a new organization can be daunting or overwhelming. But at Nicklaus, your colleagues make you feel welcomed. They taught me to celebrate our accomplishments and band together during challenging times. This is not easy to find in healthcare these days, so I'm grateful to have found an amazing place to work with people and leadership who have my well-being in mind.

Lova Renee Brunson

Manager Accreditation & Regulatory
Collaboration leads to success.
Alone we can do so little; together we can do so much. Working together, we find solutions and methods we would never find alone, and at Nicklaus Children's, we have fun doing it.
Responsibility drives us.
We all take responsibility here – for the children, their families, our work and each other. We meet our responsibilities head on and motivate each other to succeed.
Empower yourself, help others.
Nicklaus Children's encourages team members to believe in their ability to affect positive change in the world through everything they do with us.
Advocate for the right way.
Advocate for children. Advocate for families. Advocate for yourself. But most of all, advocate for getting the job done right and you will find nothing but success and support in your career here.
Transformation is growth.
At Nicklaus Children's, change is not to be feared. When you work here, you are always working with the most advanced tools and procedures available.
Empathy is everything.
We expect our team members to have empathy for the patients and families they treat, and in turn, we have empathy for them. We take care of everyone in the Nicklaus Children's family with competitive benefits and our supportive culture.
Join Our Talent Community