Clinical Distribution Clerk
SUPPLY CHAIN CENTRAL SERVICES
Florida-Miami-Nicklaus Children's Hospital - Main Hospital Campus
Miami, Florida
Requisition ID 24146
Job Summary
From a pick list pulls medical supplies off shelves in inventory holding area & puts in delivery bags. Takes supplies to hospital departments & loads in to a computerized supply station (like a vending machine). Will go to non-computerized department areas and do manual inventory count & enters counts in wireless handheld - Personal Data Terminal (PDT). Will pull items needed from CS shelves for non-computerized area. Accurately check in deliveries of supplies against delivery document. Opens & unpacks shipping cartons to restock supplies on to inventory holding shelves. Re-package & bundle supplies in to smaller quantities. Runs supply labels and places supply orders via computer system. Maintain accurate records via computer system of all incoming and outgoing supplies of department. Participate in year-end inventory. Works under the supervision of the Clinical Supply Supervisor and under the direction of the Manager of Supply Chain Distribution.
Minimum Job Requirements
2 years recent experience in inventory control.

High School education.
Essential Duties and Responsibilities
Answers phone promptly, courteously and in a helpful manner. Takes accurate and complete phone messages for supply orders from customer. Responds to all CS supply request within 5 minutes of initial receipt as evidenced by expressed satisfaction of unit staff. Maintains confidentiality of patient and employee information. Duplicates forms using photo copying equipment. Performs routine clerical functions as necessary.

Correctly pulls medical products noted on unit pick list from CS inventory shelves. Restocks medical products in to unit automated supply stations by selecting correct product, verifying count, fix discrepancies, rotates products in bin, checks product integrity and product expiration dates. Performs inspections making sure automated.

Daily par level replenishment of Nursing units, MOB, & Out Patient clean supply rooms. Logs inventory counts correctly on Par Inventory Worksheet or enters counts in wireless handhelds Personal Data Terminal (PDT). Required to correctly pull medical products noted on unit pick list from CS inventory shelves. Restock medical products to unit automated and non-automated supply rooms by stocking correct product, fix discrepancies, rotates products in bin, checks product integrity and product expiration dates.

Demonstrates effective verbal and written communication. Displays pleasant and courteous manners at all times providing exceptional customer service. Always keeps an open mind. Follows the oral and written direction of the unit/department manager, supervisor or designee. Maintains a positive work environment dealing with employees, visitors, and patient.

Demonstrates the ability to effectively utilize various computer software programs for duties and patient supply charges. (Automated Supply Stations, Automated Supply Station Console, Wireless palm handheld, Lawson system, data entry, & producing reports). Troubleshoots printers and inserts paper or toner as needed. Contacts support services for computers or automated supply stations as needed to expedite problem resolution and notifies Supervisor or Manager.

Follows proper techniques while working in Clinical Supply to adhere to OSHA requirements and properly store and rotate medical supplies to maintain proper rotation and shelf life. Demonstrates understanding and adherence to routine precautions and Infection Control Policies utilizing appropriate personal protective equipment when transporting contaminated supplies. Fulfills role in the prevention, control, and surveillance of infection.

Initiates medical supply items needed for Clinical Supply inventory on the "Preliminary Order" worksheet. Verifies accuracy of medical supply item delivered against the In transit Shipping document. Opens shipping cartons and stocks medical products on the CS inventory shelves with proper stock rotation and storage of products as per department procedures. Makes kits and trays for the care giver and takes bulk products and repackage in to smaller quantities for patient care use. Participates in year-end physical inventory.

Manages data information within established guidelines to collect, prioritize record, organize, distribute, evaluate, or process data within timeframes of department. Activates system reports and accurately completes required departmental logs for job duties on shift.

Participates in in-services, continuing education and staff meetings. Plays a role in teaching procedures and policies to new staff and volunteers. Prioritizes activities, seeking guidance as necessary for performance of duties.

Solves problems and meets objectives before being asked or required to do so. Accepts change and learns new assignments quickly. Performs well under stress and in emergency situations. Responds to concerns from co-workers in a positive, friendly manner. Communicates problems and opportunities for improvement to supervisor or others as appropriate. Provides input and suggestions in a professional manner.
Knowledge/Skills/Abilities
Ability to follow simple instructions to accomplish repetitive tasks.

Basic knowledge in use of computers and printers, and/or ability to learn appropriate software applications and be able to accurately relay information as requested.

Can function independently with little supervision.

Can relate cooperatively and constructively with patients, families and co-workers.

Communicates sufficiently to request supplies and writes identifying information.

Display pleasant and courteous manners at all times while providing exceptional customer service.

Maintains confidentiality of all patient information processed through department.

Read, write, and communicate in English and ability to communicate promptly, clearly and courteously with all hospital staff and customers.
(EOE DFW)
Nursing- Support (Non-Clinical)
Florida-Miami-Nicklaus Children's Hospital - Main Hospital Campus
SUPPLY CHAIN CENTRAL SERVICES-2100-718000
:Full Time
Apply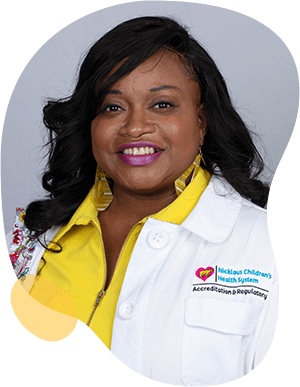 Joining a new organization can be daunting or overwhelming. But at Nicklaus, your colleagues make you feel welcomed. They taught me to celebrate our accomplishments and band together during challenging times. This is not easy to find in healthcare these days, so I'm grateful to have found an amazing place to work with people and leadership who have my well-being in mind.

Lova Renee Brunson

Manager Accreditation & Regulatory
Collaboration leads to success.
Alone we can do so little; together we can do so much. Working together, we find solutions and methods we would never find alone, and at Nicklaus Children's, we have fun doing it.
Responsibility drives us.
We all take responsibility here – for the children, their families, our work and each other. We meet our responsibilities head on and motivate each other to succeed.
Empower yourself, help others.
Nicklaus Children's encourages team members to believe in their ability to affect positive change in the world through everything they do with us.
Advocate for the right way.
Advocate for children. Advocate for families. Advocate for yourself. But most of all, advocate for getting the job done right and you will find nothing but success and support in your career here.
Transformation is growth.
At Nicklaus Children's, change is not to be feared. When you work here, you are always working with the most advanced tools and procedures available.
Empathy is everything.
We expect our team members to have empathy for the patients and families they treat, and in turn, we have empathy for them. We take care of everyone in the Nicklaus Children's family with competitive benefits and our supportive culture.
Join Our Talent Community