Clinical Engineer Medical Imaging Specialist
CLINICAL ENGINEERING
Florida-Miami-Nicklaus Children's Hospital - Main Hospital Campus
Miami, Florida
Requisition ID 21047
Job Summary
Provide repairs, calibration, testing, and maintenance of diagnostic imaging equipment and systems to ensure safe and appropriate operations. Execute scheduled preventive maintenance. Maintain documentation of all service events, tests, and corrective maintenance performed on a wide range of imaging technologies.
Minimum Job Requirements
4-7 years experience in a hospital-based biomedical engineering department or multi-hospital shared service program

4-7 years Related experience in the repair and maintenance of medical equipment with hand-on knowledge of various imaging systems (radiographic, fluoroscopic, c-arm, computerized tomography, magnetic resonance, diagnostic ultrasound, mammography, nuclear medicine, teleradiology, etc.
Essential Duties and Responsibilities
Repair, install, maintain, calibrate, and inspect diagnostic imaging systems.
Perform preventive maintenance and electrical safety testing of diagnostic imaging technologies.
Review outcome of preventive maintenance actions and make recommendations concerning changes to preventative maintenance schedules, procedures, or documentation.
Assigns and coordinates services performed by vendors (inspections, scheduled maintenance, corrective maintenance, overhauls, upgrades, etc.).
Ensures all vendor services are performed in a proper, timely manner, and services are properly documented.
Order items and maintain appropriate inventory of critical components to service and/or troubleshoot the medical equipment.
Perform rounds in assigned areas to ensure imaging equipment areas are organized and equipment is in proper working order.

Responsible for on-call to support imaging equipment during off-shift hours.
Knowledge/Skills/Abilities
 Associate degree in Biomedical preferred.
 Certified Radiology Equipment Specialist (CRES) or Certified Biomedical Engineering Technician (CBET) preferred.
 Ability to travel to different Health System sites.
 Ability to communicate effectively both verbally and in writing.
 Strong communication and team building skills across functional areas.
 Knowledge of electronic theory, technology, and test equipment.
 Knowledge of radiologic theory and technology.
 Knowledge of safety precautions when servicing high voltages and working with ionizing radiation.
 Knowledge of mechanical systems and tools.
 Knowledge of basic networking theory.
 Knowledge of departmental policies, procedures, and standards.
 Ability to analyze electronic, electromechanical, and mechanical equipment.
 Ability to isolate, tests, replaces defective parts, and performs preventive maintenance inspections.
 Ability to maintain accurate records of repairs, calibration, and tests.
 Ability to run diagnostics programs.
Skill in testing electronic, radiologic, and mechanical equipment.
 Skill in manual dexterity, hand-to-eye coordination, and color vision.
(EOE DFW)
2/6/18
Information Technology
Florida-Miami-Nicklaus Children's Hospital - Main Hospital Campus
CLINICAL ENGINEERING-2100-810000
:Full Time
Apply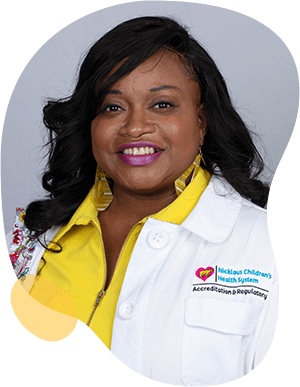 Joining a new organization can be daunting or overwhelming. But at Nicklaus, your colleagues make you feel welcomed. They taught me to celebrate our accomplishments and band together during challenging times. This is not easy to find in healthcare these days, so I'm grateful to have found an amazing place to work with people and leadership who have my well-being in mind.

Lova Renee Brunson

Manager Accreditation & Regulatory
Collaboration leads to success.
Alone we can do so little; together we can do so much. Working together, we find solutions and methods we would never find alone, and at Nicklaus Children's, we have fun doing it.
Responsibility drives us.
We all take responsibility here – for the children, their families, our work and each other. We meet our responsibilities head on and motivate each other to succeed.
Empower yourself, help others.
Nicklaus Children's encourages team members to believe in their ability to affect positive change in the world through everything they do with us.
Advocate for the right way.
Advocate for children. Advocate for families. Advocate for yourself. But most of all, advocate for getting the job done right and you will find nothing but success and support in your career here.
Transformation is growth.
At Nicklaus Children's, change is not to be feared. When you work here, you are always working with the most advanced tools and procedures available.
Empathy is everything.
We expect our team members to have empathy for the patients and families they treat, and in turn, we have empathy for them. We take care of everyone in the Nicklaus Children's family with competitive benefits and our supportive culture.
Join Our Talent Community