Clinical Enterprise Marketing Specialist
MARKETING-OUTREACH-PR
Florida-Miami-Nicklaus Children's Hospital - Main Hospital Campus
Miami, Florida
Requisition ID 21821
Job Summary
Responsible for supporting marketing and communications efforts for the clinical enterprise marketing team which encompasses clinical service lines, physician enterprise, urgent care, and outpatient centers. Collaborates with the marketing and communications team to develop strategic goals and plans.
Job Specific Duties
Provides coordination and support of marketing initiatives to support Clinical Enterprise Marketing including drafting of marketing plans, executing tactics and deliverables, and monitoring ROI.

Collaborates with marketing and communications teams in the development of campaigns to support clinical service lines. Develops copy/content to support e-mail marketing, PR, Corporate Communications, and Social Media teams.

Develops flyers/brochures for clinical services ensuring branding is aligned with NCH graphic standards. Conducts detailed proofreading and ensures accuracy of all printed collateral materials.

Assists with planning and execution of patient communications and events (virtual and in person) that support clinical enterprise marketing, including attending events during regular business hours and after hours/weekends to support clinical service lines.

Supports Clinical Enterprise Marketing team in the creation of physician onboarding marketing initiatives, including writing content, developing biographies, updating website content, and conducting research on clinical topics.

Maintains abreast of industry trends and marketing best practices, including health and wellness trends.

Works with patient families to develop stories. Adheres to HIPAA privacy practices. Follows all necessary approvals processes prior to publishing materials.

Contributes in the development of strategic marketing plans for the hospital's clinical services. Conducts research and data gathering when applicable.

Works with clinical departments and vendors to select promotional items to support marketing activities.

Supports Clinical Enterprise Marketing team in maintaining and managing inventory of digital and print collateral pieces to support clinical services. Places orders for such materials according to projected demand.

Analyzes the annual cost for cross promotional initiatives and print materials and provides input on budgetary planning.
Minimum Job Requirements
Bachelor's Degree in English, Journalism or Communications  

2-4 years

of

experience writing AP style,

and in

production and creation of printed materials (brochures, newsletters, posters, banners, ads, etc

.)

2-4 years

of

Marketing/Public Relations experience
Knowledge, Skills, and Abilities
Able to work evenings and weekends.

Understanding of health and wellness.

Work well under pressure of deadlines.

Excellent written and verbal communications skills.

Knowledge of all aspects of printing including application, vendor management, and production cycle.

Demonstrate resourcefulness in anticipating outpatient center needs and offer solutions through research and strategic planning.

Strong self-starter with proven project management skills.

Ability to make sound decisions with minimal guidance.

Possess strong organizational and time management skills.

Skilled in writing, layout, mechanicals, editing, and proofing.

Ability to plan and execute large-scale community events.

Possess strong attention to detail in assuring all outpatient marketing initiatives follow established hospital policies and procedures.
Marketing
Florida-Miami-Nicklaus Children's Hospital - Main Hospital Campus
MARKETING-OUTREACH-PR-1000-953901
:Full Time
Apply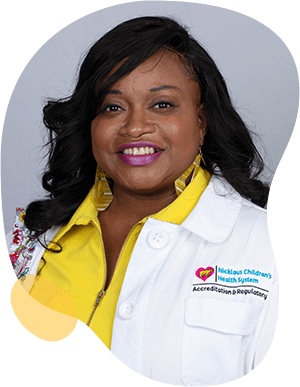 Joining a new organization can be daunting or overwhelming. But at Nicklaus, your colleagues make you feel welcomed. They taught me to celebrate our accomplishments and band together during challenging times. This is not easy to find in healthcare these days, so I'm grateful to have found an amazing place to work with people and leadership who have my well-being in mind.

Lova Renee Brunson

Manager Accreditation & Regulatory
Collaboration leads to success.
Alone we can do so little; together we can do so much. Working together, we find solutions and methods we would never find alone, and at Nicklaus Children's, we have fun doing it.
Responsibility drives us.
We all take responsibility here – for the children, their families, our work and each other. We meet our responsibilities head on and motivate each other to succeed.
Empower yourself, help others.
Nicklaus Children's encourages team members to believe in their ability to affect positive change in the world through everything they do with us.
Advocate for the right way.
Advocate for children. Advocate for families. Advocate for yourself. But most of all, advocate for getting the job done right and you will find nothing but success and support in your career here.
Transformation is growth.
At Nicklaus Children's, change is not to be feared. When you work here, you are always working with the most advanced tools and procedures available.
Empathy is everything.
We expect our team members to have empathy for the patients and families they treat, and in turn, we have empathy for them. We take care of everyone in the Nicklaus Children's family with competitive benefits and our supportive culture.
Join Our Talent Community