Clinical Pharmacy Specialist PICU (Full Time, Flex Shift)
PHARMACY
Florida-Miami-Nicklaus Children's Hospital - Main Hospital Campus
Miami, Florida
Requisition ID 24167
Job Summary
Serves an active role in the Pediatric Intensive Care Unit (PICU) service providing patient care recommendations on pharmacotherapy, assessing drug interactions, drug dosages, comprehensive cost-effective guideline-directed medical therapies, as well as optimizing concomitant medications to improve patient outcomes and minimize risk for adverse events according to hospital policies, professional standards of practice, and State and Federal laws. Works with a team of experts optimizing drug therapy outcomes for patients in the PICU through evidence based, patient-centered medication therapy and participation in interdisciplinary medical team rounds. Participates in training and educating pharmacy students, pharmacy and medical residents, intensive care unit fellows, and attending physicians on evidence-based pharmacotherapy relating to pediatric critical care. Provides clinical support for pharmacists, technicians, hospital and medical staff, and any other areas as assigned. Responsible for monitoring the order writing, dispensing, and administration of medications in the PICU.
Minimum Job Requirements
Bachelor's Degree in Pharmacy or Doctorate of Pharmacy (from an ACPE accredited college of pharmacy preferred) 
 American Heart Association BLS - maintain active and in good standing throughout employment
Pharmacist State of Florida license - maintain active and in good standing throughout employment
  Two-years of clinical hospital pharmacy experience or equivalent
Knowledge, Skills, and Abilities
 High degree of specialized knowledge and/or completion of an ASHP-accredited residency program or advanced training in pediatrics highly preferred
 Knowledge to manage pediatric critically ill patients and associated conditions, treatment options, pharmacology, and pharmacokinetics
 Previous experience with hospital pharmacy information systems and automation highly preferred
 Able to provide patient/parent counseling in medication use and administration
 Ability to apply knowledge to assess patient care conditions and evaluate patient's response to medication therapy regimens
 Ability to assess patient care conditions and evaluate patient response to medication therapy regimens
 Ability to communicate and present information effectively in both oral and written form with all levels of hospital personnel and all patient groups
 Ability to provide patient/parent counseling in medication use and administration
 Ability to comprehend and analyze information
 Ability to exercise independent judgment and decision making
 Ability to operate equipment and pharmacy information systems
 Ability to problem solve and think analytically
 Ability to provide supervisory oversight for technical staff related to medication preparation and dispensing
 Ability to relate cooperatively and constructively with patients, co-workers, clinical/medical staff, and interdisciplinary teams
Job Specific Duties
 Achieves cost savings targets and actively contributes to the pharmacy department pharmacoeconomic efforts and formulary management. Assists department leadership with maintaining budget targets.
 Actively participates in clinical pharmacy program and services, and acts as a consultant in areas of expertise.
 Advances the profession through publication/presentations at local, state, or national meetings and providing community education.
 Attends and actively contributes to daily patient care rounds, clinical services meetings, hospital committees, task forces and projects as assigned.
 Coordinates, educates, and maintains investigational drug study activity specific to area of practice and dispenses investigational drugs where needed.
 Develops and implements clinical competency and education modules for Staff Clinical Pharmacists.
 Participates in training and educating pharmacy students, pharmacy residents, and medical residents on cardiac disease states and relevant evidence-based pharmacotherapy.
 Documents quality activities to achieve established metrics to meet standards of DNV-GL accreditation, state/federal requirement, including but not limited to, interventions, contraindications, etc.
 Executes established policies, procedures, & protocols to ensure safe, appropriate, cost-effective medication therapies for patients. Recommends therapeutic alternatives to medical staff as needed.
 Prepares and collects data for MUE's, drug monographs for the P&T, and special projects assigned by Clinical Manager.
 Maintains appropriate records and documentation pertaining to patient care activities.
 Provides drug information through in-service education & daily support for pharmacy staff, hospital clinical staff, medical residents, physicians, and consultation with patients and families.
 Reviews patient's pharmacotherapy using the hospital information system and the pharmacy computer system to ensure that the medications are appropriate in terms of dose, dosage form, frequency, etc.
 Communicates with prescribers and nurses to recommend alternatives for inappropriate therapy or substitutes for non-formulary items.
 Participates in code response for patients on designated unit. 
 Supports the Pharmacy Department services by recommending changes and corrections in the ordering of the parenteral.
Professional
Florida-Miami-Nicklaus Children's Hospital - Main Hospital Campus
PHARMACY-2100-730000
:Full Time
Apply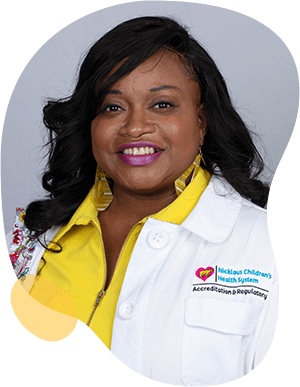 Joining a new organization can be daunting or overwhelming. But at Nicklaus, your colleagues make you feel welcomed. They taught me to celebrate our accomplishments and band together during challenging times. This is not easy to find in healthcare these days, so I'm grateful to have found an amazing place to work with people and leadership who have my well-being in mind.

Lova Renee Brunson

Manager Accreditation & Regulatory
Collaboration leads to success.
Alone we can do so little; together we can do so much. Working together, we find solutions and methods we would never find alone, and at Nicklaus Children's, we have fun doing it.
Responsibility drives us.
We all take responsibility here – for the children, their families, our work and each other. We meet our responsibilities head on and motivate each other to succeed.
Empower yourself, help others.
Nicklaus Children's encourages team members to believe in their ability to affect positive change in the world through everything they do with us.
Advocate for the right way.
Advocate for children. Advocate for families. Advocate for yourself. But most of all, advocate for getting the job done right and you will find nothing but success and support in your career here.
Transformation is growth.
At Nicklaus Children's, change is not to be feared. When you work here, you are always working with the most advanced tools and procedures available.
Empathy is everything.
We expect our team members to have empathy for the patients and families they treat, and in turn, we have empathy for them. We take care of everyone in the Nicklaus Children's family with competitive benefits and our supportive culture.
Join Our Talent Community