CNA School Health Presenter (Full Time, Day Shift)
GRANT- DOH SCHOOL HEALTH
Florida-Miami-Nicklaus Children's Hospital - Main Hospital Campus
Miami, Florida
Requisition ID 23110
Job Summary:
Supports the RN in providing basic school health services, including screenings for BMI, vision, hearing, & scoliosis. Provides first aid and follows up with immunizations within select Miami-Dade County Public Schools (MDCPS). Supports TeleHealth RN during visit and is the point of contact for real-time TeleHealth consults.
Minimum Job Requirements:
 Certified Nursing Assistant (CNA) State of Florida license - maintain active and in good standing throughout employment
American Heart Association BLS
American Heart Association First Aid - required within 1 month of hire
Level II Background Check
 1-3 years of licensed nursing assistant experience
Knowledge/Skills/Abilities:
 Experience in healthcare video teleconferencing/telemedicine or audio-visual operations preferred
 Bilingual English/Spanish preferred
 Excellent problem solving ability in a broad range of areas to address all of the potential problems that might arise; scheduling conflicts, communication problems, technical problems, etc.
 Able to work independently
 Excellent organizational ability to maintain a system with few major problems and addresses the needs of all participants
 Able to relate cooperatively and constructively with clients, families, and co-workers
 Proficiency with computers, systems, and software; flexible with apps, phone, etc.
 Ability to learn appropriate software applications including MS Word, Excel, and data management
 Ability to communicate effectively in English both verbally and in writing
Essential Job Duties:
 Provides pediatric TeleHealth consultation triage with use of technology (i.e. mobile device, peripheral devices, and telephone). Obtains vital signs and chief complaint for RN consultation.
 Provides guidance and support during the TeleHealth encounter to ensure a positive patient experience.
 Responsible for equipment functioning. Notifies RN supervisor of any equipment malfunctions.
 Assists RN with mandated screenings for BMI, vision, hearing & scoliosis in a timely & efficient manner. Ensures accuracy of documentation & assists RN with initial parent notification of referrals.
 Reviews health records; enters screening data and interventions at minimum once annually and as required in the student's cumulative health record.
 Performs First Aid within scope of practice for students seeking care in the health clinic.
 Identifies students with chronic conditions, initiates contact with parents, and maintains RN informed of students requiring RN services.
 Ensures compliance with documentation for each student receiving services.
 Gathers data for biweekly reporting. Prepares reports as directed by RN supervisor.
 Maintains a clean and orderly work area. Reports physical environment problems to RN supervisor.

 Assists leaders and clinical personnel with clerical duties as needed.
Nursing- Support (Clinical)
Florida-Miami-Nicklaus Children's Hospital - Main Hospital Campus
GRANT- DOH SCHOOL HEALTH-2100-311027
:Full Time
Apply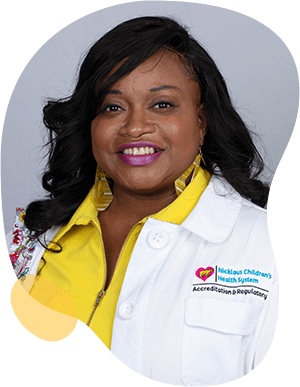 Joining a new organization can be daunting or overwhelming. But at Nicklaus, your colleagues make you feel welcomed. They taught me to celebrate our accomplishments and band together during challenging times. This is not easy to find in healthcare these days, so I'm grateful to have found an amazing place to work with people and leadership who have my well-being in mind.

Lova Renee Brunson

Manager Accreditation & Regulatory
Collaboration leads to success.
Alone we can do so little; together we can do so much. Working together, we find solutions and methods we would never find alone, and at Nicklaus Children's, we have fun doing it.
Responsibility drives us.
We all take responsibility here – for the children, their families, our work and each other. We meet our responsibilities head on and motivate each other to succeed.
Empower yourself, help others.
Nicklaus Children's encourages team members to believe in their ability to affect positive change in the world through everything they do with us.
Advocate for the right way.
Advocate for children. Advocate for families. Advocate for yourself. But most of all, advocate for getting the job done right and you will find nothing but success and support in your career here.
Transformation is growth.
At Nicklaus Children's, change is not to be feared. When you work here, you are always working with the most advanced tools and procedures available.
Empathy is everything.
We expect our team members to have empathy for the patients and families they treat, and in turn, we have empathy for them. We take care of everyone in the Nicklaus Children's family with competitive benefits and our supportive culture.
Join Our Talent Community