Compliance Specialist
COMPLIANCE
Florida-Miami-Nicklaus Children's Hospital - Main Hospital Campus
Miami, Florida
Requisition ID 24898
Job Summary

Serve as a resource to the Compliance department and perform a wide range of departmental functions in order to facilitate and promote compliance with federal, state and local regulations, and NCHS polices.

Job Specific Duties
Responsible for researching and analyzing potential issues and concerns to the attention of the Director of Regulatory Affairs-Compliance or assigned designee.
Develops Compliance education/guidance to the organization on General Compliance, Conflict of Interest and other compliance topics, as necessary.
Oversees the Compliance department NCHSnet and shared drive, including updating department notifications, news, and announcements.
Coordinates Compliance committee meetings (e.g., Conflict of Interest Committee, Policy & Procedures Committee, Compliance Monitoring Committee, etc.) and related documentation.
Manages the Conflict of Interest disclosure process, quarterly Non-Monetary Compensation disclosures, and monitoring of the Sanctions Screening processes under the direction of the Director of Regulatory Affairs-Compliance or assigned designee.
Supports in monitoring the Compliance hotline, including screening and processing received calls/inquiries. Answers questions regarding compliance operations, policies & procedures, and/or hands off accordingly.
Supports in the operational administration of the institution's policy management system.
Investigates incidents reported through the Compliance hotline and reports of same accordingly, including documenting final outcomes and corrective action plans in the incident management system.
Manages the database for quarterly updates/reports provided to the Compliance Monitoring Committee, Audit and Compliance Committee, and other organizational reports, as needed.
Minimum Job Requirements
Bachelor's Degree in Business Administration or related field required within 1 year of hire 
1-3 years of Compliance experience
Knowledge, Skills, and Abilities
Strong problem solving skills and attention to detail
Excellent written and verbal communication skills
Able to work independently and flexibly with minimal supervision
Excellent time management and organization skills
Strong interpersonal, collaboration, and presentation skills
Able to use considerable use of tact, diplomacy, discretion, and judgment
Able to maintain confidentiality of sensitive information
Professional
Florida-Miami-Nicklaus Children's Hospital - Main Hospital Campus
COMPLIANCE-1000-910900
:Full Time
Apply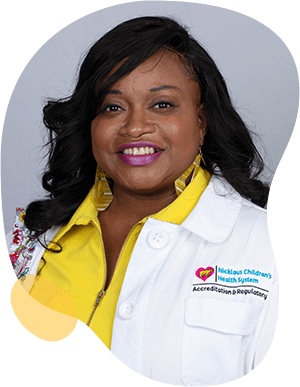 Joining a new organization can be daunting or overwhelming. But at Nicklaus, your colleagues make you feel welcomed. They taught me to celebrate our accomplishments and band together during challenging times. This is not easy to find in healthcare these days, so I'm grateful to have found an amazing place to work with people and leadership who have my well-being in mind.

Lova Renee Brunson

Manager Accreditation & Regulatory
Collaboration leads to success.
Alone we can do so little; together we can do so much. Working together, we find solutions and methods we would never find alone, and at Nicklaus Children's, we have fun doing it.
Responsibility drives us.
We all take responsibility here – for the children, their families, our work and each other. We meet our responsibilities head on and motivate each other to succeed.
Empower yourself, help others.
Nicklaus Children's encourages team members to believe in their ability to affect positive change in the world through everything they do with us.
Advocate for the right way.
Advocate for children. Advocate for families. Advocate for yourself. But most of all, advocate for getting the job done right and you will find nothing but success and support in your career here.
Transformation is growth.
At Nicklaus Children's, change is not to be feared. When you work here, you are always working with the most advanced tools and procedures available.
Empathy is everything.
We expect our team members to have empathy for the patients and families they treat, and in turn, we have empathy for them. We take care of everyone in the Nicklaus Children's family with competitive benefits and our supportive culture.
Join Our Talent Community