Patient Coordinator/Guest Relations (Full Time, Day Shift)
PATIENT & GUEST SERVICES
Florida-Miami-Nicklaus Children's Hospital - Main Hospital Campus
Miami, Florida
Requisition ID 23798
Job Summary
Serves as a resource to staff and customers and collaborates with others to advance Nicklaus Children's Health System's mission.
Job Specific Duties
Gathers weekly Clicker patient volume reports from Greeters.

Updates monthly Greeter Summary Clicker Report for leader review.

Supports department by answering calls and checking department voicemail for messages, checks department email inbox, and CRM for patient/parent concerns.

Receives walk-in customers wishing to place formal complaint.

Reviews and processes Review Trackers reviews, logs in social media complaints and tracks and trends, and sends to affected area leaders where applicable.

Responsible for ordering supplies, placing purchase order requests and receiving orders; works with leader to adhere to budget.

Assists leader with reviewing utilization of interpretive services/translations and creates dashboards to send to Accreditation & Regulatory.

Coordinates requests for interpretative services from NCHS departments and facilitates VRI machines, and helps to schedule appointments for live interpreters with vendor.

Assists department leadership with scheduling meetings and conference calls, travel arrangements, and handles mail.

Prints and distributes e-cards.

Reviews Grateful Patient Report received from Foundation and researches in RL system to ensure that the family has not placed a formal complaint in PGR and communicates results to Foundation staff.

Researches and checks RL for possible patient/parent complaints for Shared Success Customer Stories received from Marketing and Foundation.

Coordinates NCHS departments patient satisfaction celebrations.

Assists leadership with Family Advisory Council initiatives.

Assists leadership with Quarterly Service Excellence Award planning and preparation.

Assists PGR team with annual celebration of Patient Experience Week celebrations.

Assists department leadership and staff with any additional projects/assignments as needed.
Minimum Job Requirements
3 years of experience in a customer service setting

Intermediate proficiency in Microsoft Word, Excel, and Outlook.
Knowledge, Skills, and Abilities
Bachelor's degree in Health Services Administration, Communication, or related field preferred.

Able to communicate in English both verbally and in writing in a clear, concise, and courteous manner.

Fluent in Spanish strongly preferred.

Able to establish necessary professional relationships and interact effectively with internal and external customers.

Able to learn and effectively use work related software application(s).

Able to maintain confidentiality of sensitive information.

Strong organizational skills including priority setting, planning, and effective decision making.

Able to demonstrate exceptional customer service and interacts effectively with patients, residents, visitors,staff, and the broader health care community.

Able to interpret, adapt, and react calmly under stressful conditions in a pleasant manner.

Able to evaluate, collect, and interpret data.



Clerical/Administrative
Florida-Miami-Nicklaus Children's Hospital - Main Hospital Campus
PATIENT & GUEST SERVICES-2100-868001
:Full Time
Apply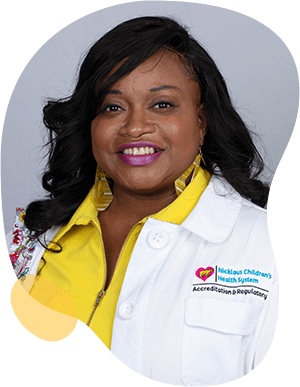 Joining a new organization can be daunting or overwhelming. But at Nicklaus, your colleagues make you feel welcomed. They taught me to celebrate our accomplishments and band together during challenging times. This is not easy to find in healthcare these days, so I'm grateful to have found an amazing place to work with people and leadership who have my well-being in mind.

Lova Renee Brunson

Manager Accreditation & Regulatory
Collaboration leads to success.
Alone we can do so little; together we can do so much. Working together, we find solutions and methods we would never find alone, and at Nicklaus Children's, we have fun doing it.
Responsibility drives us.
We all take responsibility here – for the children, their families, our work and each other. We meet our responsibilities head on and motivate each other to succeed.
Empower yourself, help others.
Nicklaus Children's encourages team members to believe in their ability to affect positive change in the world through everything they do with us.
Advocate for the right way.
Advocate for children. Advocate for families. Advocate for yourself. But most of all, advocate for getting the job done right and you will find nothing but success and support in your career here.
Transformation is growth.
At Nicklaus Children's, change is not to be feared. When you work here, you are always working with the most advanced tools and procedures available.
Empathy is everything.
We expect our team members to have empathy for the patients and families they treat, and in turn, we have empathy for them. We take care of everyone in the Nicklaus Children's family with competitive benefits and our supportive culture.
Join Our Talent Community