Corporate Communications Leader (Full Time, Hybrid, Day shift)
CORPORATE COMMUNICATIONS
Florida-Miami-Nicklaus Children's Hospital - Main Hospital Campus
Miami, Florida
Requisition ID 25447
Job Summary
Responsible for the strategic planning, developing and coordinating of various communications including those that promote programs, announcements and events to support organizational initiatives. Through effective organizational communication strategies and tactics, supports cultural and organizational change initiatives that build stakeholder awareness, understanding, acceptance and commitment to the organization's mission, vision, values and business priorities.
Job Specific Duties
Develops targeted, branded communications campaigns to effectively delivery messages to appropriate audiences by using various media to ensure stakeholder engagement and buy-in.

Ensures communications campaigns and strategies are consistent and reflect the organization's strategic mission, vision and values.

Drafts and edits content for internal and external messages using various tools to communicate such as memos, press releases, newsletters, websites, and others.

Provides support with public relations and media engagements including the promotion of placement in news outlets and publications.

Writes, edits, and reviews employee communications submitted by leaders; approves and sends out or declines gaining leader understanding.

Measures and analyzes trends and metrics of newsletters, email, videos and all communications tools used for effectiveness and to strategically plan future campaigns; adjusts as needed.

Manages monthly calendar of communications content including thought leadership, special observance days and events.

Creates major organizational/leader specific announcements related to events happening across the health system like benefits updates, incidents, construction, and others.

Serves as active member of the incident command team representing the public information officer group in developing communications in critical situations that may include the crafting of pop-ups, text messages, emails, and scripts.

Responsible to be on-call 24 hours per day during emergencies providing timely communications and social media content as needed.

Manages the mobile application including news and notification/alerts system for effective and timely message delivery.

Generates and edits visually appealing presentations, booklets, newsletter, graphic flyers and social media posts as part of organizational initiatives and presentations.

Responsible for planning and coordinating organizational communications events, i.e. monthly town halls, director events, management forums, annual kickoffs/retreats, etc.

Collaborates closely with IT to continuously develop and upgrade the communications portion of SharePoint.

Manages PolicyTech ensuring accurate and timely updates of policies.
Minimum Job Requirements
Bachelor's Degree

in

Communications, Public Relations, Marketing, or related field

2-4 years

of

experience in corporate communications, public relations, employee communications/relations, or marketing/advertising

2-4 years

of

experience with content writing and development for diverse groups
Knowledge, Skills, and Abilities
Prior experience using graphic design software such as Adobe Creative Suite products, Microsoft Publisher or Canva preferred.

Effective English verbal communication and writing skills, public speaking, and listening skills.

Bilingual (English/Spanish) proficiency preferred.

Ability to interview and gather information from all levels of leadership and staff.

Ability to work under pressure and manage multiple priorities, meetings, or exceeding deadlines.

Demonstrated excellent writing, editing, public speaking and listening skills.

Able to work with vendors, suppliers, and distributors of collateral material.
Marketing
Florida-Miami-Nicklaus Children's Hospital - Main Hospital Campus
CORPORATE COMMUNICATIONS-1000-954904
:Full Time
Apply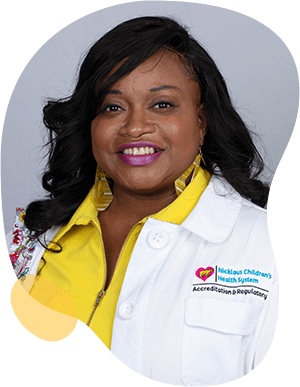 Joining a new organization can be daunting or overwhelming. But at Nicklaus, your colleagues make you feel welcomed. They taught me to celebrate our accomplishments and band together during challenging times. This is not easy to find in healthcare these days, so I'm grateful to have found an amazing place to work with people and leadership who have my well-being in mind.

Lova Renee Brunson

Manager Accreditation & Regulatory
Collaboration leads to success.
Alone we can do so little; together we can do so much. Working together, we find solutions and methods we would never find alone, and at Nicklaus Children's, we have fun doing it.
Responsibility drives us.
We all take responsibility here – for the children, their families, our work and each other. We meet our responsibilities head on and motivate each other to succeed.
Empower yourself, help others.
Nicklaus Children's encourages team members to believe in their ability to affect positive change in the world through everything they do with us.
Advocate for the right way.
Advocate for children. Advocate for families. Advocate for yourself. But most of all, advocate for getting the job done right and you will find nothing but success and support in your career here.
Transformation is growth.
At Nicklaus Children's, change is not to be feared. When you work here, you are always working with the most advanced tools and procedures available.
Empathy is everything.
We expect our team members to have empathy for the patients and families they treat, and in turn, we have empathy for them. We take care of everyone in the Nicklaus Children's family with competitive benefits and our supportive culture.
Join Our Talent Community