Cybersecurity Risk Manager
TECHNOLOGY SERVICES
Florida-Miami-Waterford Offices
Miami, Florida
Requisition ID 23970
Job Summary
Responsible for identifying and managing IT security risk for Nicklaus Children's Health System environment. Risks will be documented and managed through a comprehensive risk register and include confidentiality, integrity, availability, and regulatory compliance.
Job Specific Duties
Responsible for uncovering potential risk in the NCHS environment.

Responsible for prioritizing potential threats to the organization based on their likelihood of occurrence and potential level of severity.

Responsible for mitigating risk in the environment and ongoing monitoring for potential new risks.

Develop and manages comprehensive healthcare IT security risk register.

Rate risk using a defined and documented process to ascertain a probability, impact, and combined score for each risk. Risk and impact analysis must take into consideration the special nature of healthcare operations.

Develop mitigation strategies for each identified risk and ensure strategies are followed. Documents all questions and concerns.

Participate in IT vendor evaluations to ensure business associates meet regulatory requirements related to security and controls are in place that mitigates any identified risks.

Manage and facilitate NCHS IT security-related audits.

Ensure compliance with NCHS regulations such as HIPAA.

Write policies and procedures related to NCHS IT security operations as directed. Principal editor of all NCHS IT security related policies and procedures.

Works with the NCHS privacy office on issues related to regulatory compliance.

Creates new policies and ensuring appropriate processes are in place, maintained, and adhered to.

Ensures that IT risks are mitigated while health system initiatives are being met.

Designs and implements strategies and standards to reduce and limit risk and impact to NCHS.

Cultivates the culture of the IT organization and gains buy-in for risk and governance processes.

Prepares reports for review by executive and other leaders to provide status updates and other information related to risk and governance.

Ensures best practice risk mitigation and assessment.
Minimum Job Requirements
Bachelor's Degree Information Technology, Business, Healthcare, or related field

2-4 years

of e

xperience in cybersecurity

3-5 years

of e

xperience in enterprise IT risk management
Knowledge, Skills, and Abilities
Healthcare organization experience preferred.

CRISC certification or related certification preferred.

Detailed understanding of risk management practices.

An in depth understanding of common IT, healthcare IT security risks, and mitigation strategies.

Working knowledge of what a SOC-2 report and how it applies to health and healthcare IT business associates.

Detailed understanding of HIPAA, HITECH, and related regulations.

Excellent written and verbal communication skills.

A comprehensive understanding of standard IT infrastructure and administration practices.

Ability to identify and quantify IT related risks and common mitigation strategies.

Excellent understanding of common cryptographic standards.
Information Technology
Florida-Miami-Waterford Offices
TECHNOLOGY SERVICES-1000-921901
:Full Time
Apply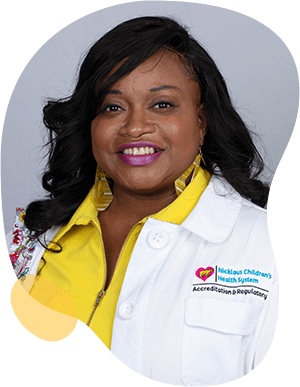 Joining a new organization can be daunting or overwhelming. But at Nicklaus, your colleagues make you feel welcomed. They taught me to celebrate our accomplishments and band together during challenging times. This is not easy to find in healthcare these days, so I'm grateful to have found an amazing place to work with people and leadership who have my well-being in mind.

Lova Renee Brunson

Manager Accreditation & Regulatory
Collaboration leads to success.
Alone we can do so little; together we can do so much. Working together, we find solutions and methods we would never find alone, and at Nicklaus Children's, we have fun doing it.
Responsibility drives us.
We all take responsibility here – for the children, their families, our work and each other. We meet our responsibilities head on and motivate each other to succeed.
Empower yourself, help others.
Nicklaus Children's encourages team members to believe in their ability to affect positive change in the world through everything they do with us.
Advocate for the right way.
Advocate for children. Advocate for families. Advocate for yourself. But most of all, advocate for getting the job done right and you will find nothing but success and support in your career here.
Transformation is growth.
At Nicklaus Children's, change is not to be feared. When you work here, you are always working with the most advanced tools and procedures available.
Empathy is everything.
We expect our team members to have empathy for the patients and families they treat, and in turn, we have empathy for them. We take care of everyone in the Nicklaus Children's family with competitive benefits and our supportive culture.
Join Our Talent Community