Dental Assistant I (Full Time, Day Shift)
DENTAL CLINIC
Florida-Miami-Doral
Miami, Florida
Requisition ID 21317
Job Summary
Provides access for patients and families with friendly interaction and communication. Works under the direct supervision of the Dentist in providing care to pediatric patients undergoing dental treatment, including prophylaxis (supra-gingival) cleaning. Responsible for preparing for procedures, providing supplies and instruments during procedures, and post-procedure clean-up. Performs the expanded duty functions as permitted by the Florida Board of Dentistry.
Job Specific Duties
Applies knowledge of growth and development in patient interactions and treatment.
Provides expertise with appropriate approaches to small children, children with autism, children confined to wheelchairs, and children with developmental delay.
Ensures patient safety with papoose (when necessary) for patients unable to sit for procedures unassisted.
Assures clinic operatory supply levels are par and ensures appropriate staff are notified when master inventory levels drop to re-order status.
Checks all equipment for proper function and cleanliness. Notifies designated employee of any equipment not operating properly and needing repair.
Executes clear & concise education information for parents/patients. Provides parents with post- treatment, sedation & OR verbal instructions as well as written information when indicated.
Maintains and sterilizes dental instruments.
Provides for patient safety, greets parents, and assists patients to operatory checking with parent, reading armband to identify scheduled patient before beginning any procedure.
Reviews, maintains, and documents patient information in the computer thoroughly, accurately, and in a timely manner. Obtains consent from parents.
Takes x-rays to assure the highest degree of diagnostic information with the least amount of exposure. Follows hospital and departmental infection control policies.
Works directly with the Pediatric Dental Attending, Residents, and other specialists in the dental clinic and operating room.
Performs designated expanded duty functions permitted by the Florida Board of Dentistry. Provides assistance with behavior and monitors patient with nitrous oxide and never leaves them unattended.

Minimum Job Requirements
Graduate of an accredited school of Dental Assisting or Expanded Duties Certified (EFDA) 
Expanded Duties Certification required within 12 months of hire
American Heart Association AED - Must maintain active and in good standing throughout employment.
Knowledge, Skills, and Abilities
Previous experience as a Dental Assistant highly preferred.
Ability to communicate effectively verbally and in writing.
Able to maintain confidentiality of sensitive information.
Ability to demonstrate evidence of clinical expertise.
High quality skills as an expanded duties assistant.
Able to relate cooperatively and constructively with patients, families, and co-workers.
Ability to problem solve to adapt standard clinical procedures to the individual client's need.
Ability to interpret, adapt, and react calmly under stressful conditions.

Dental
Florida-Miami-Doral
DENTAL CLINIC-2100-687000
:Full Time
Apply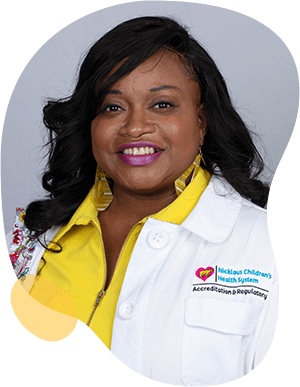 Joining a new organization can be daunting or overwhelming. But at Nicklaus, your colleagues make you feel welcomed. They taught me to celebrate our accomplishments and band together during challenging times. This is not easy to find in healthcare these days, so I'm grateful to have found an amazing place to work with people and leadership who have my well-being in mind.

Lova Renee Brunson

Manager Accreditation & Regulatory
Collaboration leads to success.
Alone we can do so little; together we can do so much. Working together, we find solutions and methods we would never find alone, and at Nicklaus Children's, we have fun doing it.
Responsibility drives us.
We all take responsibility here – for the children, their families, our work and each other. We meet our responsibilities head on and motivate each other to succeed.
Empower yourself, help others.
Nicklaus Children's encourages team members to believe in their ability to affect positive change in the world through everything they do with us.
Advocate for the right way.
Advocate for children. Advocate for families. Advocate for yourself. But most of all, advocate for getting the job done right and you will find nothing but success and support in your career here.
Transformation is growth.
At Nicklaus Children's, change is not to be feared. When you work here, you are always working with the most advanced tools and procedures available.
Empathy is everything.
We expect our team members to have empathy for the patients and families they treat, and in turn, we have empathy for them. We take care of everyone in the Nicklaus Children's family with competitive benefits and our supportive culture.
Join Our Talent Community