Dental Grant Award Specialist (Full Time, Day Shift)
DENTAL CLINIC
Florida-Miami-Doral
Miami, Florida
Requisition ID 21803
Job Summary
Manages the effective and efficient administration of awards throughout the entire award life-cycle, from pre award to close-out. Supports the development of proposals, plans, manages, and coordinates the implementation of deliverables. Monitors the execution of tasks and activities; prepares and submits reports deliverables pertaining to private foundations, organizations, and Federal/State agencies.
Job Specific Duties
Supports the development and monitoring of policies, procedures, and templates for the grant management process from pre-award through the close out phase.

Serves as the point of contact on grant matters, subcontracts, and other agreements for the development of assigned award applications. Provides input on compliance matters as they relate to assigned proposal/grant applications.

Maintains the proposal/grant data in the NCHS system, as well as, the personal work management system for tracking tasks and follows-up on actions to ensure timely completion of deadline driven tasks and outcomes.

Maintain complete award documents (electronic) including submission and transmittal of grant deliverables (programmatic, financial, or audit related).

Prepares and distributes new award notices to the principal investigator (PI) summarizing the terms and conditions of the award including performance period, budget allocation, budget restrictions, annual and filing report due dates.

Maintains complete award documents including submission and transmittal of grant deliverables.

Acts as liaison for the study team as related to consultants, subcontractors, and suppliers. Initiates, negotiates, and follows-through in purchasing goods and services.

Manages all assigned award application communication with funder directly or indirectly throughout the entire process including managing requests for revised budgets and program work plans.

Participates in the development and review of proposal budgets.

Supports all financial reporting requirements and required invoice actions in collaboration with program teams, finance teams, and other internal departments.

Assists with monitoring ongoing contracts/projects. Monitor the tracking of funding, delayed execution of contracts, expired authorizations, delayed payments, and regulation of advances to subcontractors/vendors.

Works with stakeholders to ensure adequate communication between the study and its counterparts: hospital staff, patients, visitors, and representatives of the grantor.

Coordinates the setup and startup processes including gathering data, preparing, and submitting reports.

Ensures requirements and documentation for federal, state, and private grants are continuously maintained. Responsible for ensuring all data is accurate and submitted by deadline.

Coordinates the implementation of deliverables pertaining to grants and contracts, tracks tasks, and follows-up on actions to ensure timely completion of deadline driven tasks and outcomes.

Ensures compliance of the law and regulations in the conduct of the study to maintain CODA accreditation, ACGME, and WIRB Research standards.

Minimum Job Requirements
 Bachelor's Degree in Business Administration, Finance, or related field

 1-3 years Experience working on grant administration

 1-3 years Strong financial analysis background including experience reviewing financial budgets

 1-3 years Experience managing compliance with federal government grants and contracts in accordance with CFRs and FARs

 Experience with internal and external auditing.
Knowledge, Skills, and Abilities
 Experience in health and medical research grant development preferred.

 Expert skills in Microsoft Office Suite (Word, Excel, PowerPoint & Outlook) and Adobe Acrobat.

 Self-motivated, results-driven, and customer-service oriented.

 Able to perform well in deadline driven and multi-tasking environment.

 Strong interpersonal, communication, organizational, analytical, and leadership skills. 

Able to work independently and in a team environment.

 Attention to detail and organization.


Professional
Florida-Miami-Doral
DENTAL CLINIC-2100-687000
:Full Time
Apply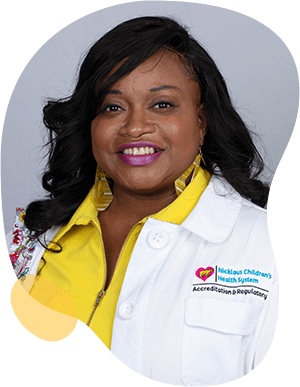 Joining a new organization can be daunting or overwhelming. But at Nicklaus, your colleagues make you feel welcomed. They taught me to celebrate our accomplishments and band together during challenging times. This is not easy to find in healthcare these days, so I'm grateful to have found an amazing place to work with people and leadership who have my well-being in mind.

Lova Renee Brunson

Manager Accreditation & Regulatory
Collaboration leads to success.
Alone we can do so little; together we can do so much. Working together, we find solutions and methods we would never find alone, and at Nicklaus Children's, we have fun doing it.
Responsibility drives us.
We all take responsibility here – for the children, their families, our work and each other. We meet our responsibilities head on and motivate each other to succeed.
Empower yourself, help others.
Nicklaus Children's encourages team members to believe in their ability to affect positive change in the world through everything they do with us.
Advocate for the right way.
Advocate for children. Advocate for families. Advocate for yourself. But most of all, advocate for getting the job done right and you will find nothing but success and support in your career here.
Transformation is growth.
At Nicklaus Children's, change is not to be feared. When you work here, you are always working with the most advanced tools and procedures available.
Empathy is everything.
We expect our team members to have empathy for the patients and families they treat, and in turn, we have empathy for them. We take care of everyone in the Nicklaus Children's family with competitive benefits and our supportive culture.
Join Our Talent Community