Dental Scheduling Coordinator (Full Time, Day Shift)
DENTAL CLINIC
Florida-Miami-Doral
Miami, Florida
Requisition ID 23560
Job Summary
Overall responsibility for the coordination of all specialty services in NCHS Pediatric Dentistry Department.
Minimum Job Requirements
Graduate of an accredited school of Dental Assisting or Expanded Duties Certified
Certified Dental Assistant
EFDA - Expanded Duties Cert within 1 year of hire
CPR AED - American Heart Association AED - maintain active and in good standing throughout employment.
2-4 years clinical dental experience

Dental practice management experience
Job Specific Duties
• Maintains schedule for operating dentist through computerized system. Coordinates cardiac or anesthesiologist scheduling when needed.
• Maintains awareness of upcoming cases, arrange adequate resources, and resolves conflicts prior to the surgery.
• Provides preoperative education to caregivers of patients who require treatment under general anesthesia.
• Discusses with caregiver the treatment plan Dentist has developed for the patient.
• Coordinates and collects all medical consultations needed for patients that require treatment under general anesthesia.
• Monitors patient satisfaction through follow up calls on the same day or the day following surgery. Recommends changes to improve quality to customer service. 
• Actively participates in the development and implementation of productivity and cost effectiveness.
• Obtains and verifies all demographics, insurance and PCP information. Confirms data/information is accurate on all incoming documents prior to scanning into patients chart.
• Schedules surgery date, pre-op, and post-op appointments for the patient through computerized system. Sends confirmation letter to patient along with the pre-op appointment and instructions.
• Provides parent with post-op appointment on the day of the surgery. Confirms the patient pre-op appointment or fills vacancy if patient misses their appointment.
• Confirm all required documentation is received before appointment date. Verifies dental and medical insurance patient eligibility, benefit coverage, and obtain pre-authorization when required.
•  Attends OR committee meetings and reports back information to management.
• Advises parents of any financial obligations, co-pays, or down payment before scheduling of dental appointment.
• Triages dental emergencies and anomalies. Performs designated expanded duty functions permitted by the Florida Board of Dentistry as needed.
Knowledge/Skills/Abilities
Ability to communicate effectively verbally and in writing

Able to maintain confidentiality of sensitive information

Excellent telephone and customer service skills

Able to adapt and react calmly under stressful conditions

Able to relate cooperatively and constructively with clients and co-workers

Ability to follow complex written or verbal instructions to solve complex problems

Knowledge of basic insurance, dental billing and collections
(EOE DFW)
1/31/18
Dental
Florida-Miami-Doral
DENTAL CLINIC-2100-687000
:Full Time
Apply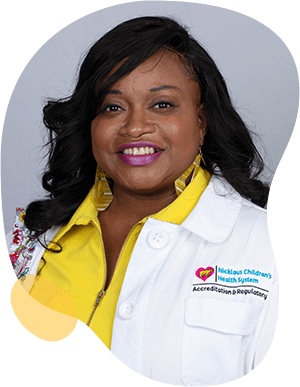 Joining a new organization can be daunting or overwhelming. But at Nicklaus, your colleagues make you feel welcomed. They taught me to celebrate our accomplishments and band together during challenging times. This is not easy to find in healthcare these days, so I'm grateful to have found an amazing place to work with people and leadership who have my well-being in mind.

Lova Renee Brunson

Manager Accreditation & Regulatory
Collaboration leads to success.
Alone we can do so little; together we can do so much. Working together, we find solutions and methods we would never find alone, and at Nicklaus Children's, we have fun doing it.
Responsibility drives us.
We all take responsibility here – for the children, their families, our work and each other. We meet our responsibilities head on and motivate each other to succeed.
Empower yourself, help others.
Nicklaus Children's encourages team members to believe in their ability to affect positive change in the world through everything they do with us.
Advocate for the right way.
Advocate for children. Advocate for families. Advocate for yourself. But most of all, advocate for getting the job done right and you will find nothing but success and support in your career here.
Transformation is growth.
At Nicklaus Children's, change is not to be feared. When you work here, you are always working with the most advanced tools and procedures available.
Empathy is everything.
We expect our team members to have empathy for the patients and families they treat, and in turn, we have empathy for them. We take care of everyone in the Nicklaus Children's family with competitive benefits and our supportive culture.
Join Our Talent Community