Development Associate Annual Giving - Fundraising (Full Time, Day shift)
NCHF DEVELOPMENT
Florida-Miami-NCHS Corporate Headquarters
Miami, Florida
Requisition ID 25417
Job Summary
Supports the Director of Annual Giving in the development, implementation and growth of all priority programs for the Annual Giving office, including staff giving, grateful patients, online giving and third-party fundraisers, community outreach, and in-kind donations in support of Nicklaus Children's Hospital Foundation. Assists in the identification and cultivation of Annual Giving donors as well as help to re-secure lapsed donors and identify those with potential major gift opportunities.
Minimum Job Requirements
 2-4 years Experience in a position interacting with different audiences

 3-5 years Direct experience in fundraising


Knowledge, Skills, and Abilities
 Bachelor's degree preferred.
 Knowledge of Blackbaud's The Raiser's Edge preferred.

 Ability to work evenings and weekends.
 Customer service training and experience.
 Strong computer and analytical skills.
 Excellent writing skills.
 Knowledge of hospital operations.
 Ability to work well with people at all levels of an organization.
 Develops relationships with diverse constituencies and simultaneously employs keen judgment.
 Strong, collaborative, and energetic.
 Ability to collect, analyze, and interpret data.
 Ability to manage volunteers.
 Ability to work effectively under pressure.
 Able to manage several deadlines at the same time.
 Think out of the box and makes quick recommendations.


Job Specific Duties
 Primarily responsible for the solicitation, renewal, and stewardship of all NCHF Annual Giving level donors.

 Identifies potential donors and fundraising opportunities for the Foundation Annual Giving Program and works with the leader to bring to fruition.

 Plans and executes events in support of the Annual Giving program (Spread Joy toy drive, iGIVE Employee Support Events, etc.) in collaboration with leader, other departments, and key stakeholders.

 Serve as primary point of contact for the grassroots fundraising program by identifying individuals/groups who would like to host a grassroots event to benefit NCHF and re-engage past grassroots supporters

Individual Serve as primary point of contact for any individuals or groups who would like to make in-kind donations to NCHF.

 Lead the administration of activities to solicit and steward gifts from employees of all levels.


 Manage the administrative function of Annual Giving including payroll processing, submitting transmittals, etc.

 Regularly stewards Annual Giving donors via phone, email, and mailings following a stewardship plan and refers prospects to the Development team.

 Effectively utilizes Raiser's Edge and any other ancillary tools.

 Provides regular and accurate updates of gift activity and fundraising results.

 Serves as a liaison for Community Outreach events in support of the Foundation.

 Serves as a point of contact for Children's Experiences, Michael Fux Family Center, and other hospital events in support of the Foundation.

 Attends NCHS/NCHF events, as well as, external events for Foundation representation, networking etc.

 Serve as liaison to assigned service lines keeping them informed of Foundation happenings and their available funds.


Updated
9/10/20
Professional
Florida-Miami-NCHS Corporate Headquarters
NCHF DEVELOPMENT-7100-959952
:Full Time
Apply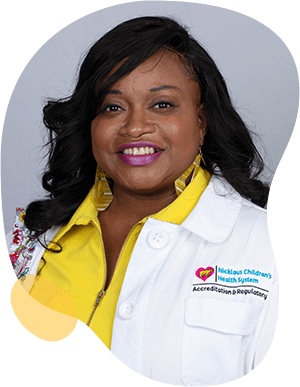 Joining a new organization can be daunting or overwhelming. But at Nicklaus, your colleagues make you feel welcomed. They taught me to celebrate our accomplishments and band together during challenging times. This is not easy to find in healthcare these days, so I'm grateful to have found an amazing place to work with people and leadership who have my well-being in mind.

Lova Renee Brunson

Manager Accreditation & Regulatory
Collaboration leads to success.
Alone we can do so little; together we can do so much. Working together, we find solutions and methods we would never find alone, and at Nicklaus Children's, we have fun doing it.
Responsibility drives us.
We all take responsibility here – for the children, their families, our work and each other. We meet our responsibilities head on and motivate each other to succeed.
Empower yourself, help others.
Nicklaus Children's encourages team members to believe in their ability to affect positive change in the world through everything they do with us.
Advocate for the right way.
Advocate for children. Advocate for families. Advocate for yourself. But most of all, advocate for getting the job done right and you will find nothing but success and support in your career here.
Transformation is growth.
At Nicklaus Children's, change is not to be feared. When you work here, you are always working with the most advanced tools and procedures available.
Empathy is everything.
We expect our team members to have empathy for the patients and families they treat, and in turn, we have empathy for them. We take care of everyone in the Nicklaus Children's family with competitive benefits and our supportive culture.
Join Our Talent Community