Development Associate-Children's Medical Network Hospitals (Palm Beach)
NCHF DEVELOPMENT
Florida-Miami-NCHS Corporate Headquarters
Miami, Florida
Requisition ID 23703
Job Summary
Responsible for identifying, implementing, and managing Children's Miracle Network Hospitals' partner accounts, programs, and campaigns within the Palm Beach, Martin, St. Lucie, Okeechobee, Indian River markets.
Job Specific Duties
Manages all aspects of donor accounts for assigned Children's Miracle Network Hospitals partners and programs including solicitation, cultivation and stewardship.

Serves as CMNH Hospital Advisor and leads strategy for expanding Dance Marathon, Extra Life and Play Yellow programs within the market.

Develops and executes a strategic plan to increase financial support through assigned CMNH accounts.

Achieves personal & department revenue goals ensuring timely reporting of activities to-date, revenue generated, and expenses.

Maintains and reports accurate monthly, quarterly, and annual fundraising results.

Plans and facilitates kickoffs for assigned partners and programs prior to the start of their respective campaigns/fundraising events.

Ensures assigned accounts have the tools, communication, and local resources necessary to meet or surpass annual fundraising goals.

Ensures assigned accounts receive appropriate acknowledgement and recognition in a timely manner.

Cultivates and increases relationships with assigned partner accounts via various avenues including face-to-face meetings, hospital tours, written communication, etc.

Collaborates with leader and overall CMNH team during national campaigns, preparing local kits, attending kickoffs and completing field visits.

Collaborates with leader and overall CMNH team to support Radiothons, and other events as required.

Develops and executes strategies for fundraising by identifying new potential local partners for CMNH programs, events & campaigns.

Collaborates with the Development team to review current portfolios and identify potential local partners, developing a plan for solicitation and cultivation.

Develops and executes strategies for re-engaging dormant local partners and programs.

Maintains a regular schedule of face-to-face and virtual meetings with individuals, corporations, and other entities.

Continuously updates Raisers Edge database with actions, moves management, etc.

Attends Foundation events as well as third-party events for Foundation representation, networking, etc. Recruit volunteers for events as needed.
Minimum Job Requirements
2-4 years of progressive experience in fundraising, community relations, or sales and marketing

1-3 years of strategic, policy, and budget planning experience
Knowledge, Skills, and Abilities
Associates degree preferred.

Ability to plan and execute fundraising initiatives from inception to completion.

Ability to develop and implement a strategy to cultivate and assist assigned Children's Miracle Network Hospitals' partners to increase fundraising results.

Demonstrated success in managing and stewarding relationships with individuals responsible for the success of fundraising efforts.

Able to work collaboratively and cooperatively with others.

Broad base of knowledge and skills related to donor cultivation.

Strong organizational and time management skills.

Professional maturity, judgment & decisiveness to inspire confidence among prospects & donors.

Strong communication skills.

Ability to write and speak persuasively about the institution.

Strong working knowledge of computer programs; Microsoft Excel, Word, PowerPoint, database applications, etc.

Deadline and detail oriented.

Able to work evenings and weekends; able to travel.

Exhibit a high level of energy, exceptional interpersonal skills, and can-do attitude.



Professional
Florida-Miami-NCHS Corporate Headquarters
NCHF DEVELOPMENT-7100-959952
:Full Time
Apply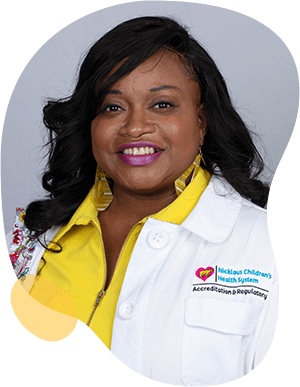 Joining a new organization can be daunting or overwhelming. But at Nicklaus, your colleagues make you feel welcomed. They taught me to celebrate our accomplishments and band together during challenging times. This is not easy to find in healthcare these days, so I'm grateful to have found an amazing place to work with people and leadership who have my well-being in mind.

Lova Renee Brunson

Manager Accreditation & Regulatory
Collaboration leads to success.
Alone we can do so little; together we can do so much. Working together, we find solutions and methods we would never find alone, and at Nicklaus Children's, we have fun doing it.
Responsibility drives us.
We all take responsibility here – for the children, their families, our work and each other. We meet our responsibilities head on and motivate each other to succeed.
Empower yourself, help others.
Nicklaus Children's encourages team members to believe in their ability to affect positive change in the world through everything they do with us.
Advocate for the right way.
Advocate for children. Advocate for families. Advocate for yourself. But most of all, advocate for getting the job done right and you will find nothing but success and support in your career here.
Transformation is growth.
At Nicklaus Children's, change is not to be feared. When you work here, you are always working with the most advanced tools and procedures available.
Empathy is everything.
We expect our team members to have empathy for the patients and families they treat, and in turn, we have empathy for them. We take care of everyone in the Nicklaus Children's family with competitive benefits and our supportive culture.
Join Our Talent Community