Development Services Lead (Foundation)
NCHF GEN AND ADMINISTRATIVE
Florida-Miami-NCHS Corporate Headquarters
Miami, Florida
Requisition ID 25384
Job Summary
The Development Services Lead manages and optimizes the entry of all donation types, ensuring accuracy and donor confidentiality while adhering to donor instructions. Acts as the central liaison between the gift processing team, data analysts, and development officers, emphasizing collaboration and alignment of data insights with fundraising initiatives. Moreover, guides the gift processing team, spearheading reporting, benchmarking, and system improvement efforts to enhance donor relations and ensure best practices are met.
Job Specific Duties
Oversees the accurate and efficient entry of all donation types, maintaining donor confidentiality and ensuring adherence to donor instructions.




Acts as a liaison for data coordination and development support, serving as the central point of contact between the gift processing team, data analyst, and development officers, ensuring seamless collaboration and alignment of data insights with fundraising strategies.




Provides guidance and training to the development services team and strategically allocates responsibilities to ensure balanced and dynamic workflows.




Leverages existing database information to identify potential donors and collaborates with marketing and development teams to engage them.




Oversees financial processes related to donations and collaborates with finance to reconcile adjustments.




Leads reporting initiatives and audit assistance, coordinating the production of standard and custom reports for key stakeholders. Offers integral support during all phases of internal and external audit evaluations.




Collaborates with the marketing team to ensure updated and engaging donor correspondence.




Leads the implementation of changes to gift processing systems and procedures, ensuring minimal disruption and clear communication with stakeholders.




Conducts frequent benchmarking on gift processing and database management to ensure procedures are in line with industry standards.




Evaluates and recommends new technologies or enhancements to existing systems to improve gift processing operations.




Handles and resolves complex donor inquiries and escalated issues related to gift processing and donor relations.




Manages special projects and initiatives as assigned.
Minimum Job Requirements
4-7 years of office experience with word processing, spreadsheets, and databases

4-7 years of experience in Foundation or similar setting
Knowledge, Skills, and Abilities
High school education or equivalent preferred.

Advanced computer skills on MS Office (Word, Excel, etc.) and accounting softwares.

Highly detail oriented with a critical degree of accuracy regarding data entry and analysis.

Ability to prioritize work and to perform multiple tasks simultaneously while adhering to deadlines.

Excellent problem-solving skills.

Ability to understand and follow directions and complex policies and procedures.

Ability to deal with confidential data.
Clerical/Administrative
Florida-Miami-NCHS Corporate Headquarters
NCHF GEN AND ADMINISTRATIVE-7100-959950
:Full Time
Apply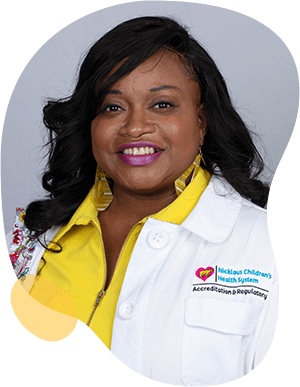 Joining a new organization can be daunting or overwhelming. But at Nicklaus, your colleagues make you feel welcomed. They taught me to celebrate our accomplishments and band together during challenging times. This is not easy to find in healthcare these days, so I'm grateful to have found an amazing place to work with people and leadership who have my well-being in mind.

Lova Renee Brunson

Manager Accreditation & Regulatory
Collaboration leads to success.
Alone we can do so little; together we can do so much. Working together, we find solutions and methods we would never find alone, and at Nicklaus Children's, we have fun doing it.
Responsibility drives us.
We all take responsibility here – for the children, their families, our work and each other. We meet our responsibilities head on and motivate each other to succeed.
Empower yourself, help others.
Nicklaus Children's encourages team members to believe in their ability to affect positive change in the world through everything they do with us.
Advocate for the right way.
Advocate for children. Advocate for families. Advocate for yourself. But most of all, advocate for getting the job done right and you will find nothing but success and support in your career here.
Transformation is growth.
At Nicklaus Children's, change is not to be feared. When you work here, you are always working with the most advanced tools and procedures available.
Empathy is everything.
We expect our team members to have empathy for the patients and families they treat, and in turn, we have empathy for them. We take care of everyone in the Nicklaus Children's family with competitive benefits and our supportive culture.
Join Our Talent Community