Dietitian II *Generous Sign-on Bonus* (Full Time, Day Shift)
FOOD AND NUTRITION SERVICES
Florida-Miami-Nicklaus Children's Hospital - Main Hospital Campus
Miami, Florida
Requisition ID 20850
Job Summary:
Serves as the nutrition expert and collaborates with the multidisciplinary healthcare team to provide patient centered care. Provides medical nutrition therapy via nutritional assessments, nutrition diagnosing, recommends interventions, and monitors and follows up with patient as appropriate.
Minimum Job Requirements:
Registered Dietitian Nutritionist (RDN) with at least 3 years pediatric working experience

Licensed Dietitian/Nutrition or approved application from the Department of Professional Regulation of Florida within 6 months

American Heart Association AED must maintain active and in good standing throughout employment.

Specialty Board certification from CDR or other Nutrition Society such as C.N.S.C. or C.S.P.; must be certified for at least 1 year (OR) a Master's degree in nutrition or related field
Job Specific Essential Duties:
Utilizes the Nutrition Care Process to perform nutritional assessments, develop MNT POC interventions and methods for monitoring outcomes via the International Dietetics & Nutrition Terminology.

Responds to consults and nutrition screens and arranges follow ups within appropriate established time frames based on department policy and patient condition.

Coordinates patient nutrition care plans. Participates in interdisciplinary meetings; proactively identifies patient with nutritional needs during rounds and discharge meetings.

Communicates with medical team regarding nutrition interventions.

Documents assessments within the Electronic Health Record, utilizing department specific Power Forms and IPOCs.

Monitors use of formulary & non- formulary formulas and communicates with the formula room to coordinate provision of service.

Checks outpatients in at time of service and enters charges for outpatient services within 24 hours from date of service.

Provides nutritional education to patients & families within the specific scope of practice, while taking into consideration patient's preferred learning styles/readiness for change/cultural beliefs.

Organizes and conducts education/in-services for department staff, nursing units, physicians and other ancillary staff members.

Participates in facility-wide and department program on performance improvement to improve processes and patient care.

Develops and modifies education materials for patients and family to meet their learning needs.

Communicates nutrition plans of care with medical team members, patients and families through verbal, written or electronic communication.

Serves as preceptor for dietetic interns and medical residents as assigned. Provides feedback for evaluation of interns/residents and feedback for improvement in dietetic intern program as needed.

Completion of 1 large project annually, such as QI, LEAN, professional presentation or research study as described in Food and Nutrition Department Guidelines for Registered Dietitian Clinical Ladder.
Knowledge/Skills/Abilities:
Able to relate cooperatively and constructively with patients, families and co-workers

Able to communicate consistently and effectively (understand, read, write, and speak) in English

Able to communicate consistently and effectively (understand, read, write, and speak) in Spanish preferred

Able to interpret, adapt and react calmly under stressful conditions

Computer skills in Microsoft Office (Word, PowerPoint, Excel, and Outlook)

Knowledge of how to perform algebra computations and conversions in order to make nutritional recommendations

Able to interpret, evaluate, and utilize research results.
Food & Nutrition Services
Florida-Miami-Nicklaus Children's Hospital - Main Hospital Campus
FOOD AND NUTRITION SERVICES-2100-800000
:Full Time
Apply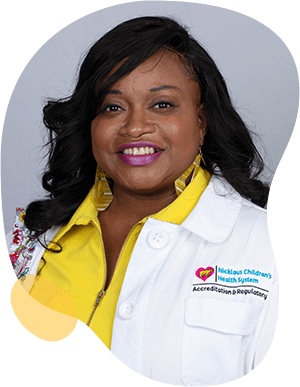 Joining a new organization can be daunting or overwhelming. But at Nicklaus, your colleagues make you feel welcomed. They taught me to celebrate our accomplishments and band together during challenging times. This is not easy to find in healthcare these days, so I'm grateful to have found an amazing place to work with people and leadership who have my well-being in mind.

Lova Renee Brunson

Manager Accreditation & Regulatory
Collaboration leads to success.
Alone we can do so little; together we can do so much. Working together, we find solutions and methods we would never find alone, and at Nicklaus Children's, we have fun doing it.
Responsibility drives us.
We all take responsibility here – for the children, their families, our work and each other. We meet our responsibilities head on and motivate each other to succeed.
Empower yourself, help others.
Nicklaus Children's encourages team members to believe in their ability to affect positive change in the world through everything they do with us.
Advocate for the right way.
Advocate for children. Advocate for families. Advocate for yourself. But most of all, advocate for getting the job done right and you will find nothing but success and support in your career here.
Transformation is growth.
At Nicklaus Children's, change is not to be feared. When you work here, you are always working with the most advanced tools and procedures available.
Empathy is everything.
We expect our team members to have empathy for the patients and families they treat, and in turn, we have empathy for them. We take care of everyone in the Nicklaus Children's family with competitive benefits and our supportive culture.
Join Our Talent Community