Digital Innovation Support Tech
ENTERPRISE BUS INTELLIGENCE
Florida-Miami-Waterford Offices
Miami, Florida
Requisition ID 23368
Job Summary

Provides support services, including equipment tracking, maintenance, and installation for the digital patient initiatives, including virtual reality (VR), mixed reality (MR), and bedside gaming.

Job Specific Duties
Installs, configures, implements and maintains Digital Patient team hardware and software, e.g. Oculus Quest 2, VR Motion, Oculus Go, immersive projectors, and games for bedside gaming consoles.
Installs, relocates, and supports PCs, servers, printers and other computer-related equipment.
Tracks NCHS' assets by updating information as equipment is replaced, moved or changed.
Under supervision, tests network connectivity and access to ensure security, integrity and accuracy of data transmitted throughout NCHS. Ensures that physical connections are standard, orderly and clearly identified.
Minimum Job Requirements
Bachelor's Degree in Computer Science/ Information Systems/related major (OR) at least 3-4 years of equivalent work experience.  
1-3 years of extensive experience with setup, repair and modification of Windows PC desktops and laptops, printers and other peripherals.
3 years of troubleshooting experience in a Windows-based environment(s) and/or 2 years experience with Macs.
1-3 years of experience with setup, repair, and tracking of virtual reality, mixed reality, or augmented reality technologies.
1-3 years of experience with setup, repair, and installation of gaming consoles, including PlayStation and Xbox.
Knowledge, Skills, and Abilities
Action-oriented and self- motivated with the ability to improve the effectiveness, performance and efficiency of the Digital Patient team.
Excellent communication and interpersonal skills.
Ability to work well with patients and their families.
Ability to prioritize tasks and complete assignments within an estimated time frame.
Excellent documentation skills.
Knowledge and  experience of desktop and  network management, deployment and  tracking tools such as SMS, Ghost, Citrix or comparable applications.
Advanced knowledge of Windows 2007 or higher, Microsoft Office, and other business applications.
Information Technology
Florida-Miami-Waterford Offices
ENTERPRISE BUS INTELLIGENCE-1000-921906
:Full Time
Apply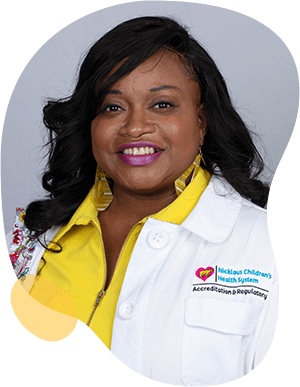 Joining a new organization can be daunting or overwhelming. But at Nicklaus, your colleagues make you feel welcomed. They taught me to celebrate our accomplishments and band together during challenging times. This is not easy to find in healthcare these days, so I'm grateful to have found an amazing place to work with people and leadership who have my well-being in mind.

Lova Renee Brunson

Manager Accreditation & Regulatory
Collaboration leads to success.
Alone we can do so little; together we can do so much. Working together, we find solutions and methods we would never find alone, and at Nicklaus Children's, we have fun doing it.
Responsibility drives us.
We all take responsibility here – for the children, their families, our work and each other. We meet our responsibilities head on and motivate each other to succeed.
Empower yourself, help others.
Nicklaus Children's encourages team members to believe in their ability to affect positive change in the world through everything they do with us.
Advocate for the right way.
Advocate for children. Advocate for families. Advocate for yourself. But most of all, advocate for getting the job done right and you will find nothing but success and support in your career here.
Transformation is growth.
At Nicklaus Children's, change is not to be feared. When you work here, you are always working with the most advanced tools and procedures available.
Empathy is everything.
We expect our team members to have empathy for the patients and families they treat, and in turn, we have empathy for them. We take care of everyone in the Nicklaus Children's family with competitive benefits and our supportive culture.
Join Our Talent Community