Director Food & Nutrition (Full Time)
FOOD AND NUTRITION SERVICES
Florida-Miami-Nicklaus Children's Hospital - Main Hospital Campus
Miami, Florida
Requisition ID 23850
Job Summary

Oversees and directs the activities of the Food &Nutrition and Clinical Nutrition departments. Responsible for budgetary oversight, short term and long term planning, management of the leaders and employees, while ensuring quality food preparation, and ensuring a positive and safe dietary experience for all patrons, patients, families and employees.

Job Specific Duties
Oversees the full day to day operations for the department including provision of consistent high quality dietary product and services to patients, families, visitors and staff.
Ensures compliance with budget, maintains adequate inventory levels, manages vendor relationships and contracts for all food and related purchases.
Ensures appropriate food safety, sanitation, and overall workplace safety standards and requirements are met.
Manages patient and customer satisfaction related to food production or service, including monitoring scores, implementing process improvements as needed and ensuring patient needs are met.
Responsible for full cycle of employee management including hiring and firing of staff, training and coaching, monitoring of compliance of staff to educational requirements, performance coaching, corrective action, development of succession plans and development of leaders. Maintains adequate staffing in adherence with budget while meeting operational needs.
Works together with department managers on menu planning, new product offerings, costing, new equipment or techniques and projects including a refresh of menu on a yearly basis.
Regularly re-evaluates sourcing of goods to ensure highest quality of food offerings within budget.
Evaluates condition of and budget for appropriate replacement of kitchen and related equipment, preparing a rotating three year plan to ensure operational efficiency is maximize d and downtimes kept to a minimum.
Creates short term and long term plans for department to meet system needs including researching and creating pro formas as needed for ambulatory sites for expanded services.
Works collaboratively with facilities and construction teams on designs for new or revisions of existing retail food spaces.
Works cooperatively with other leaders and participates on committees as assigned in order to enhance the patient experience including Patient & Guest Relations, Family Services, etc.
Minimum Job Requirements
Bachelor's Degree Nutrition, Hospitality Management, Business Administration or related field  (Required)
4-7 years management experience in a food service environment, preferably in a health care setting
Knowledge, Skills, and Abilities
Registered and Licensed Dietician preferred.
Masters Degree in related field or MBA preferred.
Ability to apply mathematical techniques to prepare budgets, track variances, and provide productivity assessments.
Ability to interpret, adapt to, and react calmly under stressful conditions.
Ability to relate cooperatively and constructively with customers, peers, subordinates and any other hospital personnel.
Ability to use logical and analytical thinking to interpret technical data and solve a broad range of problems.
Knowledge of JC and federal and state requirements.
Ability to effectively monitor and develop the abilities of subordinates.
Ability to maintain confidentiality of sensitive information.
Knowledge and skills in management training, financial planning and cost controls.
Management
Florida-Miami-Nicklaus Children's Hospital - Main Hospital Campus
FOOD AND NUTRITION SERVICES-2100-800000
:Full Time
Apply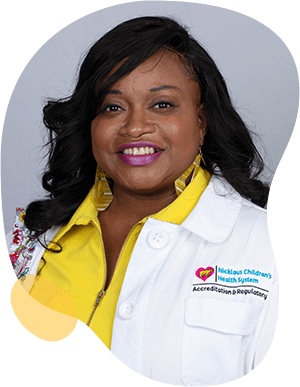 Joining a new organization can be daunting or overwhelming. But at Nicklaus, your colleagues make you feel welcomed. They taught me to celebrate our accomplishments and band together during challenging times. This is not easy to find in healthcare these days, so I'm grateful to have found an amazing place to work with people and leadership who have my well-being in mind.

Lova Renee Brunson

Manager Accreditation & Regulatory
Collaboration leads to success.
Alone we can do so little; together we can do so much. Working together, we find solutions and methods we would never find alone, and at Nicklaus Children's, we have fun doing it.
Responsibility drives us.
We all take responsibility here – for the children, their families, our work and each other. We meet our responsibilities head on and motivate each other to succeed.
Empower yourself, help others.
Nicklaus Children's encourages team members to believe in their ability to affect positive change in the world through everything they do with us.
Advocate for the right way.
Advocate for children. Advocate for families. Advocate for yourself. But most of all, advocate for getting the job done right and you will find nothing but success and support in your career here.
Transformation is growth.
At Nicklaus Children's, change is not to be feared. When you work here, you are always working with the most advanced tools and procedures available.
Empathy is everything.
We expect our team members to have empathy for the patients and families they treat, and in turn, we have empathy for them. We take care of everyone in the Nicklaus Children's family with competitive benefits and our supportive culture.
Join Our Talent Community