Director IT Customer Services
IT SERVICE MANAGEMENT
Florida-Miami-Waterford Offices
Miami, Florida
Requisition ID 25704
Job Summary
Responsible for all aspects of direct customer services at Nicklaus Children's Health System (NCHS) and includes Service (Help) Desk operations and Direct Endpoint (desktop) management services. Accountable for continuously staffed team, skilled at providing remote assistance to enterprise resources, patients, and patient families in the use of information technology (IT). Ensuring patient's family member connect to our guest WiFi network or solving complex issues related to user authentication processes. Endpoint management includes the operational management of all IT devices designed to interact directly with people or directly support operational processes. Manages kiosks designed for direct patient and patient family interaction, workstations used by employees, printers, mobile devices, audiovisual equipment, barcode readers, electronic signage, and real time location services from a wide variety of manufactures and suppliers. Some of this equipment will be specifically designed to support health care delivery processes.
Job Specific Duties
Evaluate staff performance and maintain key performance indicators.

Record operational events and metrics for quarterly operational report.

Compare staffing and operational metrics to industry normal and standard values.

Manage and maintain an automated weekly customer service performance and metrics report.

Direct the information technology service delivery team to insure that electronic operational support systems can be used effectively.

Build and maintain a world class service delivery team that helps end users, patients, and patient families effectively use the information technology assets provided by NCHS for their intended purpose.

Build and maintain a set of dashboards and reports that present key service delivery metrics such as service delivery completion rate, turnaround time, open issue aging, patching rate, patching turnaround time, productivity, customer satisfaction, first call resolution rate, and issue type frequency.

Oversee the tracking and maintenance of all, non-medical, IT endpoints connected to NCHS technical infrastructure including workstations, laptops, mobile devices, printers, electronic signage, barcode readers, T.V.s, Entertainment Systems. Responsible for patching and other service requirements directed by policy, regulations, vendor, or original equipment manufacturer.

Maintain and monitor the operational readiness and real time operations of all technology enabled meeting and conference rooms across the organization.

Direct the building and maintenance of a comprehensive perpetual CMDB for the organization.

Direct the support and maintenance of all audio/visual equipment used in all conference rooms, auditoriums, teaching facilities, studios, and common areas.

Meet or exceed service delivery quality and service response time expectations.

Direct the planning, acquisition, and installation activities of computer hardware, basic software, and equipment to meet the needs of the organization.

Direct the development, review and maintenance of policies, procedures, technical standards, methods, and schedules for IT service management and acceptable use of technology assets across the enterprise.

Direct adherence to IT Service Management (ITSM) & Information Technology Infrastructure Library (ITIL) methodologies.

Directs and manage desktop support and service desk operations to ensure availability of resources including support staff, hardware, and software are adequate to support operations.

Direct identity and access management operations.
Minimum Job Requirements
Bachelor's Degree Information Technology, Business, Healthcare, related field (or) 10 years of Healthcare IT leadership experience 

More than 10 years of experience in all aspects of IT Customer Service Operations

4-7 years of experience in managing the delivery of Customer Services in a large Healthcare Provider organization with more than 2,000 employees spanning multiple facilities

Experience using and managing ServiceNow system in support of ITSM, ITAM, and non-IT service management within the enterprise

Experience managing advanced Audio-Visual systems used in advanced conference rooms and enterprise communications infrastructure such as auditorium and studio productions
Knowledge, Skills, and Abilities
ITIL Expert or Master Level Certification preferred.

Comprehensive knowledge of and experience implementing and managing ITSM & ITAM systems and processes.

Skilled in the use of endpoint management tools like SCCM, Microsoft Endpoint Manager (Intune), and JAMF.

Skilled at managing wide variety of endpoint operating systems like Windows, macOS, iOS, Android, and Linux.

Skilled at supporting common productivity suites like MS Office/M365, Apple iWork, and Adobe Acrobat.

Commitment to and understanding of, continuous improvement processes.

An astute practitioner and teacher of critical thinking.

Ability to understand and explain complex technical processes to others.

Ability to independently initiate tasks that advance department and organizational objectives.

Independent facilitator with proven organizational ability and skill for handling multiple tasks simultaneously.

Understands meeting the service needs of technology users in a medical environment.

Excellent quantitative, analytical, communication, and problem-solving skills.

Strong interpersonal and leadership skills, as well as, excellent written and verbal skills.

Ability to interpret, adapt to, and react calmly under stressful conditions.

Ability to relate cooperatively and constructively with customers and peers.

Effectively monitor and develop the abilities of subordinates.

Ability to use logical and analytical thinking to interpret technical data and solve a broad range of problems.

Plans ahead for developing and evolving needs and requirements.



Management
Florida-Miami-Waterford Offices
IT SERVICE MANAGEMENT-1000-921904
:Full Time
Apply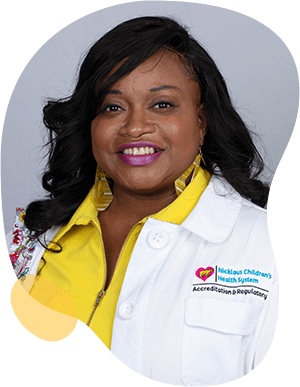 Joining a new organization can be daunting or overwhelming. But at Nicklaus, your colleagues make you feel welcomed. They taught me to celebrate our accomplishments and band together during challenging times. This is not easy to find in healthcare these days, so I'm grateful to have found an amazing place to work with people and leadership who have my well-being in mind.

Lova Renee Brunson

Manager Accreditation & Regulatory
Collaboration leads to success.
Alone we can do so little; together we can do so much. Working together, we find solutions and methods we would never find alone, and at Nicklaus Children's, we have fun doing it.
Responsibility drives us.
We all take responsibility here – for the children, their families, our work and each other. We meet our responsibilities head on and motivate each other to succeed.
Empower yourself, help others.
Nicklaus Children's encourages team members to believe in their ability to affect positive change in the world through everything they do with us.
Advocate for the right way.
Advocate for children. Advocate for families. Advocate for yourself. But most of all, advocate for getting the job done right and you will find nothing but success and support in your career here.
Transformation is growth.
At Nicklaus Children's, change is not to be feared. When you work here, you are always working with the most advanced tools and procedures available.
Empathy is everything.
We expect our team members to have empathy for the patients and families they treat, and in turn, we have empathy for them. We take care of everyone in the Nicklaus Children's family with competitive benefits and our supportive culture.
Join Our Talent Community