Director Medical Practices - NCPS (Full-Time, Day Shift)
NCPS-PROFESSIONAL SERVICES
Florida-Miami-Nicklaus Children's Hospital - Main Hospital Campus
Miami, Florida
Requisition ID 21753
Job Summary

Lead, implement and sustain efficient and effective operations in the areas of patient access, scheduling, revenue cycle, triage, and community relations; manage budgets; develop and meet quality standards; lead and develop staff of multiple practices. Oversees practices at multiple locations and work collaboratively with Physicians and Medical Directors to ensure the success of the individual practices and the physician enterprise overall.

Job Specific Duties
Ensure best practice implementation of operating policies, procedures, and principles for physician practices. F: / T: R:
Oversee the daily operational activities and coordinate the human & material resources of the practices. F: / T: R:
Under the direction of the Leadership and in collaboration with the practice Medical Director, develop business plans and budgets based on strategic and operational goals for each practice. Direct and implement plans and manage practices to budget, ensuring the success of each practice in terms of healthcare delivery and financial outcomes. F: / T: R:
Coordinate with hospital staff to ensure efficiencies in physician practice operations and to achieve service, quality and growth targets related to surgical activities are met. F: / T: R:
Supervise Managers of each physician practice; guide and assist them in managing their operations; lead implementation teams on projects and initiatives. F: / T: R:
Meet with and provide administrative support to Physicians and serve as their go-to resource for implementation of policies, procedures, and principles. F: / T: R:
Manage the practice to ensure efficiencies in physician practice operations and to achieve service, quality, and growth targets are met. F: / T: R:
Provides direction and holds accountable assigned management team (clinical & nonclinical) in the delivery of day-to-day clinical and business operations for the physician practices. F: / T: R:
Responsible for monitoring and ensuring compliance with all regulatory requirements, organizational standards, and policies & procedures related to area of responsibility; reporting of compliance activities to the Compliance Office. F: / T: R:
Minimum Job Requirements
Bachelor's Degree Business Administration or Healthcare Administration   (Required)
3-5 years Progressively responsible management/administrative experience in physician practice management including oversight of multiple physicians
Strategic/business planning, detailed implementation plans, and tactical execution experience
Knowledge, Skills, and Abilities
Demonstrated effectiveness in managing departmental operations and supervising multilevel personnel.
Strong knowledge of physician practice financials and payor reimbursement.
A systematic, logical approach to problem solving, decision making and the development and administration of systems to address day-to-day issues and the long-term improvement needs of the practice.
Strong knowledge of professional fee revenue cycle functions.
Demonstrated budgeting, financial, and analytical skills.
Computer savvy with proficiency in Microsoft Word, Excel, Access, and PowerPoint.
Ability to prepare and present comprehensive reports and presentations.
Excellent interpersonal, verbal, and written communication skills, including strong listening skills.
Ability to exercise a high degree of initiative, judgment, discretion and decision-making to achieve organizational goals.
Flexibility in planning and managing projects with the ability to oversee and coordinate various activities concurrently, anticipate changes, and adjust accordingly in a fast-paced environment.
Strong negotiation and persuasive skills.
Ability to manage outside of formal authority.
Ability to effect measurable change within the practices.
A personal demeanor consistent with the MCH Way, contributing to a positive, supportive work environment for physicians and administrative team members.
Ability to assume challenging and special projects, while working with minimal supervision
Management
Florida-Miami-Nicklaus Children's Hospital - Main Hospital Campus
NCPS-PROFESSIONAL SERVICES-3100-490000
:Full Time
Apply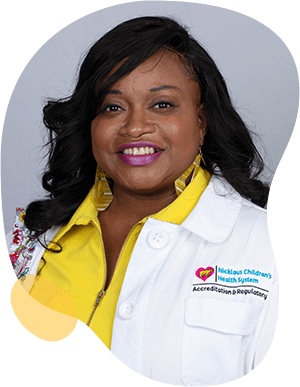 Joining a new organization can be daunting or overwhelming. But at Nicklaus, your colleagues make you feel welcomed. They taught me to celebrate our accomplishments and band together during challenging times. This is not easy to find in healthcare these days, so I'm grateful to have found an amazing place to work with people and leadership who have my well-being in mind.

Lova Renee Brunson

Manager Accreditation & Regulatory
Collaboration leads to success.
Alone we can do so little; together we can do so much. Working together, we find solutions and methods we would never find alone, and at Nicklaus Children's, we have fun doing it.
Responsibility drives us.
We all take responsibility here – for the children, their families, our work and each other. We meet our responsibilities head on and motivate each other to succeed.
Empower yourself, help others.
Nicklaus Children's encourages team members to believe in their ability to affect positive change in the world through everything they do with us.
Advocate for the right way.
Advocate for children. Advocate for families. Advocate for yourself. But most of all, advocate for getting the job done right and you will find nothing but success and support in your career here.
Transformation is growth.
At Nicklaus Children's, change is not to be feared. When you work here, you are always working with the most advanced tools and procedures available.
Empathy is everything.
We expect our team members to have empathy for the patients and families they treat, and in turn, we have empathy for them. We take care of everyone in the Nicklaus Children's family with competitive benefits and our supportive culture.
Join Our Talent Community