Director Of Annual Giving (Full Time, Day shift)
NCHF DEVELOPMENT
Florida-Miami-NCHS Corporate Headquarters
Miami, Florida
Requisition ID 25409
Job Summary

Responsible for setting and executing an overarching Annual Giving strategy to drive flexible support and pipeline development for Nicklaus Children's Hospital Foundation. Develops, maintains, and executes ongoing programs to support and grow our donor base and develop effective strategies that re-secure lapsed donors, meeting and exceeding annual growth goals.

Job Specific Duties
Develop a strong multi-faceted Annual Giving program through a creative variety of solicitation methods with the goal of acquiring new donors, renewing and upgrading current donors. Strategies should target donors making gifts below $75,000 to include grassroots and community organizations and individuals, Nicklaus Children's staff, employer giving programs, grateful patient families, medical alumni, and other constituencies as appropriate.
Develop and implement a strategic plan of action with objectives, timelines, and evaluation plans for the Annual Giving program that includes identification, cultivation, solicitation, donor recognition and stewardship of constituents. Analyze results and use statistics to evaluate and adjust strategies/tactics as needed to accelerate the growth of the Annual Giving program.
Cultivate and solicit annual gifts up to $75,000, and strengthen relationships with donors through personal visits (20 minimum face to face per month), as well as secure appointments for the Foundation President/Development Officers.
Develop and grow our loyalty program for recurring donors, including effective stewardship and donor recognition strategies.
Create and administer direct mail, online, social media, and personal outreach/solicitation strategies to achieve goals. This includes oversight of content and message, development, production and distribution of all marketing materials necessary to achieve desired gift yields, and execution of direct mail campaigns.
Responsible for annual online fundraising in collaboration with the Foundation Directors, with an emphasis on increasing recurring gifts online and peer-to-peer fundraising efforts.
Manage the entire Annual Giving revenue each year (increase 20% year over year respectively).
Stay up-to-date on philanthropy trends and fundraising best practices and make strategic and creative recommendations that will enhance the program and expand our donor base.
Develop a presence in the community and draw volunteers, hospital staff, administration and sponsors together in cooperation to support the mission of the Foundation and Hospital through the Annual Giving program.
Work collaboratively with Foundation Directors to identify opportunities for growth and pipeline development among NCYA, and other groups as appropriate.
Identify key metrics and KPI's and implement robust monthly reporting of Annual Giving progress toward annual goals for leadership.
Oversee the acknowledgment and recognition of all annual giving gifts, including the annual report to donors.
Use development database and report writing software to retrieve donor data. Perform comprehensive analysis and manipulation related to all aspects of the annual giving program.
Oversee at least one annual giving staff member.


Minimum Job Requirements
Bachelor's Degree in Business, Healthcare, or related field
3-5 years of fundraising experience and proven track record of successful management of an annual fund
Knowledge, Skills, and Abilities
Ability to develop and execute high-level and multi-channel annual giving efforts.
Knowledge of the principles and best practices associated with annual fund strategies including direct mail, telephone solicitations, online initiatives, stewardship and donor relations.
Experience in developing and leveraging diverse and wide-ranging portfolio of annual giving strategies for various target audiences.
Proven track record of working in a dynamic, evolving, and highly energetic fundraising environment.
Detail-oriented self-starter with an ability to work independently and manage multiple projects and priorities to meet aggressive timelines and challenging deadlines.
Operational skills that ensure tactical project management.
Strong computer and analytical skills are required along with excellent writing skills.
Commitment to the hospital, its mission, programs, and future aspirations.
Able and willing to work occasional evenings and weekends with an attitude of doing what it takes to get the job done.
Ability to work well with people at all levels of an organization and warmly develops relationships with diverse constituencies.
Ability to apply good judgment and discretion when dealing with donors.
Strong, collaborative, and energetic individual with seasoned fundraising skills.
Management
Florida-Miami-NCHS Corporate Headquarters
NCHF DEVELOPMENT-7100-959952
:Full Time
Apply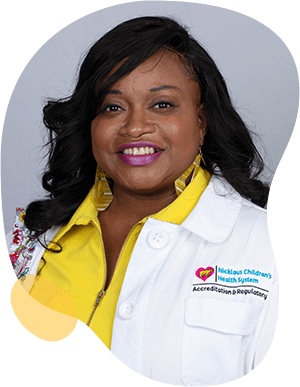 Joining a new organization can be daunting or overwhelming. But at Nicklaus, your colleagues make you feel welcomed. They taught me to celebrate our accomplishments and band together during challenging times. This is not easy to find in healthcare these days, so I'm grateful to have found an amazing place to work with people and leadership who have my well-being in mind.

Lova Renee Brunson

Manager Accreditation & Regulatory
Collaboration leads to success.
Alone we can do so little; together we can do so much. Working together, we find solutions and methods we would never find alone, and at Nicklaus Children's, we have fun doing it.
Responsibility drives us.
We all take responsibility here – for the children, their families, our work and each other. We meet our responsibilities head on and motivate each other to succeed.
Empower yourself, help others.
Nicklaus Children's encourages team members to believe in their ability to affect positive change in the world through everything they do with us.
Advocate for the right way.
Advocate for children. Advocate for families. Advocate for yourself. But most of all, advocate for getting the job done right and you will find nothing but success and support in your career here.
Transformation is growth.
At Nicklaus Children's, change is not to be feared. When you work here, you are always working with the most advanced tools and procedures available.
Empathy is everything.
We expect our team members to have empathy for the patients and families they treat, and in turn, we have empathy for them. We take care of everyone in the Nicklaus Children's family with competitive benefits and our supportive culture.
Join Our Talent Community