Director of Hospitality (Full Time, Day Shift)
PATIENT & GUEST SERVICES
Florida-Miami-Nicklaus Children's Hospital - Main Hospital Campus
Miami, Florida
Requisition ID 24386
Job Summary
Manages the patient experience, striving to inspire an exceptional and memorable encounter for the patient families served. Evaluates the patient family journey and develops policies and procedures that provide a high level of service for patients and their families. Acts as liaison between patients and other health care service providers. Supports and upholds Health System Values, Patient Bill of Rights, and the Code of Business and Ethics Conduct. Serves as a resource to staff and customers, and collaborates with others to advance the Health System's Mission of putting children and families first.
Job Specific Duties
Directs the operations of Patient & Guest Relations, Michael Fux Family Center, Service Excellence, and Children's Experience teams.

Directs department(s) staff including hiring, firing, orientation, training, and evaluation within established guidelines.

Develops Customer Service culture standards and training plans to embed service excellence in the hospital, outpatient locations, and employed practices.

Defines benchmarks and goals to quantify productivity and effectiveness of departmental efforts.

Monitors service excellence scores/patterns to comparatively trend and define opportunities and action plans for improvements.

Directs operational systems and staff work product to further enhance the customer experience. Works with Process Improvement team to improve efficiencies and eliminate waste to improve process and drive experience.

Collaborates and supports Senior Leadership by providing guidance in the implementation of projects to increase family-centered care services hospital-wide to provide amazing patient care.

Manages Children's Experiences team with a vision to create positive memories for the hospitalized child, as well as, those who have outpatient or diagnostic procedures. Is creative in seeking or advocating for programs that differentiate Nicklaus Children's from the competition.

Manages the team that reviews all complaints on a daily, weekly, and monthly basis. Director ensures team is focused on the accuracy of documentation; coordination and follow-up on all pending complaints; and reviews issues that cross departmental lines.

Key stakeholder in the oversight, development, and implementation of Family Advisory Council goals that are patient/family centered.
Minimum Job Requirements
Bachelor's Degree in Hospitality Management, Healthcare Administration, or related field

Customer Service Training/Certification

3-5 years of management experience in Hospitality Industry or Healthcare
Knowledge, Skills, and Abilities
Bilingual English/Spanish preferred.

Ability to analyze information and formulate effective plans for using information.

Ability to interpret, adapt, and react calmly under stressful conditions.

Ability to manage budgets and provide productivity assessment reports.

Demonstrated skill in planning, organizing, monitoring including report development, and presentation.

Excellent oral, written, interpersonal communication, and facilitation skills.

Reacts positively to unplanned circumstances, demands, and challenges of the concern/complaint process.

Strong customer service skills, training and advocacy for customers.

Strong understanding of measurement methodologies and the drivers of loyalty and patient satisfaction.



Management
Florida-Miami-Nicklaus Children's Hospital - Main Hospital Campus
PATIENT & GUEST SERVICES-2100-868001
:Full Time
Apply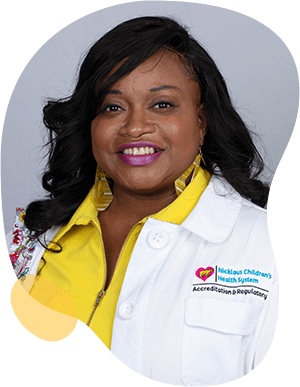 Joining a new organization can be daunting or overwhelming. But at Nicklaus, your colleagues make you feel welcomed. They taught me to celebrate our accomplishments and band together during challenging times. This is not easy to find in healthcare these days, so I'm grateful to have found an amazing place to work with people and leadership who have my well-being in mind.

Lova Renee Brunson

Manager Accreditation & Regulatory
Collaboration leads to success.
Alone we can do so little; together we can do so much. Working together, we find solutions and methods we would never find alone, and at Nicklaus Children's, we have fun doing it.
Responsibility drives us.
We all take responsibility here – for the children, their families, our work and each other. We meet our responsibilities head on and motivate each other to succeed.
Empower yourself, help others.
Nicklaus Children's encourages team members to believe in their ability to affect positive change in the world through everything they do with us.
Advocate for the right way.
Advocate for children. Advocate for families. Advocate for yourself. But most of all, advocate for getting the job done right and you will find nothing but success and support in your career here.
Transformation is growth.
At Nicklaus Children's, change is not to be feared. When you work here, you are always working with the most advanced tools and procedures available.
Empathy is everything.
We expect our team members to have empathy for the patients and families they treat, and in turn, we have empathy for them. We take care of everyone in the Nicklaus Children's family with competitive benefits and our supportive culture.
Join Our Talent Community