EEG - Long Term Monitoring Tech II (Pool/Per Diem)
NEURO-SCIENCE CENTER
Florida-Miami-Nicklaus Children's Hospital - Main Hospital Campus
Miami, Florida
Requisition ID 23572
Job Summary
Performs Long Term Video-EEG monitoring on patients with scalp or intra-cranially placed electrodes. Operates intra-operative monitoring with subdural and depth electrodes. Performs special studies such as Functional Brain Mapping (cortical stimulation) and SPECT. Performs job functions following the "Guidelines for EEG and Long Term Neuro-diagnostic Monitoring in Epilepsy" as set down by the American Society of Electro-neuro-diagnostic Technologists.
Minimum Job Requirements
Graduate of an Electro-neuro-diagnostic Technology program accredited by Committee on Allied Health Education and Accreditation or equivalent formal training.

CPR BLS -American Heart Association BLS.

2-4 years of experience as an EEG Technician with experience in basic EEG, Evoked Potentials studies as well as basic Video-Telemetry with emphasis in Pediatrics, Neonates, Intensive Care and Operating room monitoring (or) 1 year of experience and ABRET registered.

Special training in the operation of EEG equipment and knowledge of the technical aspects of data recording, storage and retrieval.
Essential Duties and Responsibilities
Actively participates in conferences, technical meetings and other educational activities.

Conducts Functional Brain Simulation and Mapping (direct cortical stimulation), SPECT Studies and ECS recordings and other specialized studies.

Maintains all operating room equipment in a clean and safe condition.

Obtains clinical history from the chart, patient or other knowledgeable persons; explains procedure to the patient and family.

Performs data retrieval and reduction operations and Video EEG records prepared in a form suitable for interpretation by the physician, including prescreening EEG and behavioral data; analyzes complex ictal and interictal features as well as artifacts.

Performs EEG when necessary.

Performs Electrocorticography from the exposed cerebral cortex in the operating room during subdural electrode implantation along with the neurologist to assure proper placement and functioning of these electrodes.

Performs Long Term Video-EEG Monitoring in the Seizure Unit demonstrating proficiency in the International 10-20 system as well as Supplementary Positions.

Performs Subdural LTM recording and maintains integrity of the recording system after subdural electrode implantation.
Knowledge/Skills/Abilities
ABRET is highly preferred

High school education or equivalent preferred

Ability to communicate effectively in English both verbally and in writing.

Completed Part I of ABRET/RNCRT (written exam) accreditation preferred.

Maintains confidentiality of sensitive information.

Able to relate cooperatively and constructively with patients, families and co-workers.

Ability to interpret, adapt and react calmly under stressful conditions.

Ability to problem solve to adapt standard clinical procedures to the individual client's need.

Ability to work well with others and the willingness to learn new procedures.
(EOE DFW)
Imaging & Radiology
Florida-Miami-Nicklaus Children's Hospital - Main Hospital Campus
NEURO-SCIENCE CENTER-2100-714750
:Pool
Apply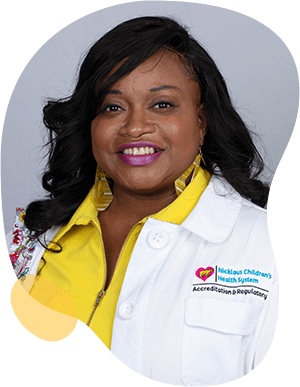 Joining a new organization can be daunting or overwhelming. But at Nicklaus, your colleagues make you feel welcomed. They taught me to celebrate our accomplishments and band together during challenging times. This is not easy to find in healthcare these days, so I'm grateful to have found an amazing place to work with people and leadership who have my well-being in mind.

Lova Renee Brunson

Manager Accreditation & Regulatory
Collaboration leads to success.
Alone we can do so little; together we can do so much. Working together, we find solutions and methods we would never find alone, and at Nicklaus Children's, we have fun doing it.
Responsibility drives us.
We all take responsibility here – for the children, their families, our work and each other. We meet our responsibilities head on and motivate each other to succeed.
Empower yourself, help others.
Nicklaus Children's encourages team members to believe in their ability to affect positive change in the world through everything they do with us.
Advocate for the right way.
Advocate for children. Advocate for families. Advocate for yourself. But most of all, advocate for getting the job done right and you will find nothing but success and support in your career here.
Transformation is growth.
At Nicklaus Children's, change is not to be feared. When you work here, you are always working with the most advanced tools and procedures available.
Empathy is everything.
We expect our team members to have empathy for the patients and families they treat, and in turn, we have empathy for them. We take care of everyone in the Nicklaus Children's family with competitive benefits and our supportive culture.
Join Our Talent Community