EEG Technician Trainee (Full Time, Evenings)
NEURO-SCIENCE CENTER
Florida-Miami-Nicklaus Children's Hospital - Main Hospital Campus
Miami, Florida
Requisition ID 22420
Job Summary
Under technical supervision of the senior staff, learns to perform EEGs on patients with scalp electrodes and special studies such as ECS and neonatal EEGs. Assists in the daily operations of the department. Performs job functions following the "Guidelines for EEG and Long Term Neurodiagnostic Monitoring in Epilepsy" as set by the American Society of Electro-Neuro-diagnostic Technologists.
Job Specific Duties
Adapts methods and instrumentation to obtain optimal results based on history, clinical observations, and EEG findings.

Cleans & keeps equipment in operating condition; ensures (electrical) safety of the patient at all times; performs maintenance & minor repair of equipment and reports the need for major repair.

Participates in conferences, technical meetings, and other educational activities.

Learns to perform data retrieval, reduction operations, and prepares EEG records in a form suitable for interpretation by the Physician and includes prescreening EEG and behavioral data.

Learns to perform standard EEG recordings with proficiency in the international 10-20 system and 10-10 as supplementary positions, routinely applies surface electrodes with paste or collodion.

Provides appropriate patient care and detailed observations of clinical manifestations during seizures and other patient emergency situations.

Works on various computer programs and clip sample recordings from the original digital EEG data; edits said data from the computer and prunes selected data for review by the Neurologist.
Minimum Job Requirements
American Heart Association BLS

– maintain active and in good standing throughout employment
Knowledge, Skills, and Abilities
High School education or equivalent or preferred

Ability to communicate effectively both verbally and writing.

Able to maintain confidentiality of sensitive information.

Able to relate cooperatively and constructively with patients, families, and co-workers.

Ability to interpret, adapt, and react calmly under stressful conditions.

Ability to problem solve to adapt standard clinical procedures to the individual client's need.

Ability to work well with others and the willingness to learn new procedures.
Imaging & Radiology
Florida-Miami-Nicklaus Children's Hospital - Main Hospital Campus
NEURO-SCIENCE CENTER-2100-714750
:Full Time
Apply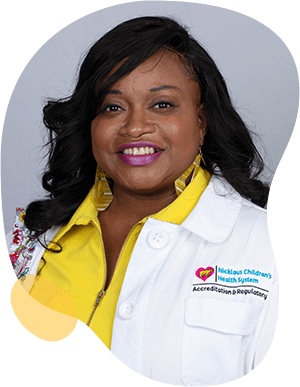 Joining a new organization can be daunting or overwhelming. But at Nicklaus, your colleagues make you feel welcomed. They taught me to celebrate our accomplishments and band together during challenging times. This is not easy to find in healthcare these days, so I'm grateful to have found an amazing place to work with people and leadership who have my well-being in mind.

Lova Renee Brunson

Manager Accreditation & Regulatory
Collaboration leads to success.
Alone we can do so little; together we can do so much. Working together, we find solutions and methods we would never find alone, and at Nicklaus Children's, we have fun doing it.
Responsibility drives us.
We all take responsibility here – for the children, their families, our work and each other. We meet our responsibilities head on and motivate each other to succeed.
Empower yourself, help others.
Nicklaus Children's encourages team members to believe in their ability to affect positive change in the world through everything they do with us.
Advocate for the right way.
Advocate for children. Advocate for families. Advocate for yourself. But most of all, advocate for getting the job done right and you will find nothing but success and support in your career here.
Transformation is growth.
At Nicklaus Children's, change is not to be feared. When you work here, you are always working with the most advanced tools and procedures available.
Empathy is everything.
We expect our team members to have empathy for the patients and families they treat, and in turn, we have empathy for them. We take care of everyone in the Nicklaus Children's family with competitive benefits and our supportive culture.
Join Our Talent Community