Emergency Preparedness Coord. (Full Time)
FACILITIES-SAFETY & EMERG MGMT
Florida-Miami-Nicklaus Children's Hospital - Main Hospital Campus
Miami, Florida
Requisition ID 24992
Job Summary
Serves as a resource, collaborates with others, and coordinate with activities of the COVID-19 Crisis Center and system wide Emergency Preparedness and Safety Programs.
Job Specific Duties
Edit, review, and submit approval of COVID-19 related Situation Background Assessment Recommendation (SBAR) proposals.




Develop, review, and support COVID-19 related mitigation, preparedness, response, and recovery strategies.

Coordinate availability of COVID-19 related critical inventory to include: PPE, pharmaceuticals, testing supplies, ventilators, and staffing. Reports shortages and submits emergency requests.

Obtain and submit accurate COVID-19 data to local, State, and Federal Agencies, as required.

Coordinate COVID-19 related communications for staff, patients, and visitors.

Collaborates in developing and maintaining a written Emergency Management Plan and Emergency Operations Plan as required by regulatory agencies.

Conducts and documents healthcare system's Hazard Vulnerability Analysis.

Conducts annual needs assessments, recommends purchase of necessary assets, and maintains a stockpile of emergency supplies and equipment.

Develops improvement action plans and timelines based on real events and emergency drill evaluations.

Develops policies to ensure continuous survey readiness and governmental regulatory compliance with all emergency preparedness standards.

Plans, coordinates, documents, and evaluates emergency drills. Ensures required numbers and types of drills are completed annually as required by regulatory agencies. F: As Needed/ T: R: Shared

Represents hospital at local, state, and national COVID-19 and emergency management meetings.

Develops training outlines and trains staff on the functions of the Hospital Incident Command System (HICS) and emergency preparedness policies and procedures.
Minimum Job Requirements
 Associate's Degree (or) 5 years of emergency management, security, or environmental health/safety experience

 Active and valid State of Florida driver's license with an approved driving record pursuant to our policy and maintained throughout employment

 Experience in a healthcare setting, emergency management setting, or similar experience
Knowledge, Skills, and Abilities
 Certified Hospital Emergency Coordinator designation preferred.

 Proficient in the use of MS Office.

 Knowledge of OSHA, DNV-GL, CMS, and other regulatory requirements.

 Effective decision-making and demonstrated creativity in problem-solving.

 Excellent written and oral communication skills.


Professional
Florida-Miami-Nicklaus Children's Hospital - Main Hospital Campus
FACILITIES-SAFETY & EMERG MGMT-2100-834000
:Full Time
Apply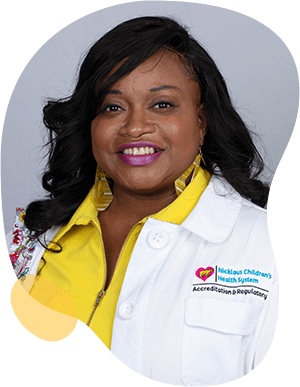 Joining a new organization can be daunting or overwhelming. But at Nicklaus, your colleagues make you feel welcomed. They taught me to celebrate our accomplishments and band together during challenging times. This is not easy to find in healthcare these days, so I'm grateful to have found an amazing place to work with people and leadership who have my well-being in mind.

Lova Renee Brunson

Manager Accreditation & Regulatory
Collaboration leads to success.
Alone we can do so little; together we can do so much. Working together, we find solutions and methods we would never find alone, and at Nicklaus Children's, we have fun doing it.
Responsibility drives us.
We all take responsibility here – for the children, their families, our work and each other. We meet our responsibilities head on and motivate each other to succeed.
Empower yourself, help others.
Nicklaus Children's encourages team members to believe in their ability to affect positive change in the world through everything they do with us.
Advocate for the right way.
Advocate for children. Advocate for families. Advocate for yourself. But most of all, advocate for getting the job done right and you will find nothing but success and support in your career here.
Transformation is growth.
At Nicklaus Children's, change is not to be feared. When you work here, you are always working with the most advanced tools and procedures available.
Empathy is everything.
We expect our team members to have empathy for the patients and families they treat, and in turn, we have empathy for them. We take care of everyone in the Nicklaus Children's family with competitive benefits and our supportive culture.
Join Our Talent Community