Environmental Service Worker (Full Time, Evenings 3:00pm -11:30pm)
ENVIRONMENTAL SERVICES
Florida-Miami-Nicklaus Children's Hospital - Main Hospital Campus
Miami, Florida
Requisition ID 21840
Job Summary
As a member of our housekeeping staff, you will be responsible for ensuring our patients, families, visitors, as well as employees have a wonderful experience by cleaning and maintaining your assigned area within Nicklaus Children's Health System. Working here is about making a difference in the lives of children every day.
Minimum Job Requirements
Prior customer service experience.
Essential Duties and Responsibilities
 Cleans/maintains assigned work area by gathering materials, refilling carts, removing trash, disposing red bags, disinfecting bathrooms (including shower, sink, and toilet) and dusting. 
 Cleans/disinfects emergency spills and debris immediately.
 Ensures equipment is in good working order.
 Removes and properly disposes of trash and soiled linen.
 Replenishes supplies and linen.
 Reports safety hazards and defects immediately.
 Provides excellent customer service to all patients, visitors, and internal customers.
 Greets patients and families in a courteous manner when entering room.
 Performs special cleaning procedures such as terminal cleanings when needed (deep cleaning using bleach, wipe walls, clean underneath bed, high dust, change curtains).

 Responds to verbal speech, alarm signals, radio, and telephone communications within appropriate time frame as specified by leader.
Knowledge/Skills/Abilities
 High school education or equivalent preferred.
 Able to comprehend verbal and written instructions in English.
 Able to communicate to request supplies and write identifying information.
 Housekeeping and/or maintenance experience preferred.
 Floor care experience preferred.
 Able to relate cooperatively and constructively with clients and co-workers.
 Ability to follow simple instructions to accomplish repetitive tasks.

 Excellent customer service skills.
(EOE DFW)
6/26/18
Environmental Services
Florida-Miami-Nicklaus Children's Hospital - Main Hospital Campus
ENVIRONMENTAL SERVICES-2100-850000
:Full Time
Apply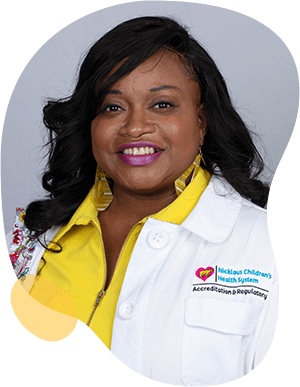 Joining a new organization can be daunting or overwhelming. But at Nicklaus, your colleagues make you feel welcomed. They taught me to celebrate our accomplishments and band together during challenging times. This is not easy to find in healthcare these days, so I'm grateful to have found an amazing place to work with people and leadership who have my well-being in mind.

Lova Renee Brunson

Manager Accreditation & Regulatory
Collaboration leads to success.
Alone we can do so little; together we can do so much. Working together, we find solutions and methods we would never find alone, and at Nicklaus Children's, we have fun doing it.
Responsibility drives us.
We all take responsibility here – for the children, their families, our work and each other. We meet our responsibilities head on and motivate each other to succeed.
Empower yourself, help others.
Nicklaus Children's encourages team members to believe in their ability to affect positive change in the world through everything they do with us.
Advocate for the right way.
Advocate for children. Advocate for families. Advocate for yourself. But most of all, advocate for getting the job done right and you will find nothing but success and support in your career here.
Transformation is growth.
At Nicklaus Children's, change is not to be feared. When you work here, you are always working with the most advanced tools and procedures available.
Empathy is everything.
We expect our team members to have empathy for the patients and families they treat, and in turn, we have empathy for them. We take care of everyone in the Nicklaus Children's family with competitive benefits and our supportive culture.
Join Our Talent Community