Executive Director Strategy
STRATEGIC BUS DEV & GROWTH
Florida-Miami-NCHS Corporate Headquarters
Miami, Florida
Requisition ID 25651
Job Summary

Leads and manages the strategic plan development and execution for the health system and serves in a collaborative role in strategic planning for the clinical institutes. Collaborates with executive, clinical and physician leaders to develop and implement strategies, manage key initiatives, and projects for the health system. Provides leadership and supports the evaluation of major initiatives at the system and hospital level. Manages the annual organizational climate assessment (OCA) process that includes data collection and collaborating with leaders. Utilizes best practices and leverages partnerships with national and local children's and healthcare associations. Supports the planning, development, and implementation of operational strategies and strategic initiatives that continue to position the organization as a leading pediatric hospital and system of choice. Oversees and manages the Strategy & Business Development department and staff, ensuring ongoing resource development to help support the needs of the organization. Manages business development and partnership playbook to ensure sustainable and high efficiency department operations. Understands the local/regional market geography and demographics; knowledgeable regarding competitors and local market trends. Searches for important data sources and converts data to meaningful information. Develops/oversees professional and succinct financial projections. Works effectively across organization lines with finance leadership and staff.

Job Specific Duties
Leads development of organizational strategic projects in alignment with the direction of the Office of the CEO for large complex projects, including new programs and adoption of new technologies and processes. Ensuring adherence to budget, schedule, and scope.
Works closely with the Chief of Staff to identify resource needs and helps leverage the Executive Leadership Team to ensure timely and sustainable implementation of NCHS strategic priorities.
Creates an environment that fosters empowerment and engages stakeholders in the strategic planning and execution process to grow the organization's footprint and achieve financial and operational efficiencies.
Ensures all aspects of strategic planning are translated into operational goals and tactics with aligned KPIs that support the four pillars.
Provides direction and leadership in order to achieve the organization's philosophy, values, mission, vision, and strategic goals. Serves as advocate and spokesperson for the organization both internally and externally with regard to philosophy, values, mission, vision, and strategic goals.
Serves as a primary point of contact for the Children's Hospital Association (CHA), participates in benchmarking processes, manages the CHA relationships, and leverages best practices to drive continuous improvement.
Collaborates with external partners, industry experts, and consulting practices and supports operational and physician leaders across the system.
Reviews analyses of budgets and forecast data to determine department and division progress against strategic goals.
Collaborates cross-departmentally with fellow senior leaders to analyze, enable, and execute strategic initiatives. Leads the execution of annual organizational climate assessment (OCA) process, and optimizes processes and systems that support the strategic planning process, including tracking of strategic initiatives.
Builds and maintains, highly functioning, cross-functional teams of subject matter experts; works with and through leaders and teams to ensure all aspects of strategic planning are translated into operational goals and tactics with aligned KPIs that support the four pillars.
Provides administrative leadership to assigned areas; ensures direct reports are well informed concerning plans and issues; works with operational and department directors to establish objectives and plans to support the strategic plan of the organization and monitors progress towards achievement of these objectives.
Presents to external executives and key stakeholders on behalf of Nicklaus Executive Leadership related to strategy initiatives as needed.


Minimum Job Requirements
Master's Degree Business, Healthcare Administration, or related field
7-10 years of experience in a senior-level leadership position in a healthcare environment or academic medical center
7-10 years of experience in strategic planning, transformation, or change management leadership position driving organizational initiatives and strategic planning
Experience in business term negotiations (closing and integrating legal transactions)
Knowledge, Skills, and Abilities
Strategic consulting background at top 4 consulting firm preferred.
Ability to manage multiple and complex projects, in-depth knowledge of the strategic planning process, understands market and business analysis, and engages key stakeholders in the process.
Able to build strategic roadmaps for clinical, ancillary, imaging, business applications, and new partnerships.
Demonstrates leadership behaviors in all customer interactions.
Strong analytical and problem solving skills; able to translate complex issues into less complex concepts.
Exceptional verbal and written communications, interpersonal skills, consensus builder, and persuasive presenter.
Ability to influence and successfully collaborate with internal and external stakeholders and partners.
Excellent listening skills, verbal, written, and presentation skills; engages others to solicit input and empowers individuals to achieve outcomes.
Ability to apply information in the development, implementation, measurement, and evaluation of strategic planning programs.
Ability to build high performing teams; provides leadership and structure; coaches, mentors and builds talent pools.
Risk Management and Scenario Planning: develop and recommend viable scenarios for mitigating any potential risks and develop risk reports for the senior management and business leadership.
Creative Problem Solving: take unique initiatives, which help provide alternative solutions to the existing problems; identify gaps in the business and advice on the corrective actions necessary.
Coaching: Strategic managers coach department leaders to help them implement the plan and meet their goals. Provide support in strategizing individual departments and review, analyze and manage all existing department strategies to ensure all departments align with the business's key strategies.
Management
Florida-Miami-NCHS Corporate Headquarters
STRATEGIC BUS DEV & GROWTH-1000-955906
:Full Time
Apply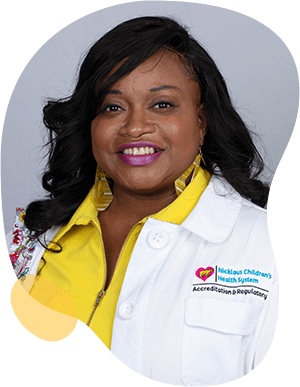 Joining a new organization can be daunting or overwhelming. But at Nicklaus, your colleagues make you feel welcomed. They taught me to celebrate our accomplishments and band together during challenging times. This is not easy to find in healthcare these days, so I'm grateful to have found an amazing place to work with people and leadership who have my well-being in mind.

Lova Renee Brunson

Manager Accreditation & Regulatory
Collaboration leads to success.
Alone we can do so little; together we can do so much. Working together, we find solutions and methods we would never find alone, and at Nicklaus Children's, we have fun doing it.
Responsibility drives us.
We all take responsibility here – for the children, their families, our work and each other. We meet our responsibilities head on and motivate each other to succeed.
Empower yourself, help others.
Nicklaus Children's encourages team members to believe in their ability to affect positive change in the world through everything they do with us.
Advocate for the right way.
Advocate for children. Advocate for families. Advocate for yourself. But most of all, advocate for getting the job done right and you will find nothing but success and support in your career here.
Transformation is growth.
At Nicklaus Children's, change is not to be feared. When you work here, you are always working with the most advanced tools and procedures available.
Empathy is everything.
We expect our team members to have empathy for the patients and families they treat, and in turn, we have empathy for them. We take care of everyone in the Nicklaus Children's family with competitive benefits and our supportive culture.
Join Our Talent Community