Executive Director Supply Chain
SUPPLY CHAIN CENTRAL SERVICES
Florida-Miami-Nicklaus Children's Hospital - Main Hospital Campus
Miami, Florida
Requisition ID 24304
Job Summary
Oversees and directs departmental activities to ensure quality services for both internal and external customers. Serves as a resource to and collaborates with others to advance the Health System mission.
Job Specific Duties
Provides executive leadership of a system value analysis process for the selection and standardization of clinical supplies that solicits input from physicians, clinicians, and leadership in a formal manner.

Facilitates the selection and contracting of capital equipment, construction, and related services as the voice to the marketplace and intermediary to the NCHS business owners.

Responsible for centralized distribution center for a healthcare system.

Provides leadership and strategic direction for developing and executing a comprehensive integrated supply chain management strategy.

Promotes and reports operational activities and savings to senior leadership.

Identifies process improvement initiatives and expense management opportunities to achieve cost reduction goals.

Oversees system logistical operations by providing leadership direction and guidance in the areas related to procurement, warehousing, distribution, courier service and mail, inventory control, shipping, receiving, and freight management.

Develops system-wide cost containment strategies without losing focus on quality outcomes and/or individual departmental needs.

Implements best practices and automation in various areas of supply-chain.

Oversee MMIS strategies related to inbound and outbound procurement, EDI protocols, and other automated strategies.

Ensures financial results that are reflected in the supply line and through financial indicators set by the organization.

Coordinate and expand the scope/influence of supply chain management activities.

Active within the GPO, including serving on significant committees, developing a leadership role within the organization, and being active in evaluating contracts.

Collect, validate, and establish on-going trends for measures of supply utilization by department, patient type/diagnosis, and physician for all clinical areas. Target high volume/high cost supplies for focused attention relative to reduced consumption and/or the identification of potential lower cost alternatives.

Engage physician participation through provision of aggregate and anonymous individual supply utilization/consumption trend reporting by patient type and diagnosis with acuity adjustment. Provide feedback to physicians and departments on achievement of resource utilization targets combined with patient outcome measures.

Ensures appropriate supervision of staff, including orientation, training, regular meetings, day-to-day activities, and evaluation within the established department and NCHS guidelines.
Minimum Job Requirements
Bachelor's Degree

in

Business, Healthcare or related field

More than 10 years

of p

rogressive healthcare material management experience

Minimum of 10 years of experience as Supply Chain Top Leadership Role of a multifacility healthcare organization
Knowledge, Skills, and Abilities
Master's Degree or demonstrated 10 years Healthcare Supply Chain Director level experience.

Supply Chain leadership of multi-facility organization with full range of supply chain scope.

Leadership of a clinically driven supply chain that utilizes value analysis decision making.

Analytical ability to evaluate data, make judgments, and recommendations regarding operations and budgets.

Demonstrate developed qualities in negotiation and decision making.

Able to evaluate supply chain related decisions in terms of the overall organizational mission and longterm goals and objectives.

Ability to evaluate business opportunities and major contract opportunities.

Capacity to design and implement sophisticated management systems.

Ability to develop/articulate policy and program objectives and achieve consensus relative to their implementation.

Analytic ability to synthesize data from disparate sources to identify operational and financial trends.

Ability to work closely with information system personnel.
Management
Florida-Miami-Nicklaus Children's Hospital - Main Hospital Campus
SUPPLY CHAIN CENTRAL SERVICES-2100-718000
:Full Time
Apply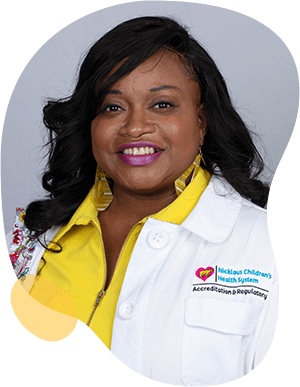 Joining a new organization can be daunting or overwhelming. But at Nicklaus, your colleagues make you feel welcomed. They taught me to celebrate our accomplishments and band together during challenging times. This is not easy to find in healthcare these days, so I'm grateful to have found an amazing place to work with people and leadership who have my well-being in mind.

Lova Renee Brunson

Manager Accreditation & Regulatory
Collaboration leads to success.
Alone we can do so little; together we can do so much. Working together, we find solutions and methods we would never find alone, and at Nicklaus Children's, we have fun doing it.
Responsibility drives us.
We all take responsibility here – for the children, their families, our work and each other. We meet our responsibilities head on and motivate each other to succeed.
Empower yourself, help others.
Nicklaus Children's encourages team members to believe in their ability to affect positive change in the world through everything they do with us.
Advocate for the right way.
Advocate for children. Advocate for families. Advocate for yourself. But most of all, advocate for getting the job done right and you will find nothing but success and support in your career here.
Transformation is growth.
At Nicklaus Children's, change is not to be feared. When you work here, you are always working with the most advanced tools and procedures available.
Empathy is everything.
We expect our team members to have empathy for the patients and families they treat, and in turn, we have empathy for them. We take care of everyone in the Nicklaus Children's family with competitive benefits and our supportive culture.
Join Our Talent Community