Fitness - Performance Trainer (Pool/Per Diem) Pinecrest Wellness
PINECREST ACC - WELLNESS
Florida-Miami-Nicklaus Children's Hospital - Main Hospital Campus
Miami, Florida
Requisition ID 23418
Job Summary
Conducts fitness assessments, personal training sessions, performance training sessions, and/or sport specific analysis through one-on-one appointments and group appointments.
Minimum Job Requirements
Bachelor's Degree in exercise science or other relevant health and wellness profession (OR) Certification as a personal trainer, fitness instructor, or Certified strength and conditioning specialist from a regionally recognized and third party accredited certification organization 
American Heart Association BLS - Maintain active and in good standing throughout employment
 1-3 years' experience as personal trainer or fitness instructor
Knowledge, Skills, and Abilities
 Able to work during peak hours which may include mornings and evenings
 Comprehensive understanding of current health and fitness standards and principles
 Extensive knowledge of health and fitness equipment
Job Specific Duties
 Instructs and demonstrates to clients the proper use of cardiovascular and strength equipment.
 Promotes safe technique and form when weight training; emphasizes fitness area policies and conduct.
 Develops unique and individualized programs that ensure client safety, satisfaction, and enhancement of personal fitness goals.
 Educates members and demonstrates proper use of equipment and fitness techniques related to strength training, conditioning, injury prevention, and sports medicine.
 Educates members and/or guests on NCHS policies and procedures.
 Ensures all equipment is functioning properly and safely by maintaining and cleaning the machines.
 Evaluates individual's abilities, needs, and physical conditions to develop suitable training program to meet any special requirements. Discusses health and fitness goals.
 Maintains detailed and accurate records of client information; provides regular weekly appointment schedule.
Professional
Florida-Miami-Nicklaus Children's Hospital - Main Hospital Campus
PINECREST ACC - WELLNESS-2100-515840
:Pool
Apply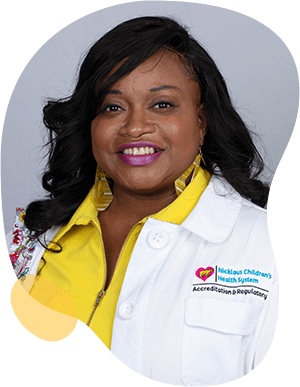 Joining a new organization can be daunting or overwhelming. But at Nicklaus, your colleagues make you feel welcomed. They taught me to celebrate our accomplishments and band together during challenging times. This is not easy to find in healthcare these days, so I'm grateful to have found an amazing place to work with people and leadership who have my well-being in mind.

Lova Renee Brunson

Manager Accreditation & Regulatory
Collaboration leads to success.
Alone we can do so little; together we can do so much. Working together, we find solutions and methods we would never find alone, and at Nicklaus Children's, we have fun doing it.
Responsibility drives us.
We all take responsibility here – for the children, their families, our work and each other. We meet our responsibilities head on and motivate each other to succeed.
Empower yourself, help others.
Nicklaus Children's encourages team members to believe in their ability to affect positive change in the world through everything they do with us.
Advocate for the right way.
Advocate for children. Advocate for families. Advocate for yourself. But most of all, advocate for getting the job done right and you will find nothing but success and support in your career here.
Transformation is growth.
At Nicklaus Children's, change is not to be feared. When you work here, you are always working with the most advanced tools and procedures available.
Empathy is everything.
We expect our team members to have empathy for the patients and families they treat, and in turn, we have empathy for them. We take care of everyone in the Nicklaus Children's family with competitive benefits and our supportive culture.
Join Our Talent Community