Food Services Mgr. Retail Ops. (Full Time, Day Shift)
FOOD AND NUTRITION SERVICES
Florida-Miami-Nicklaus Children's Hospital - Main Hospital Campus
Miami, Florida
Requisition ID 21264
Job Summary:
Responsible to direct retail operations in accordance with corporate and contractual guidelines. Responsible for appearance of operation, maintaining staffing levels, and cash management.
*** Food Service/Catering Management Experience Required ***
Minimum Job Requirements:
Culinary Arts degree from a recognized culinary school, Bachelor's degree in Hospitality Management, or 5-7 years of progressive food service management experience may be substituted for a degree.
Certified in ServSafe required within 30 days of hire
2-4 years supervisory experience
Job Specific Duties:
Leadership
Trains staff and determines work schedules. Interviews and hires employees; evaluates performance and resolves staff concerns.
Evaluates, directs, and manages the function and structure of food and nutrition services.  Ensure all client expectations and regulatory standards are being appropriately monitored and adhered to.
Develops and oversees goals and action plans that will meet and/or exceed established patient expectations. Oversees cashier function and retail operations to ensure accurate sales of meals to patients and families.
Evaluates retail operations are consistent with MCHS policy for quality food service.  Performs QA with test tray completion and takes action.
Evaluates, develops, and ensures the provision of ongoing training and development for all department staff with operational and strategic needs of the client and MCHS.
Communicates customer service evaluation mechanisms to ensure ongoing information is retrieved and evaluated for improvement purposes.
Complies with federal and state guidelines as evidenced through internal and external audits.
Visits patients on an assigned nursing unit/area and helps ensure every patient is visited by a member of the management or professional team at least once during their hospital stay.
Ensures staff follows ServeSafe protocols for food prep and delivery based on state regulatory agencies.
Provides timely mentoring, coaching, and intervention to staff.  Ensures quality of family experience, fosters staff empowerment, open communication, leads, and guides staff to build an engaged team.
Directs staff to provide retail and food associate services in accordance with corporate policies and cash handling standards.
Trains staff in customer service, proper portioning, cashier skills, safety, and sanitation.
Operations
Implements and maintains cash handling standards as outlined in the department policies and procedures manual to eliminate theft of services or company funds.
Completes all daily, weekly, or monthly reports as outlined in the MCHS policies and procedures on a timely basis meeting all prescribed deadline.
Complies with federal, state, and local health and sanitation regulations Complies with regulatory agencies, including federal, state, and DNV as evidenced by successful completion of surveys with no deficiencies.
Follows facility and department infection control policies and procedures.
Implements and accountable for programs targeted to increase SEI (Test trays and mystery shopper).
Establishes and updates all policies and procedures for retail operations and structures new processes.
Continuously evaluate operations and implement process improvements that reduce waste and increase efficiency, quality, safety, satisfaction, and cost-effectiveness. Promote and practice cost containment.
Accountable to conduct random audits on the cashiers per month to ensure cash handling processes are being followed and standards of no more than +/- $5.00 per shift are maintained.
Interacts frequently with customers to determine satisfaction level and provide service recovery.
Implements programs (quarterly seasonal menus, limited time offers, promotions, etc.) as directed by Leader.
Conducts random test tray audits according to Leadership schedule and follows up with all outcomes within 24 hour timeframe. Scores at least 60% satisfaction on initial Nursing Satisfaction Survey.
Develops daily customer service evaluation mechanisms (secret shopper at 85% satisfaction) to ensure that ongoing information is retrieved and cash handling procedures followed.
Knowledge/Skills/Abilities:
Able to communicate in Spanish helpful.
Experience in Microsoft Office - Excel, scheduling software, and Clarivia software preferred.
Able to use judgment and initiative in planning work programs.
Ability to relate cooperatively and constructively with customers, peers, subordinates, and hospital personnel.
Ability to learn appropriate software application(s).
Knowledge of DNV, ACHA, and federal and state cleanliness and sanitation requirements.
Proven ability to effectively coach and mentor subordinates.
Able to interpret, adapt to, and react calmly under stressful conditions.
Able to track budget variances, assess productivity, and establish productivity standards.
Ability to interpret documents such as safety rules, operating &maintenance instructions, and procedure manuals.  
Ability to speak effectively before groups of customers or associates of facility.  
Ability to respond to common inquiries or complaints from customers, regulatory agencies, or members of the business community.
Ability to solve practical problems and deal with a variety of concrete variables in situations where only limited standardization exists.
Management
Florida-Miami-Nicklaus Children's Hospital - Main Hospital Campus
FOOD AND NUTRITION SERVICES-2100-800000
:Full Time
Apply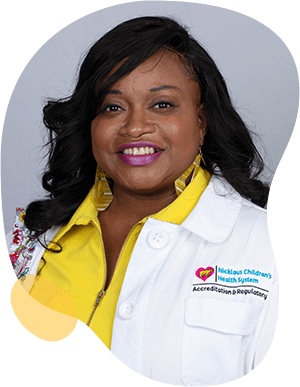 Joining a new organization can be daunting or overwhelming. But at Nicklaus, your colleagues make you feel welcomed. They taught me to celebrate our accomplishments and band together during challenging times. This is not easy to find in healthcare these days, so I'm grateful to have found an amazing place to work with people and leadership who have my well-being in mind.

Lova Renee Brunson

Manager Accreditation & Regulatory
Collaboration leads to success.
Alone we can do so little; together we can do so much. Working together, we find solutions and methods we would never find alone, and at Nicklaus Children's, we have fun doing it.
Responsibility drives us.
We all take responsibility here – for the children, their families, our work and each other. We meet our responsibilities head on and motivate each other to succeed.
Empower yourself, help others.
Nicklaus Children's encourages team members to believe in their ability to affect positive change in the world through everything they do with us.
Advocate for the right way.
Advocate for children. Advocate for families. Advocate for yourself. But most of all, advocate for getting the job done right and you will find nothing but success and support in your career here.
Transformation is growth.
At Nicklaus Children's, change is not to be feared. When you work here, you are always working with the most advanced tools and procedures available.
Empathy is everything.
We expect our team members to have empathy for the patients and families they treat, and in turn, we have empathy for them. We take care of everyone in the Nicklaus Children's family with competitive benefits and our supportive culture.
Join Our Talent Community