Global Health Business Development Liaison
GLOBAL HEALTH
Florida-Miami-Nicklaus Children's Hospital - Main Hospital Campus
Miami, Florida
Requisition ID 21869
Job Summary
Serves as an international liaison for the Global Health (GH) department's business development efforts and growth initiatives. Supports in maintaining knowledge of hospital programs for effective communication to stakeholders, implementation of sales strategies and execution of marketing plans to expand the hospital's reach to new international markets. Supports Global Health leadership in project planning, management, and implementation to expand services and grow the program.
Minimum Job Requirements
Bachelor's Degree in international business or international relations (or) 5 years of relevant experience
1-3 years of experience in global healthcare and/or international markets
1-3 years of experience with implementation and execution of programs or healthcare related projects in a healthcare facility outside of the US
Bilingual:English/Spanish
Knowledge, Skills, and Abilities
 Project management skills and knowledge of LEAN and CAP methodology preferred.
 Previous experience developing and implementing an international program preferred.
 Excellent people skills.
 Skill in exercising initiative and judgment.
 Demonstrates excellent oral and written communication of complex concepts and presentation skills when interacting with physicians, patients, co-workers, and other health care professionals in all work related situations.
 Ability to develop and maintain effective relationships with medical and administrative staff, patients, and the public.
 Ability to represent department and organization in a professional, courteous, and efficient manner.
 Possesses negotiation and persuasion skills as well as knowledge in the sales process.
 Ability to solve problems and make decisions to formulate a plan of action.
 Maintains confidentiality of sensitive patient and operational/program information.
 Able to interpret, adapt, and react calmly under stressful conditions.
 Ability to motivate, cooperate with, and work collaboratively in a team environment.
 Able to prioritize, successfully handle multiple concurrent tasks, utilize strong problem solving, and analytical skills.
 Ensures attention to detail and demonstrates knowledge in data evaluation, collection, and interpretation.
 Computer skills including word processing, spreadsheet, and presentation software as well as knowledge of data analysis and statistics.
Job Specific Duties
 Supports Global Health (GH) leadership in business development and marketing of programs to potential international partners to establish new and enhance existing relationships.
 Responsible for the thorough understanding of hospital services, programs, and Centers of Excellence in order to effectively communicate to current and new partners.
 Supports department goals through proactive communication and interface with key customers, internal and external, providing relevant updates related to hospital programs
 Supports GH leaders in mining international communities for identification of potential partners.
 Facilitates meetings and tours of the hospital for representatives visiting South Florida & potential partners including representatives from private/public agencies or ministries, physicians, etc.
 As requested by GH leaders, attends or serves as a representative of the hospital in medical meetings or conferences
 Assists GH leadership in the development and implementation of new programs and special projects including creating and executing project work plans.
 Supports GH leadership with identified opportunities and international needs assessment, business and marketing development plan
 Analyzes and reviews procedures and work flows for overall business optimization.
 Supports in establishing project quality standards, monitors project status, and maintains project plans on schedule.
 Prepares reports for review by managerial and other leaders to provide status updates and other information related to business development activities and projects.
 Builds, develops, and maintains strong relationships with internal and international physicians, ancillary practices, hospital staff, patients, foreign insurances, and foundations.
 Works with staff on initiatives to improve the patient's experience. Responsive to concerns/complaints the patient/family may have.
Professional
Florida-Miami-Nicklaus Children's Hospital - Main Hospital Campus
GLOBAL HEALTH-1000-930000
:Full Time
Apply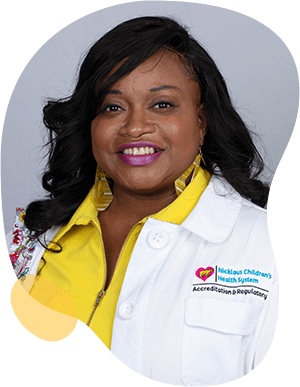 Joining a new organization can be daunting or overwhelming. But at Nicklaus, your colleagues make you feel welcomed. They taught me to celebrate our accomplishments and band together during challenging times. This is not easy to find in healthcare these days, so I'm grateful to have found an amazing place to work with people and leadership who have my well-being in mind.

Lova Renee Brunson

Manager Accreditation & Regulatory
Collaboration leads to success.
Alone we can do so little; together we can do so much. Working together, we find solutions and methods we would never find alone, and at Nicklaus Children's, we have fun doing it.
Responsibility drives us.
We all take responsibility here – for the children, their families, our work and each other. We meet our responsibilities head on and motivate each other to succeed.
Empower yourself, help others.
Nicklaus Children's encourages team members to believe in their ability to affect positive change in the world through everything they do with us.
Advocate for the right way.
Advocate for children. Advocate for families. Advocate for yourself. But most of all, advocate for getting the job done right and you will find nothing but success and support in your career here.
Transformation is growth.
At Nicklaus Children's, change is not to be feared. When you work here, you are always working with the most advanced tools and procedures available.
Empathy is everything.
We expect our team members to have empathy for the patients and families they treat, and in turn, we have empathy for them. We take care of everyone in the Nicklaus Children's family with competitive benefits and our supportive culture.
Join Our Talent Community