Graphic Specialist
GRAP DESIGN & MED PHOTO
Florida-Miami-NCHS Corporate Headquarters
Miami, Florida
Requisition ID 21421
Job Summary
Performs a wide variety of graphic art assignments from concept to finished product such as develops and designs of the following projects: brochures, flyers, posters, power point presentations, newsletters, signage, and banners.
Minimum Job Requirements
AA or AS degree is required.

Previous training in graphic arts and photography required.

2-3 years of graphic design experience required.

Proficient use of MS Office with strong expertise in PowerPoint presentations.

Advanced proficiency in Adobe Creative Suite applications particularly Photoshop, Illustrator, and InDesign.

Advanced experience in production, photography, proof-reading, and photo retouching.
Essential Duties and Responsibilities
Update online job tracking form and reviews productivity; participate in all daily assignment coordination for the department. F: daily/T: 30 minutes

Develops presentation & camera-ready artwork utilizing a variety of computer applications. Provide design & direction from concept to print while ensuring materials adhere to brand standards. F: daily/T: 4 hours

Collaborates with the marketing team and leaders to develop and produce materials and presentations to represent MCHS. Assumes ownership of projects from initial concept to completion. F: daily/T: 4 hours

Responsible for maintaining records and archives of project files, notes, and updates records as needed. F: daily/T: 30 minutes

Responsible for design and production process including managing projects and dealing with internal clients in collaboration with the marketing team. F: daily/T: 1 hour

Meets with customers to define project scope, timeline, appropriate media & cost. Responsible for custom projects including coordination, preparation of files, and evaluation of proofs & print. F: daily/T: 1 hour

Reviews all printer proofs and vendor approvals. F: daily/T: 1 hour

Monitors and oversees that the Hospital's graphic /logo standards are upheld. F: daily/T: 20 minutes

Develop various print material for internal clients including media kits, sell sheets, trade show materials, logos, advertising, photo manipulation, and other design & production initiatives. F: daily/T: 20 minutes

Originates verbal or written bidding process with outside printing vendors and assist in sourcing print vendors and prepare final art files. F: daily/T: 40 minutes

Implement best practices to ensure communications, promotions, and literature meet the needs of MCHS. F: daily/T: 40 minutes

Assist Manager in providing a capital and operating budget in reference to equipment and supplies. F: yearly/ T: 4 hours

Attends project briefings and actively participating in brain storming sessions and site venue surveys. Responsible for project planning to ensure work is completed on time and on budget. F: daily/T: 30 minutes

Organizes ideas visually to convey the desired impact & message to the audience. Delivers compelling & creative designs that are functional, engaging & effective in digital/traditional settings. F: daily/T: 30 minutes
Knowledge/Skills/Abilities
Experience in the healthcare industry preferred.

Graphic design and layout skills preferred.

Knowledge in creating and producing marketing print, web, and emails.

Strong project/time management skills with ability to handle multiple projects under rigorous deadlines.

Able to work on multiple projects, managing time, and prioritizes effectively to meet deadlines.

Ability to work independently, seeking new ideas, approaches to problem identification, and resolution.

Demonstrable, comprehensive knowledge of commercial graphic arts skills, and a fundamental understanding of photographic skills.

Detail-oriented, thorough, and accurate.

Effective planning and investigation skills.

Interpersonal and communications skills to establish and maintain effective working relationships with internal and external customers.

Maintains a high level of expertise in the areas of commercial graphic arts in both the computer and traditional environments.
(EOE DFW)
10/29/15
Professional
Florida-Miami-NCHS Corporate Headquarters
GRAP DESIGN & MED PHOTO-1000-953002
:Full Time
Apply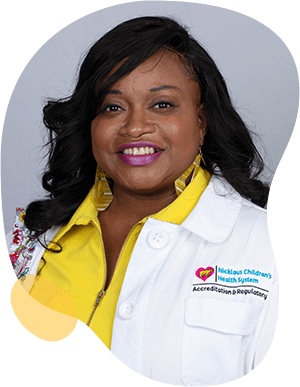 Joining a new organization can be daunting or overwhelming. But at Nicklaus, your colleagues make you feel welcomed. They taught me to celebrate our accomplishments and band together during challenging times. This is not easy to find in healthcare these days, so I'm grateful to have found an amazing place to work with people and leadership who have my well-being in mind.

Lova Renee Brunson

Manager Accreditation & Regulatory
Collaboration leads to success.
Alone we can do so little; together we can do so much. Working together, we find solutions and methods we would never find alone, and at Nicklaus Children's, we have fun doing it.
Responsibility drives us.
We all take responsibility here – for the children, their families, our work and each other. We meet our responsibilities head on and motivate each other to succeed.
Empower yourself, help others.
Nicklaus Children's encourages team members to believe in their ability to affect positive change in the world through everything they do with us.
Advocate for the right way.
Advocate for children. Advocate for families. Advocate for yourself. But most of all, advocate for getting the job done right and you will find nothing but success and support in your career here.
Transformation is growth.
At Nicklaus Children's, change is not to be feared. When you work here, you are always working with the most advanced tools and procedures available.
Empathy is everything.
We expect our team members to have empathy for the patients and families they treat, and in turn, we have empathy for them. We take care of everyone in the Nicklaus Children's family with competitive benefits and our supportive culture.
Join Our Talent Community