Guest Greeter/Screener (Full Time, Day Shift)
PATIENT & GUEST SERVICES
Florida-Miami-Nicklaus Children's Hospital - Main Hospital Campus
Miami, Florida
Requisition ID 23476
Job Summary
Greet patients, families, and visitors using NCHS Service Standards. Screens visitors as required for the safety of all patients, families, and staff. Demonstrating NCHS CREATE values in all encounters, liaises with patients and families, as well as, employees and non-employees that work at the hospital.
Job Specific Duties
Greets and welcomes customers with a positive attitude and proper salutations making customers feel welcomed.

Answers questions and provides assistance upon requests for families regarding NCHS services available including appropriate wayfinding.

Responsible for offering wheelchairs as needed and maintaining the wheelchair cleaning and storage process.

Responsible for the screening of patients and guests. Reports any unusual incidents to the Supervisor.

Ensures the daily operations of the screening process are carried out in an efficient, safe, systematic, and reproducible manner.

Ensures that individuals who present with positive screening responses are processed through the appropriate SMEs as identified in the process flow.

Provides appropriate Personal Protective Equipment (PPE) to all individuals entering the facility as dictated by hospital processes.

Assesses potential improvements for workflow when it is warranted.

Fosters a team environment and emphasizes the need for all staff to work together effectively and efficiently modeling CREATE and Service Standards.

Responsible for coordinating the logistical set-up of the screening station and is accountable for station equipment and resources.

When needed, assists to verify credentials to assure appropriate access for those seeking entry to the hospital.

Maintains an organized, efficient, sanitized, and clean work environment.

Ensures families adhere to the COVID visitation guidelines. Contacts PGR/Security for any guest issue.
Minimum Job Requirements
Spanish fluency is required at specified entrances

1-3 years

of

experience in customer service related industry
Knowledge, Skills, and Abilities
High school education or equivalent preferred.

Ability to work well with new employees, train employees, and adapt to diverse situations.

Ability to resolve unforeseen problems with little to no direction from management.

Able to work safely and follow all company policies and procedures.

Able to maintain confidentiality of sensitive information.

Possesses awareness and sensitivity of cultural diversity.

Working experience in thinking and reacting quickly, calmly, and in a pleasant manner when dealing with people in stressful situations.

Able to communicate effectively both verbally and in writing in a clear, concise, prompt, and empathetic way.

Able to listen carefully, request feedback from customers, and confirm understanding is accurate.

Able to relate cooperatively and constructively with customers and co-workers and act politely under all circumstances.
Customer Service
Florida-Miami-Nicklaus Children's Hospital - Main Hospital Campus
PATIENT & GUEST SERVICES-2100-868001
:Full Time
Apply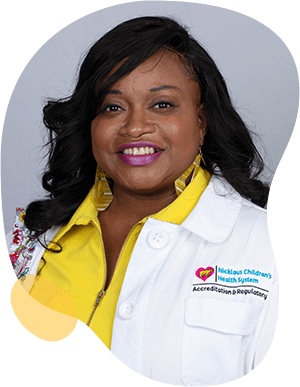 Joining a new organization can be daunting or overwhelming. But at Nicklaus, your colleagues make you feel welcomed. They taught me to celebrate our accomplishments and band together during challenging times. This is not easy to find in healthcare these days, so I'm grateful to have found an amazing place to work with people and leadership who have my well-being in mind.

Lova Renee Brunson

Manager Accreditation & Regulatory
Collaboration leads to success.
Alone we can do so little; together we can do so much. Working together, we find solutions and methods we would never find alone, and at Nicklaus Children's, we have fun doing it.
Responsibility drives us.
We all take responsibility here – for the children, their families, our work and each other. We meet our responsibilities head on and motivate each other to succeed.
Empower yourself, help others.
Nicklaus Children's encourages team members to believe in their ability to affect positive change in the world through everything they do with us.
Advocate for the right way.
Advocate for children. Advocate for families. Advocate for yourself. But most of all, advocate for getting the job done right and you will find nothing but success and support in your career here.
Transformation is growth.
At Nicklaus Children's, change is not to be feared. When you work here, you are always working with the most advanced tools and procedures available.
Empathy is everything.
We expect our team members to have empathy for the patients and families they treat, and in turn, we have empathy for them. We take care of everyone in the Nicklaus Children's family with competitive benefits and our supportive culture.
Join Our Talent Community