Infection Preventionist - RN Surgical ICU experience (Full Time, Day Shift)
INFECTION CONTROL
Florida-Miami-Nicklaus Children's Hospital - Main Hospital Campus
Miami, Florida
Requisition ID 20499
Job Summary
Participates in planning, developing, implementing and evaluating infection prevention processes and systems across all NCHS inpatient and outpatient sites of care. Advises and consults with leaders, clinical care teams, patients, families and contracted staff on efforts to proactively identify infection risks and appropriate evidenced-based best practice strategies to assure safety for patients, visitors, providers and staff.
Job Specific Duties
Applies relevant knowledge, in assisting with provision of infection prevention and control educational programs, and materials to healthcare personnel, patients, families, and the community.

Assists department to meet the needs of both internal and external customers.

Responsible for maintaining records to meet potential legal & regulatory requirements, including assuring accuracy & timeliness of information entered into healthcare-associated infections database.

Responsible for the appropriate placement or isolation of patients with development/review of Infection Prevention/Control policies and procedures as directed.

Follows-up on patients, personnel, and visitors who have communicable disease(s) and/or blood exposure within the hospital.

Responsible for personal and professional growth and expertise by remaining current with changing regulatory requirements, changing trends, and participation in professional organization(s).

Documents in the medical records all communication with physician, family or Public Health agency.

Identifies patient care practices and procedures with specific infection risk for patients and/or personnel.

Maintains departmental files, records, and computer statistics for healthcare associated infections and prepares information for weekly departmental review.

Maintains Public Health reporting system to ensure reporting of communicable diseases.

Participates in departmental and hospital-wide Performance Improvement activities, as directed.

Performs facility defined surveillance for presence of healthcare-associated infections in designated patient populations using hospital computer systems to retrieve, analyze, and organize data.

Submits written report on all surveillance activities and/or investigations to Infection Prevention and Control Director and Committee.

Reviews laboratory, microbiological reports and medical records for evidence of infection.
Minimum Job Requirements
Bachelor's Degree Nursing, Public Health, Business, Public administration, or related field (Required)

Active Florida Med Tech license, active FL RN license, or 1-2 years of direct infection prevention experience

1-3 years Clinical hospital experience or quality improvement experience
Knowledge, Skills, and Abilities
Certification in Infection Prevention and Control preferred.

Ability to apply principals of adult education.

Ability to communicate both verbally and in writing.

Able to maintain confidentiality of sensitive information.

Ability to interpret, adapt and react calmly under stressful conditions.

Ability to use logical and scientific thinking to interpret technical data and solve a broad range of problems.

Able to relate cooperatively and constructively with clients and co-workers.

Good working knowledge of MS-Office.
Professional
Florida-Miami-Nicklaus Children's Hospital - Main Hospital Campus
INFECTION CONTROL-2100-861000
:Full Time
Apply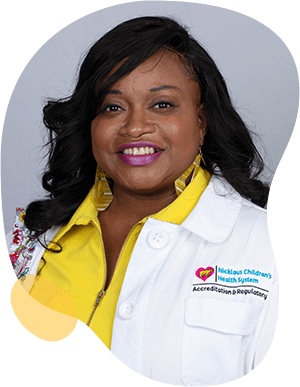 Joining a new organization can be daunting or overwhelming. But at Nicklaus, your colleagues make you feel welcomed. They taught me to celebrate our accomplishments and band together during challenging times. This is not easy to find in healthcare these days, so I'm grateful to have found an amazing place to work with people and leadership who have my well-being in mind.

Lova Renee Brunson

Manager Accreditation & Regulatory
Collaboration leads to success.
Alone we can do so little; together we can do so much. Working together, we find solutions and methods we would never find alone, and at Nicklaus Children's, we have fun doing it.
Responsibility drives us.
We all take responsibility here – for the children, their families, our work and each other. We meet our responsibilities head on and motivate each other to succeed.
Empower yourself, help others.
Nicklaus Children's encourages team members to believe in their ability to affect positive change in the world through everything they do with us.
Advocate for the right way.
Advocate for children. Advocate for families. Advocate for yourself. But most of all, advocate for getting the job done right and you will find nothing but success and support in your career here.
Transformation is growth.
At Nicklaus Children's, change is not to be feared. When you work here, you are always working with the most advanced tools and procedures available.
Empathy is everything.
We expect our team members to have empathy for the patients and families they treat, and in turn, we have empathy for them. We take care of everyone in the Nicklaus Children's family with competitive benefits and our supportive culture.
Join Our Talent Community